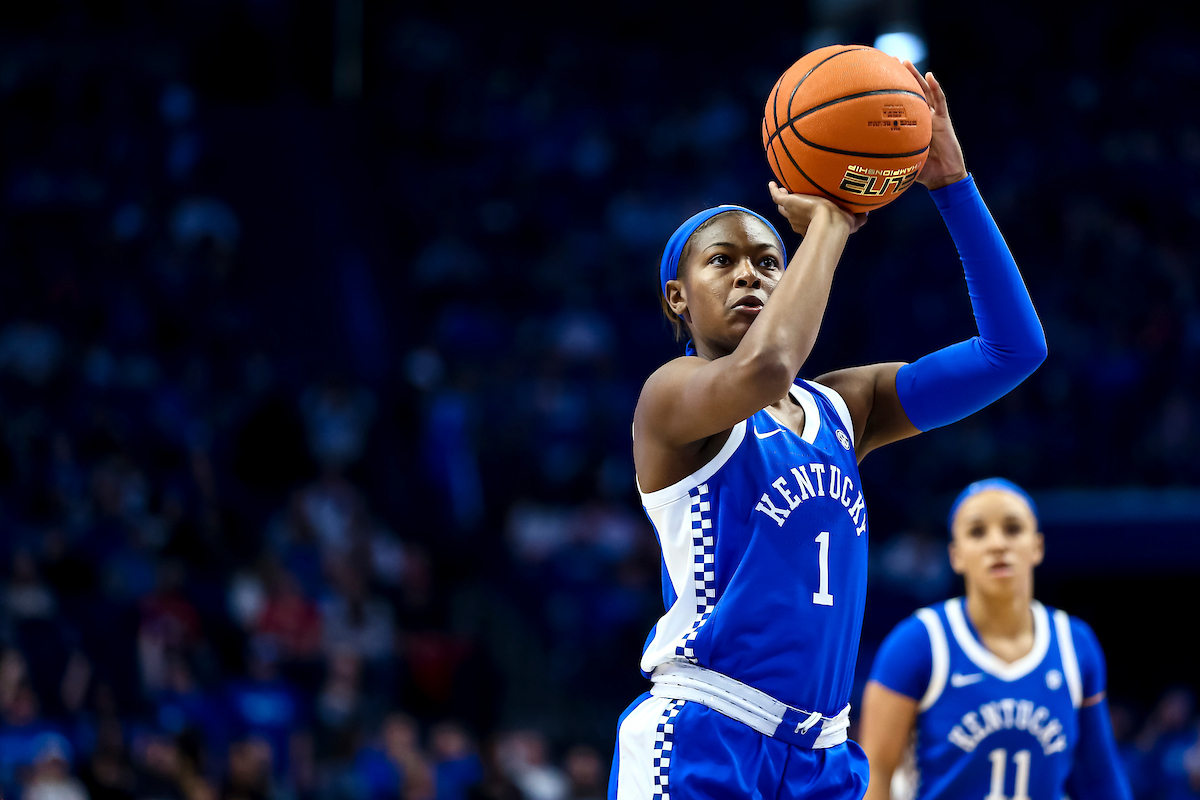 January 5, 2023 - 09:09 PM
Kentucky Women Fall at Georgia
ATHENS, Ga. – Robyn Benton scored 19 points, including the 1,000th point of her career, but the Kentucky women's basketball team came up just short, falling at Georgia 64-60 on Thursday night at Stegeman Coliseum.
Kentucky (8-7, 0-3 SEC) got 12 points, six rebounds, six assists and three steals from Maddie Scherr
The first quarter was a battle of runs. Georgia opened the game with a 4-3 lead before Kentucky scored nine straight points, capped by a Robyn Benton three, to lead 12-4. But Georgia answered with six in a row to cut the UK lead to two. However, Kentucky scored the final four points of the period to lead 16-10 after one quarter.
Georgia (12-5, 1-2) opened the second period by scoring seven straight points to lead 17-16. But, as they did in the first quarter, Kentucky answered with an 11-1 run, capped by a Kennedy Cambridge layup, to lead 27-18. Georgia would score the next five before Benton hit two free throws with two seconds left in the half, giving UK a 29-23 lead at the break.
The game of runs continued in the third quarter. Kentucky opened with a 6-2 run, on threes by Scherr and Walker, to lead 35-25. But Georgia scored the next eight points to get within two, 35-33. Kentucky got a Blair Green layup to lead 37-33 but Georgia scored the next five points, capping a 13-2 run, to lead 38-37. UK closed the period on a 10-3 run to lead 47-41 with 10 minutes to play.
In the fourth quarter, Georgia mounted an early run. The Bulldogs outscored the Cats 10-2 to start the period, taking a 51-49 lead with 6:56 to play. In total, it would be a 15-4 run from Georgia that gave the Bulldogs a 56-51 lead with 4:19 left in the game.
Georgia would lead 58-53 when Kentucky, behind Scherr, mounted another comeback. Scherr would hit a left corner three, then a pair of threes, to tie the game at 58-58 with 1:12 to play.
After Georgia took a 60-58 lead with 45 seconds to play, Benton drove to the hoop and converted a tough shot to tie the game at 60-60.
On the next possession, Georgia's Alisha Lewis, who had not scored in the game, drilled a right-wing three to give the Bulldogs a 63-60 lead with 19.9 seconds to play.
The Cats got a tough look at a three on its next possession but was unable to convert.
Kentucky returns to action on Sunday, hosting LSU at Rupp Arena. Tipoff is set for 2 p.m. ET and the game can be seen on SEC Network Plus.