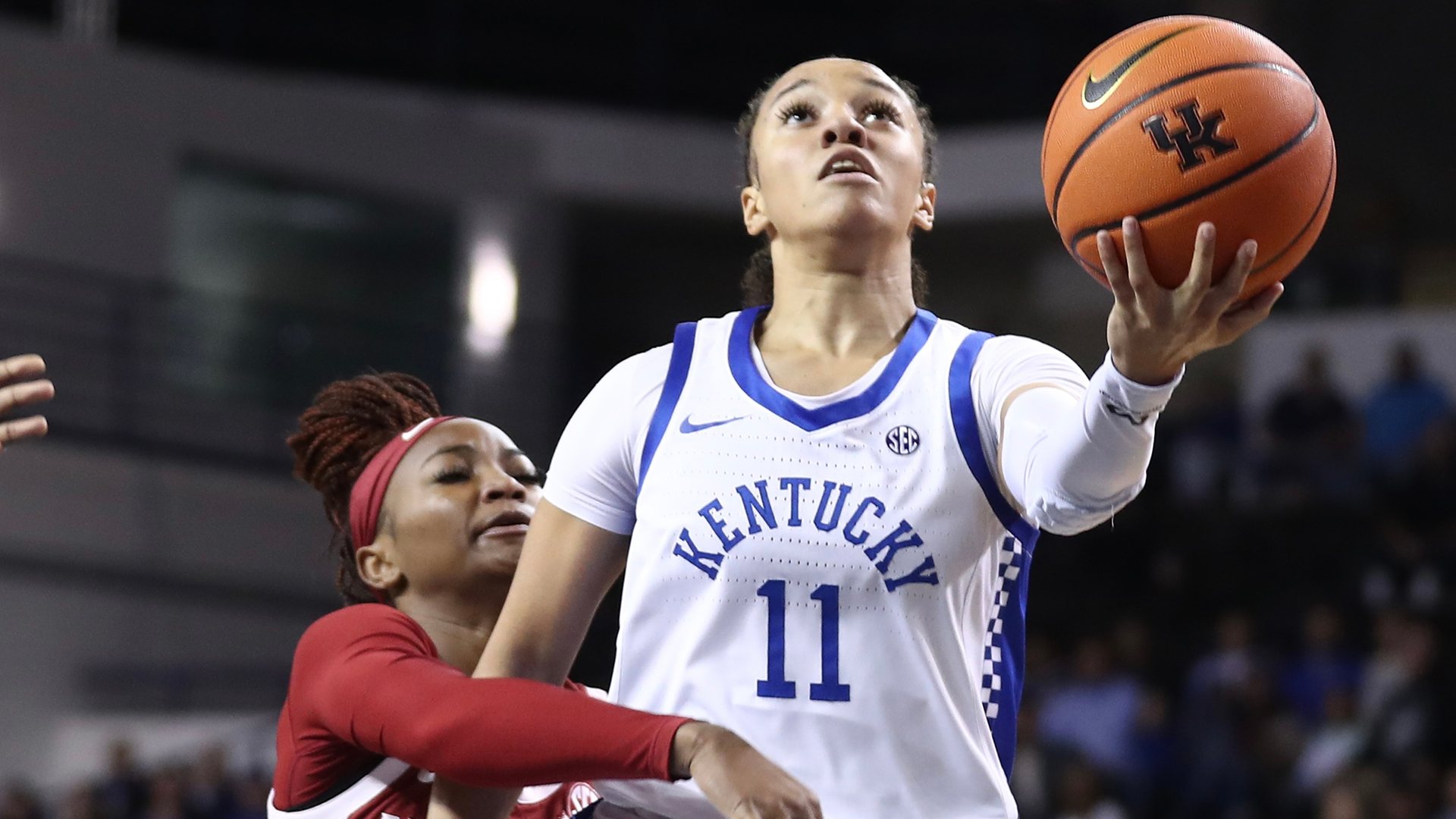 January 1, 2023 - 03:57 PM
Kentucky Falls to Arkansas on New Year's Day
LEXINGTON, Ky. – Blair Green scored 14 points but the Kentucky women's basketball team lost to No. 24/23 Arkansas 71-50 on Sunday at Memorial Coliseum.
Jada Walker added 13 points for the Cats, while Maddie Scherr had eight points and a game-high 10 rebounds for UK.
Kentucky (8-6, 0-2 SEC) was without leading scorer Robyn Benton, who missed the game with a hand injury and Benton's absence hurt UK's offensive effort. The Cats made just 17 of 65 (26.2 percent) of their shots, including just two of 14 (14.3 percent) from behind the arc. Kentucky also committed 23 turnovers in the contest.
The game was tight early, with neither team able to extend the lead beyond two. There were four early ties before Arkansas scored 10 points in a row to grab a 16-8 lead late in the period. Kentucky hurt itself with 10 turnovers in the period and the Cats trailed by eight after one quarter.
The Arkansas run continued in the second period, as the Razorbacks scored the first six points of the quarter to extend the lead to 22-8. That streak ended when Ajae Petty scored on consecutive trips to cut the deficit to 22-12. However, Arkansas would score the next 10 points to extend the lead to 32-12. Kentucky closed the half on a 7-2 run but the Cats trailed 34-19 at the half.
Kentucky scored the first four points of the second half, with Walker hitting a jumper, then driving to the basket for a layup, to cut the deficit to 34-23. But Arkansas responded with the next eight points, part of an 18-2 run, that gave the Hogs a 52-25 lead late in the third. Arkansas would lead 53-28 after three quarters.
The fourth quarter started well for the Cats, who assembled an 8-2 run to cut the Arkansas lead to 55-36. Kentucky would get within 18 on a couple of occasions but could get no closer.
Arkansas (14-3, 1-1) got 17 points from both Erynn Barnum and Saylor Poffenbarger.
Kentucky returns to action on Thursday, visiting Georgia in SEC action. Tipoff is set for 7 p.m. ET and the game can be seen on the SEC Network.