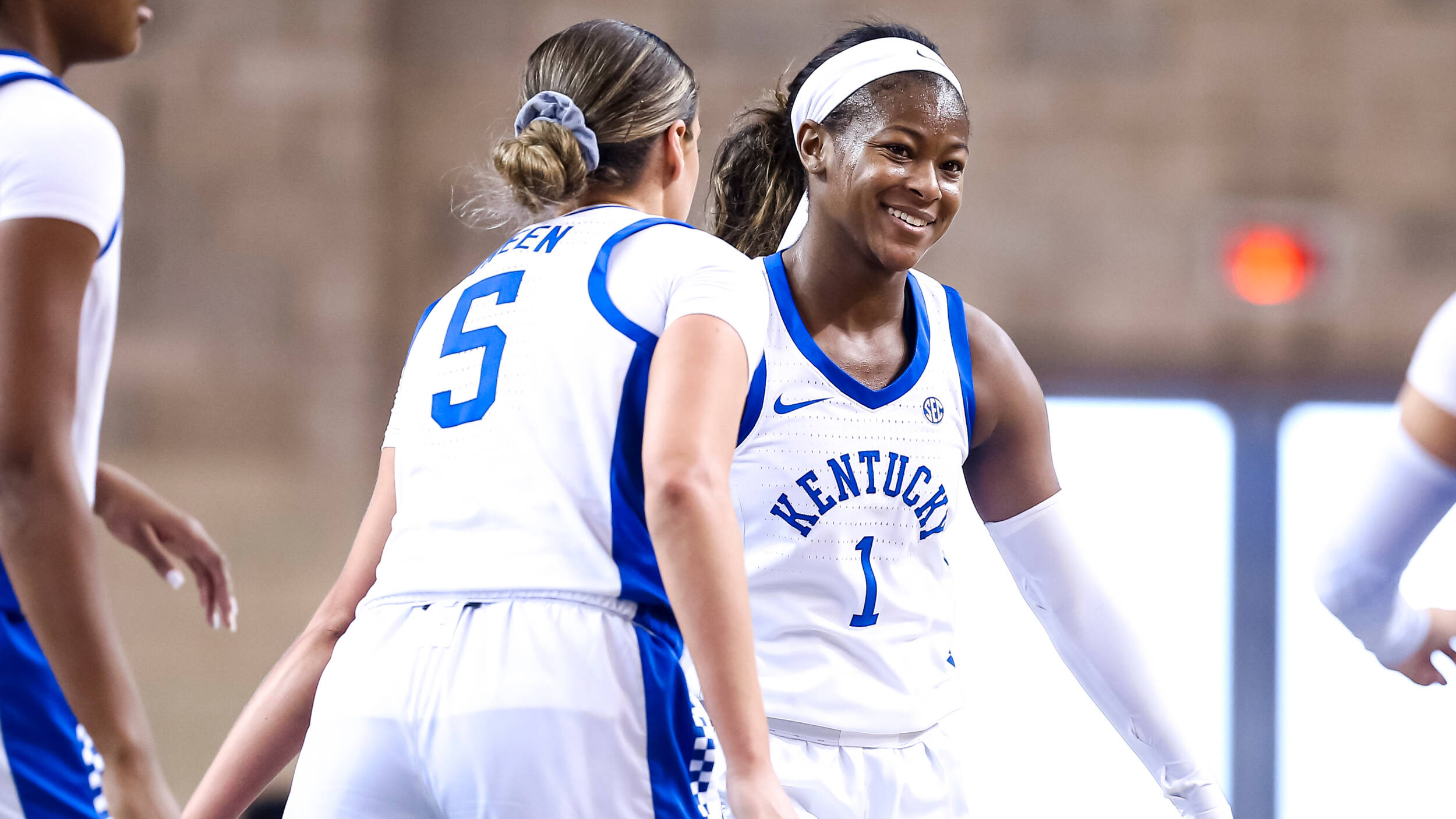 December 28, 2022 - 08:00 AM
SEC Opener: Kentucky, Missouri Tip Off in Columbia Thursday Night
COLUMBIA, Mo. – The University of Kentucky women's basketball program will take on Missouri in its Southeastern Conference opener Thursday, Dec. 29 at 9 p.m. ET inside Mizzou Arena in Columbia, Missouri. The game will be broadcast on SEC Network, with Sam Gore and Aja Ellison on the call.
It will also be carried on the UK Sports Network on 630AM WLAP in Lexington, with Darren Headrick on the report. Free live audio will be available online at UKathletics.com. Live stats will also be available online at KentuckyStats.com.
Kentucky has an 8-4 overall record after snapping a three-game losing streak when it defeated Ohio, 95-86, at home last Wednesday. For the first time in more than two years, five players scored in double digits, including Robyn Benton (22), Ajae Petty (15), Jada Walker (14), Blair Green (14) and Eniya Russell (14). The Wildcats shot 47.8 percent from the field on a season-high 33 makes, shooting over 50.0 percent in the second, third and fourth quarters. The Cats also dished out a season-high 25 assists in the game.
Benton, who has led the team in scoring for the last four straight games and has scored in double digits in all 12 games this season, is leading the team in scoring with 16.1 points per game. She needs just 25 points before eclipsing 1,000 career points. Walker is behind her with 13.2 points per game in 2022-23. As a team, the Cats are shooting 42.7 percent from the field and averaging 73.1 points per game.
Kentucky continues to lead the conference and is ranked 14th in the nation in turnovers forced (22.7). It is coming off a game against Ohio on Dec. 21 where it forced its eighth opponent this season to commit at least 20 turnovers. More than 32.0 percent of UK's points this season have come off turnovers. Meanwhile, three Cats are ranked top 10 in the league in steals per game, with Walker pacing the conference on 2.83 steals per game.
The Wildcats' defense is holding opponents to 40.4 shooting from the field and 64.3 points per game.
Missouri boasts an 11-2 overall record, including a 7-1 home record. It is coming off its first loss at home of the season to Illinois, 76-66, on Dec. 18. Despite the Tigers beginning the second half with a seven-point lead, the Fighting Illini capitalized on an 18-9 run down the stretch. Missouri's other lone loss this season is to then-No. 11 Virginia Tech, 73-57, just two days after UK lost to VTech in The Bahamas.
Two Tigers are averaging double-digit scoring, including Hayley Frank (15.0) and Lauren Hansen (14.8), while the team is shooting 46.7 percent from the floor and averaging 70.1 points per game. Their leading rebounder is Sara-Rose Smith (8.2), who has recorded four double-doubles already this season.
Kentucky leads the all-time meetings with Missouri, 10-4, in a series that began in 1989. UK also leads games played in Columbia, 4-3. The Wildcats have won the last three straight meetings against the Tigers.
Kentucky has an 18-22 all-time record in SEC openers.