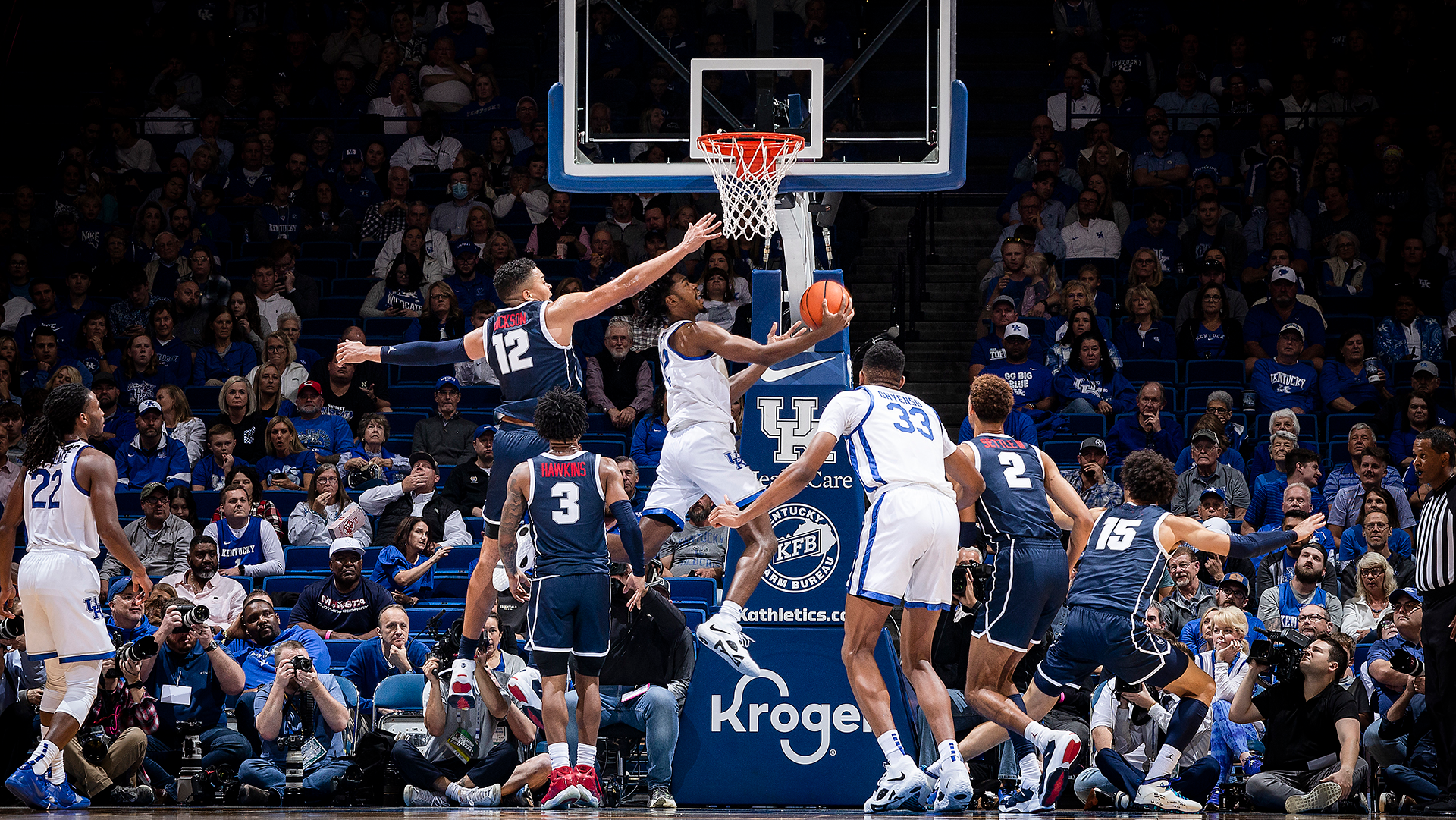 December 27, 2022 - 06:11 PM
Big Blue Preview: Kentucky at Missouri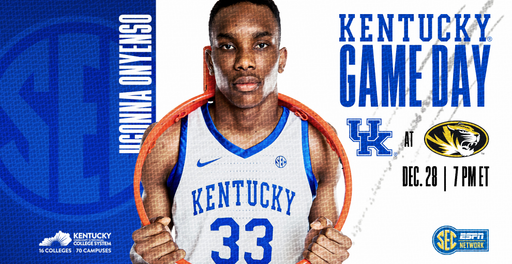 When looking at the 2022-23 Kentucky basketball schedule prior to the season, Wednesday's game at Missouri (7 p.m., SEC Network) might not have been one that was circled on the calendar. But the Tigers have been outstanding this season, making the Cats' Southeastern Conference opener in Columbia a tough task.
Missouri is 11-1 this season and is coming off a 93-71 beatdown of then-No. 16 Illinois last week. Missouri's only loss this season was against No. 4 Kansas.
Kentucky assistant coach K.T. Turner knows that the Cats will need to keep a close eye on one particular Tiger.
"Kobe Brown, he really helps them out, the way he can bring the ball up, he can post it, he can hit trail threes," Turner said. "The way they play five out, they just spread you out, (so) we're going to have to do a really good job of guarding the ball. The biggest thing is stopping Kobe Brown from his catch and shoot threes, he's shooting the ball really well."
Brown is second on the team in scoring, averaging 14.4 points per game. Missouri's leading scorer is D'Moi Hodge, who has scored in double figures in 11 of 12 games this season, averaging 16.7 points per outing.
Kentucky (8-3) beat Florida A&M 88-68 in the final game before the Christmas break. Cason Wallace scored a career-high 27 points in that outing and was named the SEC Freshman of the Week on Monday. Turner is not surprised at how well Wallace has been playing, especially his 22 of 44 shooting from behind the arc.
"I saw him a lot when he was young, so I always knew he could make shots. I would not sit here and say I would think he would be shooting the ball this well but I always knew he could make shots. Hopefully, he continues to do that the rest of the season."
As for what the Cats will need to improve as SEC play begins, Turner pointed to one particular point of emphasis in this week's practices.
"We've got to get a little tougher," Turner said. "The last couple of days, that's what we've really broken down the fundamentals and getting open. Not letting guys get bumped off screens and setting screens. If we get a little tougher and a little bit smarter, we're going to be fine."
Part of that toughness will include playing in hostile environments on the road, which is something the Cats will experience for the first time on Wednesday.
"A lot of the guys on the team, they keep telling me 'we love playing on the road here, it's fun.' So they are looking forward to the challenge of playing on the road," Turner said.
The Cats will get a chance to display that toughness against a tough Missouri team in Columbia on Wednesday.
League Lidlifters
Kentucky owns a 69-19 all-time mark in Southeastern Conference openers, including an 11-2 mark under the direction of head coach John Calipari. UK earned an 83-56 victory over Missouri in Rupp Arena a season ago to begin the league slate.
This will be the third time in the last four seasons that UK and Missouri will meet in the league lidlifter.
S-E-C! S-E-C! S-E-C!
Kentucky is the Southeastern Conference's gold standard. Since the SEC's inception in 1932-33, the Wildcats are the most dominant team in the league, recording a 1,034-297 mark (77.7%) in regular-season conference play. Only Alabama has won more than 800 regular-season SEC games and no other team owns a better winning percentage.
• UK has averaged 11.6 wins and only 3.3 losses per season in 89 seasons in the SEC (including the current season)
• Kentucky has won 49 SEC regular-season titles and 31 SEC Tournament championships
• Kentucky is 11-2 in the opening game of the SEC season under Calipari and 11-1 in the first home league opener. UK is 69-19 all-time in SEC openers, including an 83-56 victory over Missouri a year ago in Lexington
• The Wildcats have won 16 of the last 29 SEC Tournaments (the 2020 one was not played because of the COVID-19 pandemic)
• UK has captured at least a share of six of the last 13 SEC regular-season championships under John Calipari
• Kentucky has played in the championship game of the SEC Tournament in eight of Calipari's 11 tourneys, winning six times (2020 tournament not played because of COVID)
• UK won its 1,000th game in SEC regular-season action vs. Alabama on Jan. 11, 2020. Kansas has won 1,000 conference games when combining its records in the Big 6, Big 7, Big 8 and Big 12, but no other team in the country had won 1,000 or more regular-season league games in one conference alone
• Six teams made the 2022 NCAA Tournament field with Arkansas reaching the Elite Eight
• The SEC has had 27 NCAA Tournament selections over the last four tournaments, the third most. Only the Big 10 (30) and Atlantic Coast Conference (28) have had more
• The SEC went 5-6 in NCAA Tournament games in 2022. SEC teams are 78-49 (61.4%) in the NCAA tourney since 2012
• The league has advanced at least one team to the Elite Eight in 10 of the last 12 tournaments and nine different SEC teams have advanced to the Sweet Sixteen in the last five NCAA Tournaments
• The SEC has held its own in the annual Big 12/SEC Challenge. The SEC leads 31-28 over the last six seasons in the yearly January showdown and won outright in 2021 and '22
• Six SEC teams are ranked in the Dec. 26 Associated Press Top 25, with Missouri receiving votes
Calipari Leading the Way in SEC Play
John Calipari leads the way among all current SEC head coaches in 2022-23 in career wins, league victories and titles. He is also ascending the all-time charts in league history:
• Calipari owns 373 victories as UK's head coach, ranking as the fourth-most wins by a coach leading an SEC program in the conference's history. Adolph Rupp (875), Billy Donovan (467) and Dale Brown (448) are the only others who have more
• Calipari ranks seventh all-time in SEC regular-season wins with 173. Rupp (397) has the most. Calipari needs just six more to pass Harry Rabenhorst (178) for sixth place
• Calipari is 24-5 in the SEC Tournament. His 24 victories are tied with Tubby Smith for the third-most in tournament history. Only Donovan (27) and Wimp Anderson (25) have more
Calipari has won six SEC Tournament titles. Only Alabama (7) has more in program history than Calipari has won in total