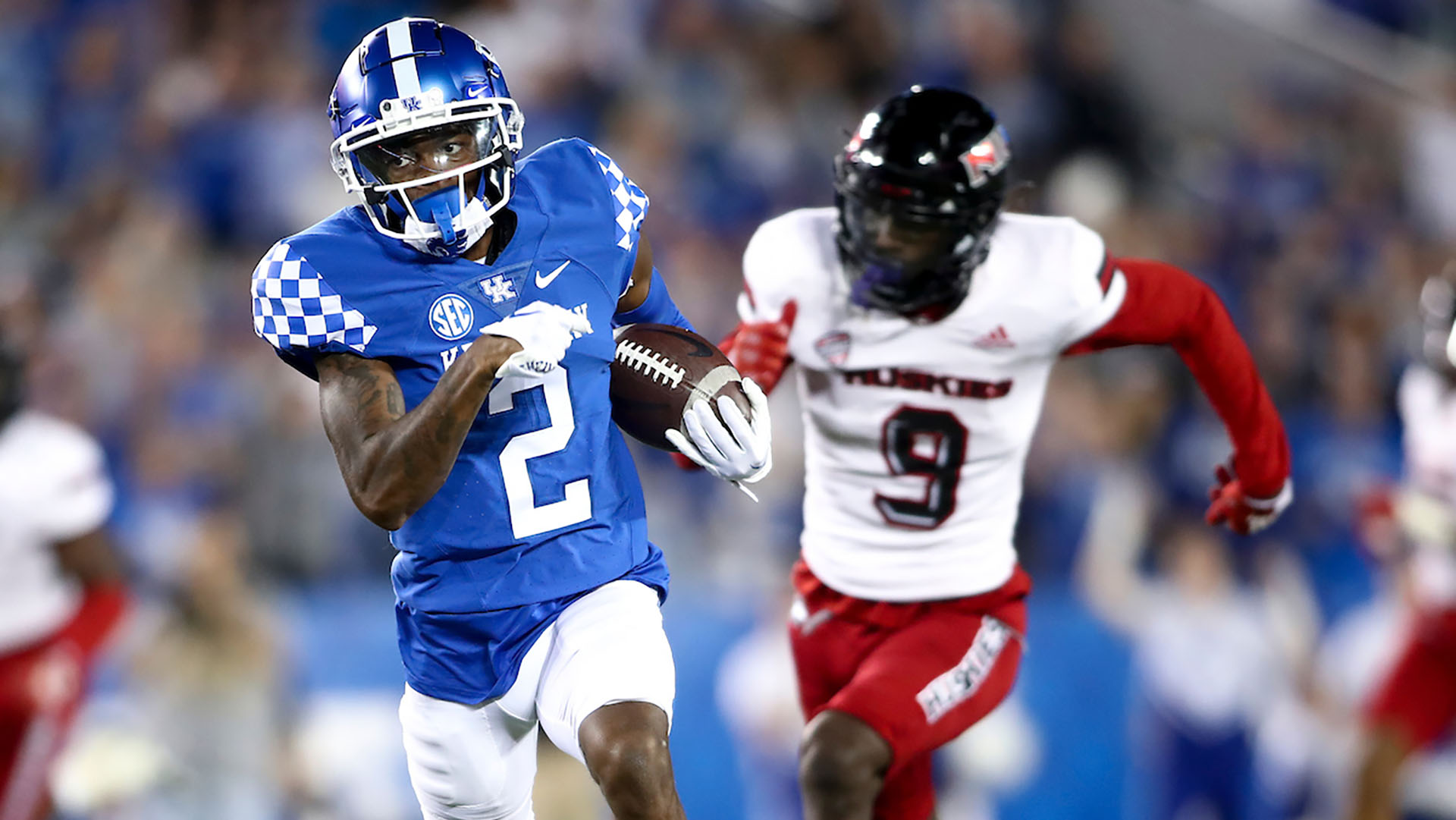 Kentucky freshman Barion Brown has excited the Big Blue Nation all season long. But the most exciting part of the season for Brown may be yet to come.
Brown and the Cats will face Iowa in the TransPerfect Music City Bowl on New Year's Eve in Nashville, which happens to be Brown's hometown. The chance to play in his hometown on the collegiate level is something that has Brown fired up and ready to go.
"I want to be ready to play in front of my family," Brown said on Monday. "It really doesn't get any better than having a bowl game in your hometown. I just can't wait."
Brown was a huge sparkplug for the UK offense this season. He proved to have value both on offense and on special teams.
It all started in Brown's first game as a Cat. Facing Miami (Ohio), Brown took a kickoff at the goal line, broke free down the left sideline and raced to the end zone for a touchdown.
As the season progressed, Brown proved to be more than just a kick returner. He caught five passes against Youngstown State. He had 102 yards receiving and two touchdowns against Northern Illinois. But his best performance of the season came against perhaps the best defense the Cats played all season. Facing top-ranked Georgia, Brown showed just how good he already is and teased how good he can be. Brown caught a whopping 10 passes against a stout Georgia defense, amassing a career-high 145 yards receiving and a touchdown.
Following the season, Brown was named to the All-SEC Freshman Team, was named a freshman All-American and was named third-team All-SEC. Despite all of this, he thinks he could have done more.
"I always got in my head, you can be better. Work harder," Brown said. "I always push myself to be the best that I can be. I feel like I left a lot on the field this year that hopefully I can get back next year."
Specifically, what are the things that Brown believes he can improve?
"Picking up the game faster. Picking up the speed of the game," he said. "Knowing our coverages by looking at the defenses. Things like that will come."
National Signing Day is Wednesday, but Brown's focus is not on bringing in new Cats. Rather, he's focused on the task at hand.
"I've been focused on the bowl game," Brown said. "I want to be ready to play in front of my family. I'm trying to get as many reps as I can to have a good game."
As he was all season, Brown will be a key cog in the Kentucky attack against Iowa. The only difference is, he'll be playing this game in his hometown.