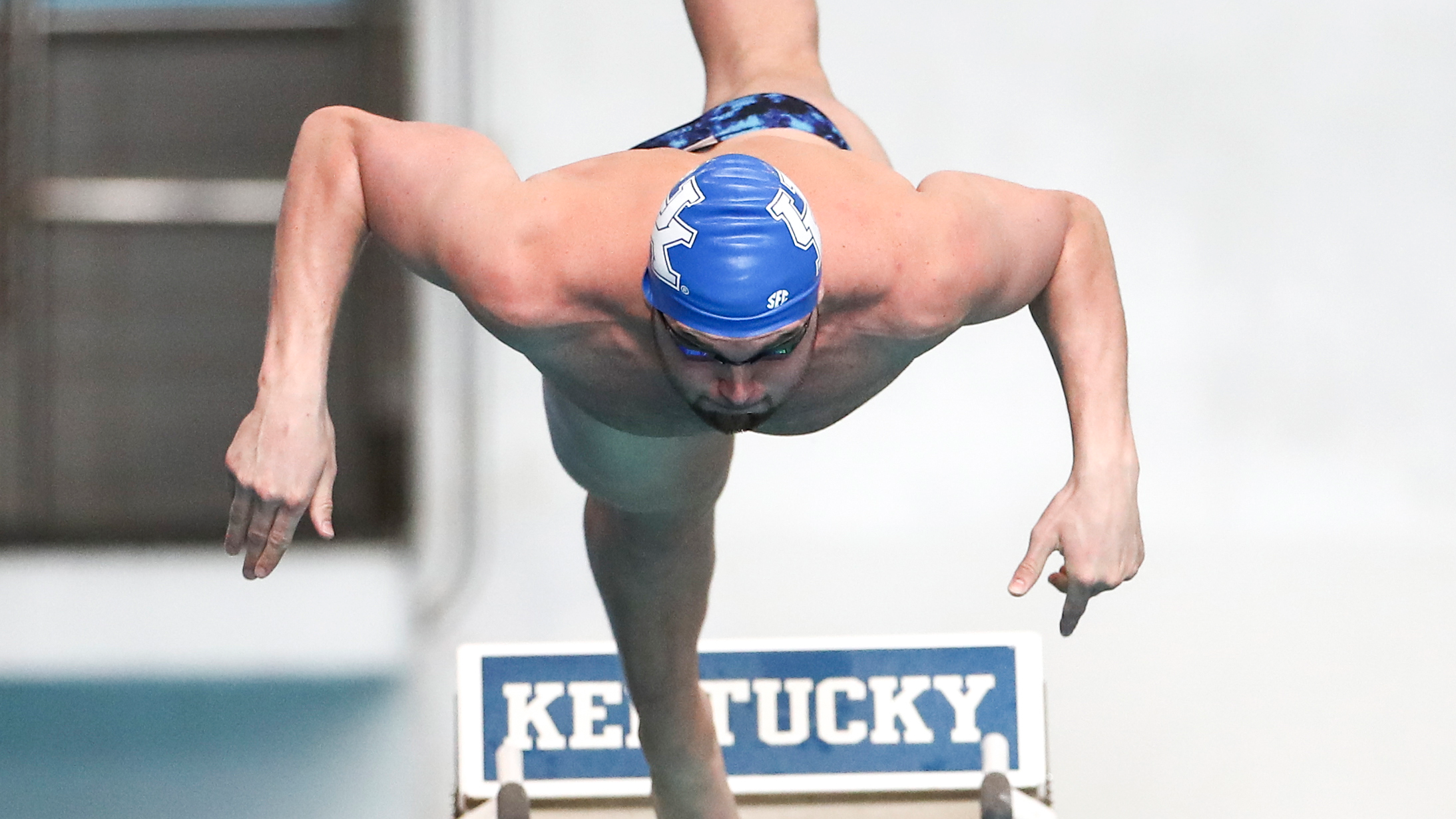 December 17, 2022 - 03:33 PM
Wildcats Meet No. 9/10 Georgia on Monday Morning
LEXINGTON, Ky. – Kentucky swimming & diving continues its strenuous dual meet schedule when the Wildcats host Georgia this Monday inside the Lancaster Aquatic Center. Racing is scheduled to begin at 10 a.m. with live scoring available on the Meet Mobile app.
The meet is the fourth dual of the season for the Wildcats, all of which have come against top-25 competition. For the UK men, Georgia will mark the third top-ten opponent of the 2022-23 season, while the Wildcat women will take on their second top-ten team.
The Cats competed against the Bulldogs at the 2022 SEC Championships, where Georgia's men and women both finished in fourth, while Kentucky placed second (women) and eighth (men).
The Kentucky women enter Monday's meet at No. 20 in the CSCAA December poll, up two spots from their place in the previous rankings. Georgia checks in at No. 9 in the women's poll and No. 10 in men's.
Monday's action will be the first for UK as a group since the team took part in the Ohio State Invitational, Nov. 17-19. There, the women finished third among 13 teams, while the men placed fifth out of 11 schools. Kentucky event winners in Columbus included Kaitlynn Wheeler (500 free), Kyndal Knight (1-meter, 3-meter), Sam Duncan (1-meter), Lauren Poole (200 IM, 400 IM) and the women's 800 free relay.
Reigning SEC Swimmer of the Week, Gillian Davey, also returns to the water after earning the title in the 200m breaststroke at this year's Toyota U.S. Open. Davey is the first UK swimmer to win an event at the U.S. Open since Bridgette Alexander did so in 2016.
The Bulldogs roster features a total of 12 returning All-Americas – six men and six women. Senior Zoey Hartman and sophomore Abby McCulloh are two of the top names to watch for on the women's side. McCulloh owns the top time in the nation in the 1650 free currently, while Hartman ranks second in the nation in the 200 IM. For Kentucky, seniors Lauren Poole and Gillian Davey have been among the standouts thus far. Poole and Davey have clocked the fifth and sixth fastest 400 IM times in the country, ranking them second and third, respectively, among SEC swimmers.
On the men's side, Georgia boasts two student-athletes with the top times in the country – Jake Magahey in the 500 free and Ian Grum in the 200 back. Kentucky freshman star, Levi Sandidge, ranks among the top-ten in the nation in both the 1650 free (sixth) and 1000 free (seventh).
Admission to Lancaster Aquatic Center is free to the public. Autograph opportunities, along with a student-athlete Q&A, will take place following the meet for young fans in attendance.
For the latest on UK Swim & Dive, follow the Wildcats on Twitter and Instagram at @UKSwimDive, and on Facebook at Kentucky Swimming and Diving.