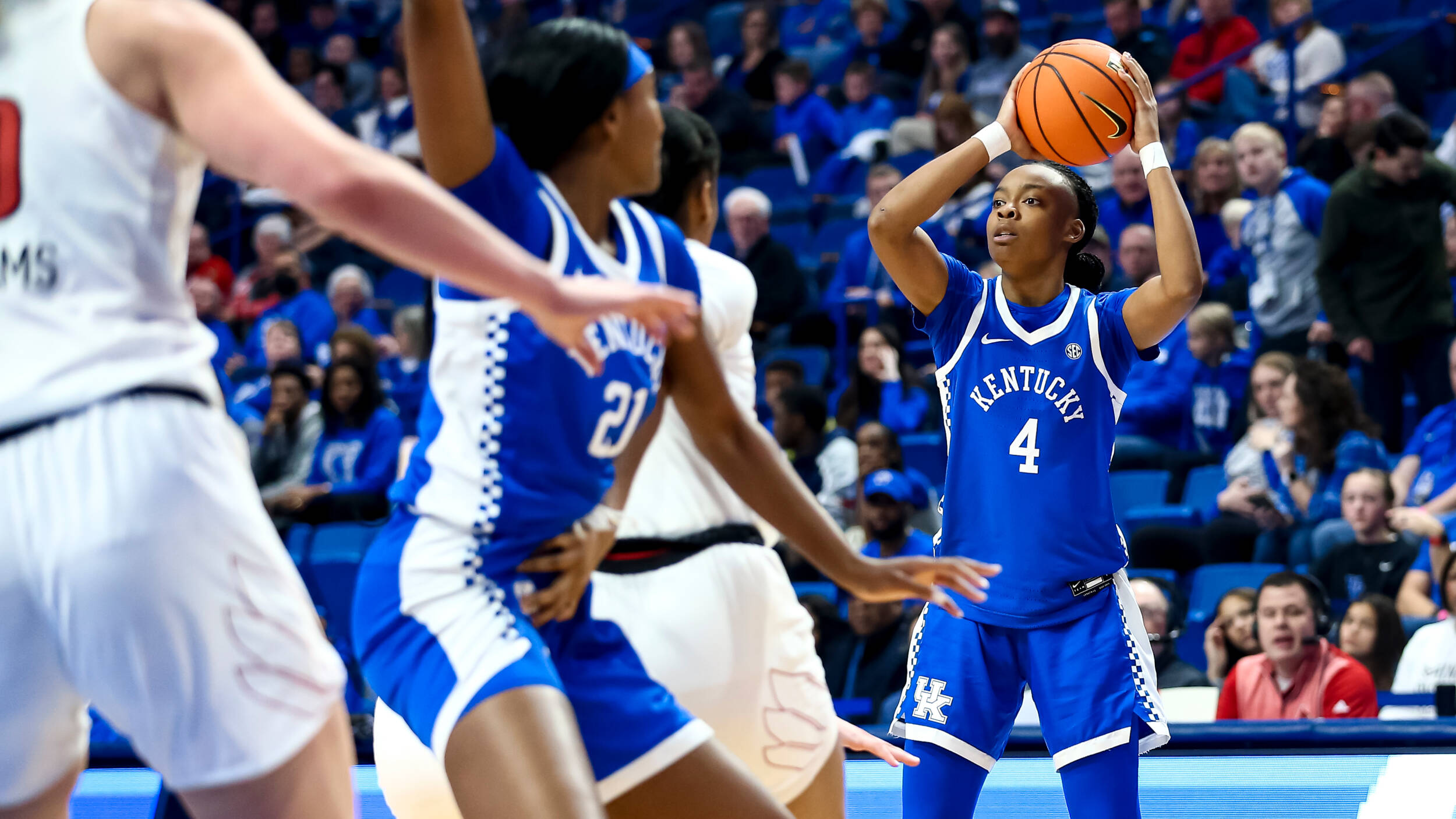 December 15, 2022 - 02:28 PM
Kentucky Plays Host to Murray State, Florida Gulf Coast in Weekend Doubleheader
LEXINGTON, Ky. – The University of Kentucky women's basketball program will play host to Murray State on Friday, Dec. 16 at 7 p.m. ET on SEC Network, with Brenda VanLengen and Holly Warlick on the call. Kentucky will turn around and play host to NR/RV Florida Gulf Coast on Sunday, Dec. 18 at 1 p.m. ET on SEC Network+, with Jeff Piecoro and Christi Thomas on the call.
Both games will be inside Memorial Coliseum.
Friday is Heroes Night, an opportunity for the program to recognize first responders and their contributions and sacrifice for our community. Sunday is the annual Holiday Game, which will include a special appearance from Big Blue Santa. Fans are encouraged to join the women's basketball coaches and staff in wearing their ugliest holiday sweater to the Holiday Game.
Doors to Memorial Coliseum will open one hour prior to the tip time of each game.
Bags must adhere to the UK Athletics Clear Bag policy, and bags and items will be searched. To avoid additional touch points, fans are strongly encouraged to not bring unnecessary bags to Memorial Coliseum. More on UK Athletics' Clear Bag policy can be found online here.
Parking for games is available starting three hours prior to tipoff in a majority of surface lots surrounding Memorial Coliseum, including the High Street Lot, East Maxwell Lot, Joe Craft Center Lot, College View Lot, Alumni Center Lot and Career Center Lot. The Cornerstone Garage and Parking Structure No. 2 will open two hours prior to tip. The Gatton Student Center Lot is pay-to-park while all other parking options are free. The JCC Lot is primarily used for limited mobility/handicap parking.
The program will offer a shuttle service before and after Kentucky's game against Murray State on Friday.
The shuttle service will run one hour prior to the tip time (6 p.m. ET) through the first quarter and then start back up at half time and run until all patrons who want a ride have received a ride.
The shuttle service will stop at Administration Avenue, across from the Cornerstone Parking Garage (Parking Structure No. 5), and at the parking lots on High Street, before dropping off or picking up patrons at the Lexington Avenue entrance of Memorial Coliseum.
The shuttle service is free of cost to all fans, and signage will also be located at the Cornerstone Garage (Parking Structure No. 5) for pick-up and drop-off locations.
For fans that are unable to attend the game, Darren Headrick will have the call on the UK Sports Network on 630AM WLAP in Lexington. Free live audio will be available online at UKathletics.com and live stats will be available online at KentuckyStats.com.
The Wildcats boast a 7-2 record this season, including a 5-1 mark at home. They're shooting 44.0 percent from the field and averaging 75.0 points per game, as two Cats are pacing the team in scoring in Robyn Benton (15.3) and Jada Walker (14.0).
Benton has put up double-digit scoring in all nine games this season, while Walker has led the team in scoring in five of nine games in 2022-23.
Kentucky is sharing the ball, too, as more than 62.0 percent of its 263 field goals have come by way of an assist. The Wildcats are second in the Southeastern Conference and are ranked 18th nationally in assists per game (18.2). In their most recent game against then-RV/No. 24 Louisville, the Cats had their third game of the season dishing out at least 20 assists.
Maddie Scherr, a junior transfer from Oregon and a Florence, Kentucky, native, is responsible for a bulk of those dimes, leading the SEC and ranked toward the top of the nation in assists (56), assists per game (6.2) and assist/turnover ratio (2.95).
Meanwhile, as a team, the Wildcats continue their aggressive style on defense, pacing the league and ranked top-10 nationally in turnovers forced (24.0). The Cats are also ranked first in the league and top-20 nationally in turnover margin (7.22). Kentucky has won the turnover battle in all but one game this season, while it has forced opponents to commit at least 20 turnovers in seven of nine games in 2022-23
Walker has proven to be a menace on that side of the ball, pacing the league in both steals (28) and steals per game (3.11).
Kentucky is coming off a loss to in-state rival then-RV/No. 24 Louisville, 86-72, in Rupp Arena last Sunday. Despite the Wildcats scoring two more field goals and five more 3-pointers than the Cardinals, and leading them in second-chance points, fastbreak points and bench points and tying them in points off turnovers and points in the paint, the glaring difference was at the line, as UofL went 33-of-39 from the line, while UK went 10-of-21 from the stripe.
Overall, this season, Kentucky is holding its opponents to 38.9 percent from the field and 62.9 points per game.
Murray State is 5-2 in 2022-23, including 2-1 on the road. The Racers have two players averaging double-digit scoring, including Katelyn Young (20.6) and Macey Turley (13.6). Young also leads the team with 7.9 rebounds per game. Murray State is coming off a loss to Austin Peay, 71-67, last Tuesday, after outscoring the Govs, 22-4, in the first quarter. Through seven games in 2022-23, MSU is shooting 42.8 percent from the field and averaging 69.9 points per game.
Kentucky has won all 15 matchups with Murray State, in a series that officially began in 1975.
Florida Gulf Coast has an 8-2 record this season, including a 3-0 record on the road.  The Eagles, who are shooting 43.9 percent from the field and are averaging 73.8 points per game, have two players putting up double-digit points this season in Alyza Winston (13.9) and Tishara Morehouse (13.8). FGCU is coming off a loss to Duke, 71-48, despite Sha Carter producing 18 points for the Eagles.
Kentucky and Florida Gulf Coast are tied in all-time meetings, 1-1, as the two teams prepare to meet in Lexington for the first time in the series.
For more information on the Kentucky women's basketball team, visit UKathletics.com or follow @KentuckyWBB on Twitter, Instagram and Facebook.