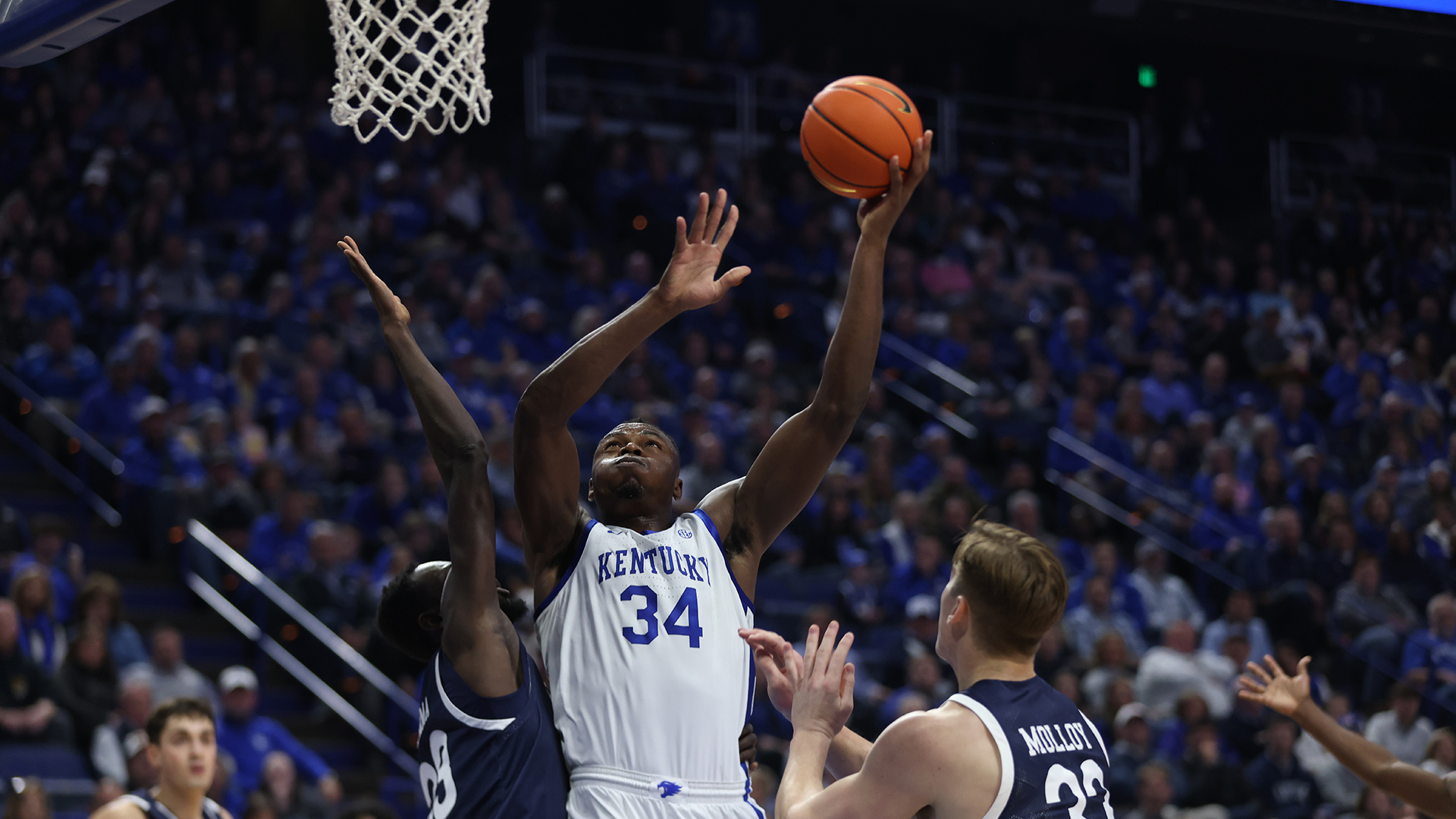 December 10, 2022 - 03:07 PM
Tshiebwe's Big Second Half Lifts No. 16 Kentucky Past Yale
No. 16 Kentucky found itself in a tussle on Saturday. A feisty Yale squad scored the first eight points of the second half to turn a six-point halftime deficit into a two-point lead with 17:37 left in the game.
Kentucky needed something good to happen. So the Cats and head coach John Calipari did exactly what made sense – they got the ball to the defending National Player of the Year, Oscar Tshiebwe.
And, as he did so often for the Cats last season, Tshiebwe delivered. He made a layup, then a dunk to give UK the lead back. He was also fouled on the play and he converted the free throw to extend the lead to 38-35.
But it wasn't just on offense. On Yale's next possession, Tshiebwe blocked a shot, corralled the rebound, then ran the floor and was rewarded when CJ Fredrick found the big man inside for a layup.
After Yale got a three from Bez Mbeng, Tshiebwe scored again. Then, the big man got a steal on Yale's possession and converted on the other end on another shot at the rim, this one giving UK a 44-38 advantage.
Tshiebwe would make one of two at the line with 13:58 to play, giving the Cats a five-point lead and giving Tshiebwe the first 12 UK points of the second half. It wasn't until Sahvir Wheeler scored with 13:15 left in the half that another Cat scored in the second 20 minutes.
UK head coach John Calipari knew that a couple of things were not happening in the 20 minutes.
"There were a few things that happened in the first half. (Tshiebwe) didn't demand the ball. You have to say something," Calipari said. "The second thing, in the first half, when he had shots, he was passing it. I said quit passing the ball and score the ball, they can't guard you."
And, part two of that was, when Tshiebwe did ask for the ball, he wasn't always getting it.
"Then I told the other guys, you've got to throw him the ball," Calipari said. "You guys are driving and he's in the middle, wide open, throw him the ball."
By the time the Cats secured a 69-59 victory, Tshiebwe had registered his 33rd double-double in 41 career games at UK. Tshiebwe finished with 28 points, two shy of his career high, and 12 rebounds in Saturday's win. He scored 22 of his points in the second half and he added two assists, two steals and two blocked shots in the game. And the Cats needed every one of them.
Kentucky has this week off, as the Cats take final exams before facing UCLA in the CBS Sports Classic on Saturday in New York. Tipoff is set for approximately 5:15 ET.