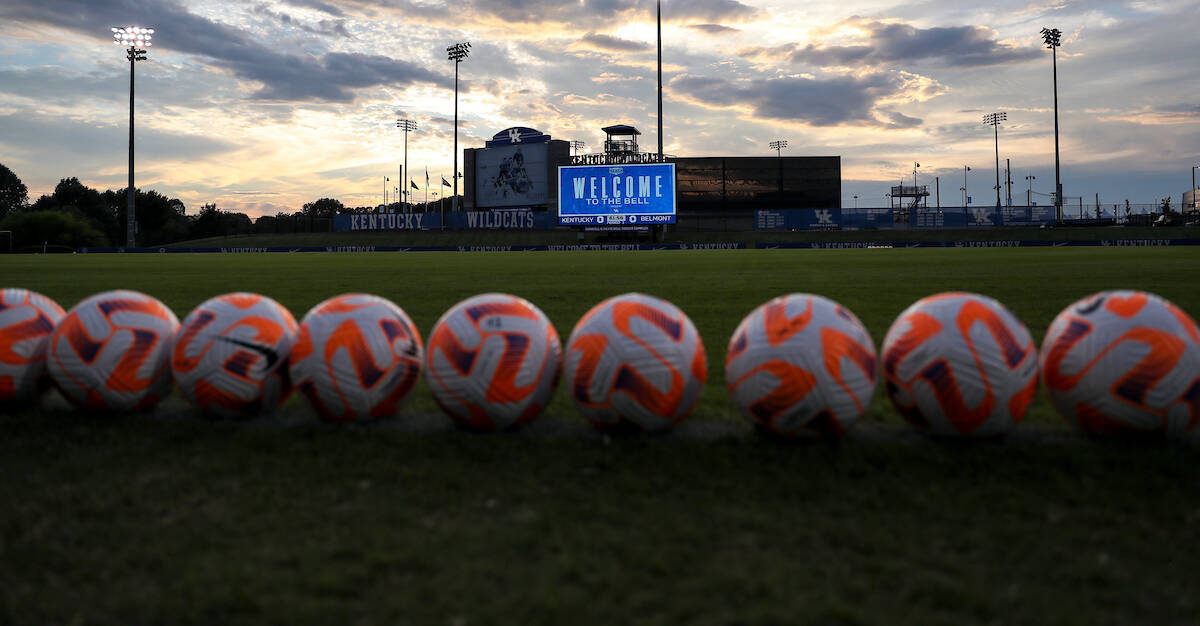 December 8, 2022 - 04:10 PM
Five Wildcats Named to 2022 NCAA Division I Men's All-Southeast Region Team
LEXINGTON, Ky. – Five Wildcats have been named to the 2022 NCAA Division I Men's All-Southeast Region team, announced United Soccer Coaches.
Eythor Bjorgolfsson, Luis Grassow, Nick Gutmann and Casper Mols all received first-team recognition while Clay Holstad received second-team honors.
Bjorgolfsson demonstrated an impressive career as a Wildcat playing in 68 matches with 43 starts totaling 3,808 minutes on the pitch in his four years in Lexington. The senior has been a force to reckon with on the attack with 24 goals tying sixth in all-time career goal scorers for the program. His 10 game-winning goals places him in third overall. This season alone, Bjorgolfsson scored 10 goals with two assists including a brace against Lipscomb, a goal against in-state rival Louisville, long-time rival Indiana and West Virginia in the Sun Belt Conference Tournament. He fired 49 shots with 26 on goal to bring his UK career total to 111 with 56 on goal.
The Jessheim, Norway native has received numerous honors throughout the 2022 campaign including Sun Belt Conference Preseason Offensive Player of the Year, Sun Belt First-Team Conference honors and Sun Belt Conference All-Tournament honors. He was rewarded Sun Belt Offensive Player of the Week twice in September. Bjorgolfsson was also selected to participate in the 2022 adidas MLS College Showcase this week in Raleigh, N.C.
Grassow, a native of Munich, Germany, has received much recognition throughout his senior career earning awards such as Sun Belt Conference Preseason Defensive Player of the Year, Sun Belt Conference Defensive Player of the Year, Sun Belt First-Team Conference honors and Sun Belt Conference All-Tournament honors. The senior captain was also announced as a College Sports Communicators Academic All-American for the 2022 season.
The defender has played 59 matches for Kentucky with 56 starts totaling 5,057 minutes on the pitch. He saw a starting position in all 21 matches this season contributing to 11 clean sheets, as well as seven shots with four on goal. Grassow scored three goals for the Cats this season. He equalized the match at Tulsa in the early stages of the season, shot an impressive scissor kick against WVU in the sixth minute of the match and successfully headed the ball into the goal in the conference tournament championship against James Madison. Throughout his Wildcat career, the senior defender has contributed to over 20 shutouts.
Both Bjorgolfsson and Grassow were named 2022 MAC Hermann Trophy Semifinalists this week.
Nick Gutmann, a senior midfielder for the Wildcats, leads the nation in Total Assists and Assists per Game with an impressive 19 recorded this season. In his two seasons with Kentucky, he has tallied 24 assists and eight goals in 40 matches played with 27 starts. He tallied 2,389 total minutes on the pitch and received Second-Team All-Sun Belt Conference honors at the conclusion of the 2022 campaign.
True freshman Casper Mols was the fourth Wildcat to be named to the All-Southeast Region First Team. He was named Sun Belt Conference Goalkeeper of the Year and All-Sun Belt Conference Tournament honors following an impressive freshman season in the net. Earning a starting position at an early point in his collegiate career, the Aabernaa, Denmark native recorded 28 saves in 16 matches with seven clean sheets earned for the Cats. Mols put up strong statistics throughout his freshman season with a 11-1-4 record in the goal with only 12 goals against.
Holstad was the only Wildcat to be recognized on the All-Southeast Region Second Team. The fifth-year senior played 4,103 minutes on the pitch for Kentucky in his five years as a Wildcat. In that time, he scored five goals with seven assists while playing in 85 matches with 45 starts. The Sun Belt Conference All-Tournament MVP has been a key component as a midfielder demonstrating versatility and consistency. Holstad has also earned numerous academic awards throughout his five years as well.
The final 2022 NCAA Division I Men's All-America winners will be announced on Dec. 9.
For the latest on Kentucky Men's Soccer, follow @UKMensSoccer on Twitter, Facebook and Instagram, as well as on the web at UKAthletics.com.