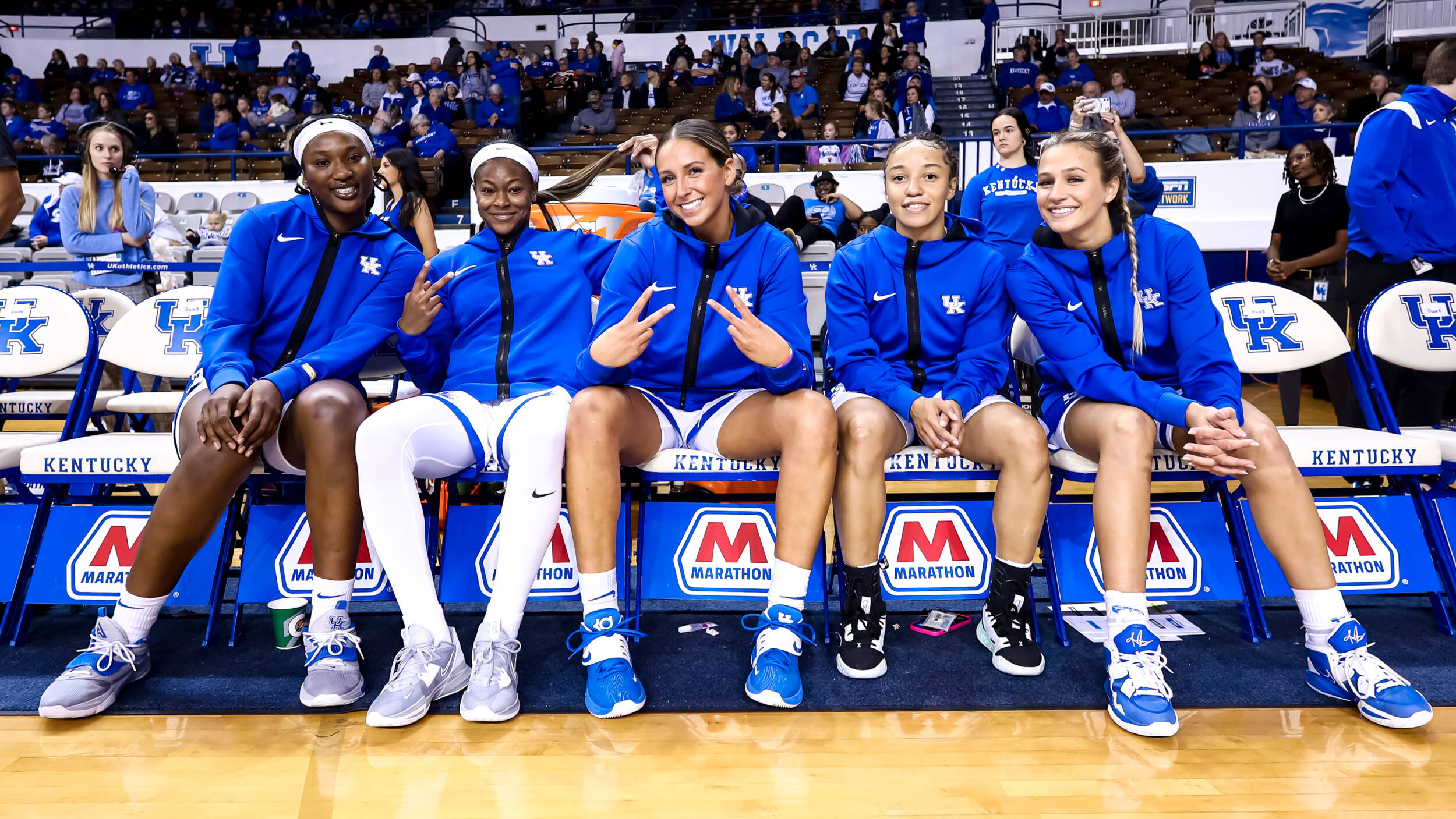 December 6, 2022 - 02:05 PM
Kentucky Takes On Minnesota, First Road Game of the Season
MINNEAPOLIS – The Wildcats women's basketball program will embark on their first true road game of the season, as Kentucky squares off against Minnesota at Williams Arena in Minneapolis, Minnesota, on Wednesday, Dec. 7 at 8 p.m. ET. The game, which will be just the second all-time meeting between the two teams, will be broadcast on the Big Ten Network+, with Emma Carpenter and Hunter Bertram on the call.
Darren Headrick will also have the game on the UK Sports Network on 630AM WLAP in Lexington. Free live audio will be available online, too, at UKathletics.com and live stats will be available online at KentuckyStats.com.
The Wildcats are 6-1 this season, including 5-0 at home and 1-1 at neutral sites. Kentucky is coming off a win over UNC-Greensboro, 82-56, last Sunday, which marked its first game in 10 days and its first home game in 17 days. In that matchup, Kentucky made 58.2 percent of its shot on 32-of-55 from the field. It marked the first time a UK team has shot at least 55.0 percent from the field under head coach Kyra Elzy.
Jada Walker, a sophomore guard, led the team in scoring for the fourth time this season with 20 points. She had one of her most efficient games yet, going 7-of-9 from the field and 5-of-6 from the line. Robyn Benton, who has scored in double digits in every game this season, added 14 points, while Ajae Petty contributed 10 points.
In fact, Petty had her first career double-double on 10 points and 12 rebounds, adding two blocks, two steals and an assist. She has scored in double digits for three straight games.
Adebola Adeyeye, who made her third start in Blue and White against the Spartans, produced eight points on a perfect 4-of-4 from the field, adding five rebounds, four steals and an assist in under 15 minutes of action.
Three players are averaging double-digit scoring in 2022-23, including Walker (14.9), Benton (14.3) and Blair Green (10.3).
Kentucky is shooting 44.0 percent from the field, while its averaging 74.7 points per game this season. More than 62.0 percent of its 204 field goals have been a product of its 127 assists. The Wildcats are second in the Southeastern Conference and are ranked 17th nationally in assists per game (18.1).
Maddie Scherr, a junior transfer from Oregon and a Florence, Kentucky, native, is responsible for a bulk of those dimes, leading the SEC and ranked 13th nationally in assists per game (6.4). She also leads the conference and is ranked 13th nationally in assists/turnover ratio (3.21).
Meanwhile, as a team, the Wildcats are causing a stir on the defensive side of the ball, pacing the league and ranked top-10 nationally in both turnovers forced (25.6) and turnover margin (9.2). The Cats have won the turnover battle in every game this season, while they have forced their opponents to commit at least 20 turnovers in the last six straight games. Walker has proven to be a terror on that side of the ball, pacing the league in both steals (24) and steals per game (3.43).
Kentucky is holding its opponents to 37.0 percent from the field and less than 58.0 points per game.
Minnesota is 5-3 on the season, including 4-1 at Williams Arena. Its coming off of a double-overtime win against Penn State, 98-96, at home. In that game, the Golden Gophers went 28-of-32 from the line, including 13-of-13 in the fourth quarter to help force an overtime. Four players scored in double digits in that game, including Mara Braun's team-high 26 points.
Four Golden Gophers are averaging double-digit scoring, including Braun (19.7), Alanna Micheaux (13.3), Katie Borowicz (10.1) and Amaya Battle (10.0). Micheaux is leading the team with 8.4 rebounds per game.
Minnesota is averaging 75.6 points per game on 41.3 percent shooting, while its holding its opponents to 66.3 points per game on 39.4 percent from the field in 2022-23.
The two teams have met just once before, with Minnesota leading the all-time series with Kentucky, 1-0. The last time the two teams met, the Golden Gophers defeated the Wildcats, 92-80, on Nov. 23, 2007, at the Rainbow Wahine Classic in Honolulu, Hawaii, at the Stan Sheriff Center.
For more information on the Kentucky women's basketball team, visit UKathletics.com or follow @KentuckyWBB on Twitter, Instagram and Facebook.