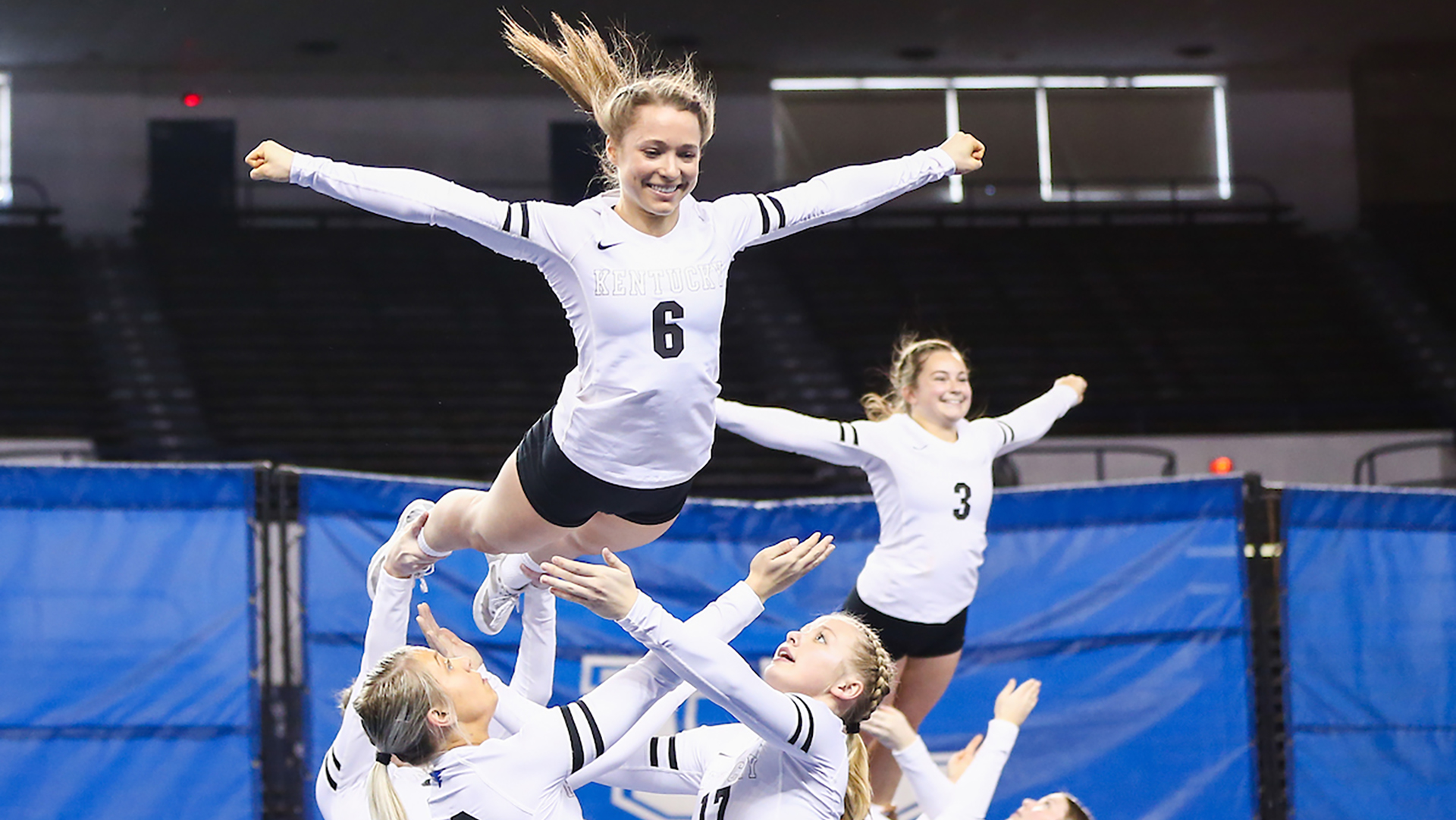 Qualifying for a national tournament and having four athletes named to an All-American team would be big accomplishments for any college athletic program. Then, factor in that same team achieved both of those accomplishments in just their first year as a varsity sport, which makes the feat even more impressive.
That's exactly what the Kentucky STUNT team did last season in its first year of existence. Now, the Cats are preparing for their second season ever, but with even higher goals and expectations than the last.
The program has come a long way in a very short amount of time. In the fall of 2021, members of the UK STUNT club team, including Izzy Holloway and Hannah Hohn, found out they were going to be a part of a varsity sport, beginning immediately. It was a surreal moment for the players involved.
"Even at that time when they announced it, the majority of the team still didn't understand how a STUNT match operated," Hohn admitted. "We were trying to learn and understand but we really couldn't until we actually experienced it for ourselves."
The Cats finished with a 7-7 record last year, including a bid to the STUNT national championship tournament. All of that with basically four months of preparation before their season opener.
With more experience under their belt this season, the team understands what it takes in practice and a game to secure a win.
"I think that this year, especially the returners, we actually know what we're getting into and how to be competitive," Hohn said. "This year it's even more serious because we realized that we were competitive last year without even much preparation."
Holloway, who was a first-team All-American last season, is a junior on this year's team. The North Carolina native has her sights on some bigger personal goals for this upcoming season.
"So last year, I was in a lot of routines, but for stunts, specifically, I was in (routines) one, two and three, so my goal this year is to move on to the upper levels," Holloway said. "I would really like to show off more of my skills rather than just my cleanliness and routines."
Hohn, who was named honorable mention All-American last season, described how the team's goals this year look a lot different than the year before.
"We have a goal of being able to compete (routines) one through eight," Hohn said. "Our goal, at first, was only to get through level four, so I think this year it's different because we are trying to compete every single level and we actually have the time and the skill level to be able to do that."
This year's squad features 22 newcomers to the program. Hohn and Holloway agree that even though this year's team is younger, they think this year will be more successful overall.
"We do have a lot of talent and I think it's just going to take that first match for a lot of the freshmen to understand what we're looking for in terms of style," Hohn said. "I'm excited for the team to feel more confident going into tournaments because I think last year we had so little time to prepare."
Holloway agreed with her teammate.
"This year, there's a lot more cohesion within the team," Holloway said. "More people are on the same page just because we all started at the very beginning of the year with each other."
Along with practices and weight training, Holloway explained that, in terms of preparation, the team watches a lot of film to assess their opponents' weaknesses.
"Film is probably one of the most important things that we do as a team," Holloway said. "We watch the national champions all the time so we can see how to become the next national champions."
To become the next national champions. For a team playing only their second season, that would be a huge feat. The UK STUNT team's season opener is their Blue-White Scrimmage on February 4. Two weeks later they will play at the Dallas Baptist Tournament from February 17-18.
With just two months left to train, the Cats are preparing to make this year even more historic than the last.