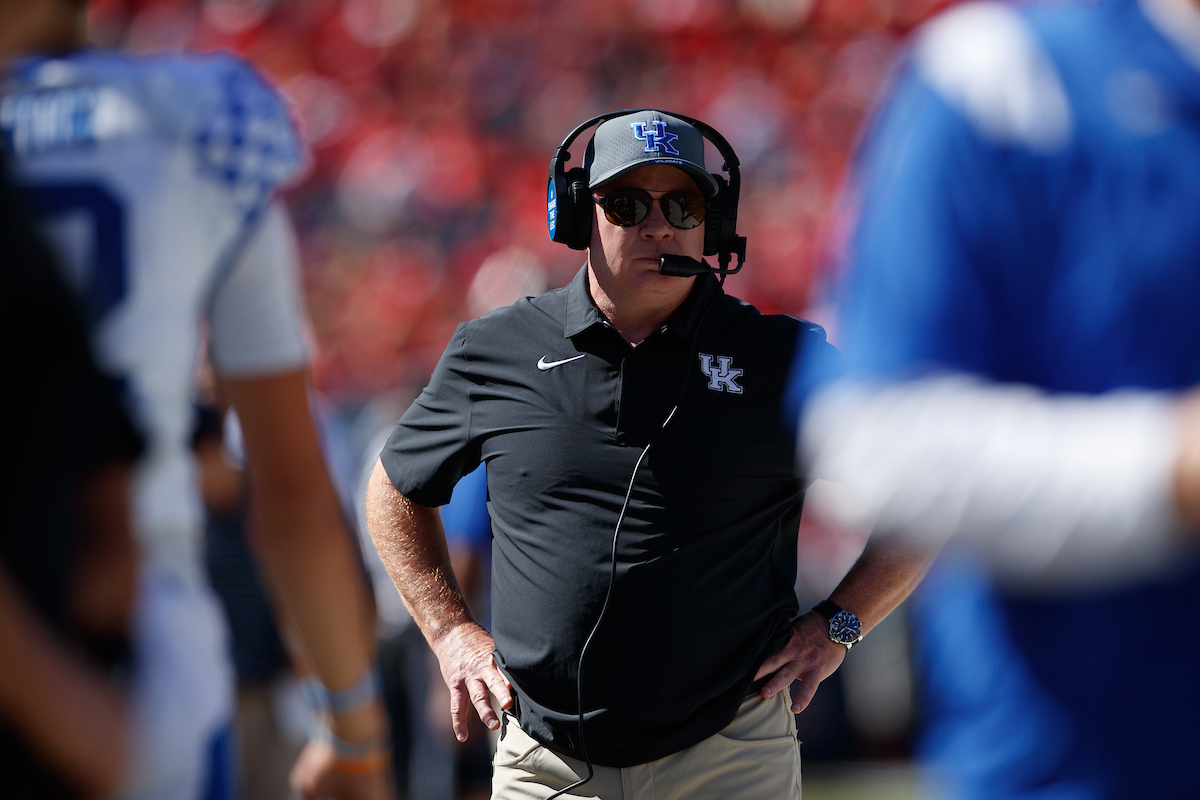 Kentucky football head coach Mark Stoops met the media on Monday to discuss the Cats' upcoming appearance in the TransPerfect Music City Bowl. In that game, the Cats will face Iowa, which happens to be Stoops' alma mater.
It will be the second straight year that the Cats and the Hawkeyes will meet in the postseason. At the end of last season, Kentucky topped Iowa 20-17 in the Vrbo Citrus Bowl in Orlando. In that game, Kentucky scored inside the final two minutes to pull out the victory.
There has been some discussion about the two teams meeting in consecutive bowl games but that fact does not bother the UK head coach.
"Very honored to play in the TransPerfect Music City Bowl. I know it was a great experience, other than the outcome, in 2017," Stoops said. "Some people may like it or not like it that we're repeat playing an Iowa team. But I know this, it will be one heck of a football game once again. They're going to fight you tooth and nail. (Iowa head coach) Kirk Ferentz is steady as can be, the longest tenured coach in college football. A very quality program and they have been for years."
Stoops acknowledged that it will be tough on the Big Blue Nation to have the Cats playing the Hawkeyes in Nashville on the exact day and time that the UK basketball team will face Louisville at Rupp Arena.
"I know it puts our fans in a pickle and I'm very sorry about that," Stoops said. "There's not a lot we can do about that. For ourselves and our team, it's an honor to play in this game."
However, the UK head coach knows that the BBN has a large enough reach to have strong showings at both venues.
"I expect Rupp to be packed for the Louisville game and I expect us to sell our allotment of tickets and have a quality group of people there as well," Stoops said. "There's enough Kentucky fans to be able to spread it around and support both programs, like (the fans) always do."
Stoops covered a number of other topics during Monday's availability.
On the date of the bowl game:
"The nice thing about this for us is the timing is ideal. To play a game earlier than that is difficult, with morale. To ask them to get up on Christmas morning and go to a practice is tough."
On recruiting:
"The timing of (the bowl game) should work out well. It will give us time to recruit. We've been on the recruiting trail. We're hitting the recruiting trail hard for the next two weeks."
On making an offensive coordinator change:
"There's many reasons, there's many factors, as you could imagine. Sometimes, things don't work out and sometimes you need to make a change for a variety of reasons. Obviously, I felt the change was needed or I would not have done it."
On the prospects for a new offensive coordinator:
"I'm very excited about where this could lead. I'm in the middle of talking to several people. I had a great conversation with a potential candidate yesterday, I'm going to meet another one this week. I've spoken to several others. I feel like there's some very good options out there. We'll see where it goes. I'm optimistic, I'm excited."
On the timeframe to name a new offensive coordinator:
"There's no panic here. You've got to have some urgency about you, but no panic. You have to get the right person."
On his recent surgery:
"I had to stop for one day – I had rotator cuff surgery – that sucked. That put me down for almost 24 hours, which was difficult. I bounced back quick."
On who will call plays in the bowl game:
"I don't want to comment on that just yet. We'll work through that. It will be a group effort. You've got Woody up there, Scott Woodward, you've got Vince (Marrow), who will be a big part of the leadership of that. More than likely, will be active for the game, will be Josh Estes-Waugh, who is an analyst who has been with me for a long time. Mark Perry is a guy who has great experience."
On which players will be available to play in the bowl:
"I don't know exactly everybody who's going to play in the bowl. It's different (this year). It's just different, it's harder, it's been around longer."
On whether quarterback Will Levis will play in the bowl:
"I do not know. Will and I spoke, he and I discussed it. And he was going to think about it, he needed some time. I didn't want him to make a decision right then because I'm sure he was physically, emotionally, the biggest thing is physically, had some things to work through. He wanted to see how his body responded, with treatment and see where he's at injury-wise. We'll get together, I would imagine real soon here, and he'll let me know."