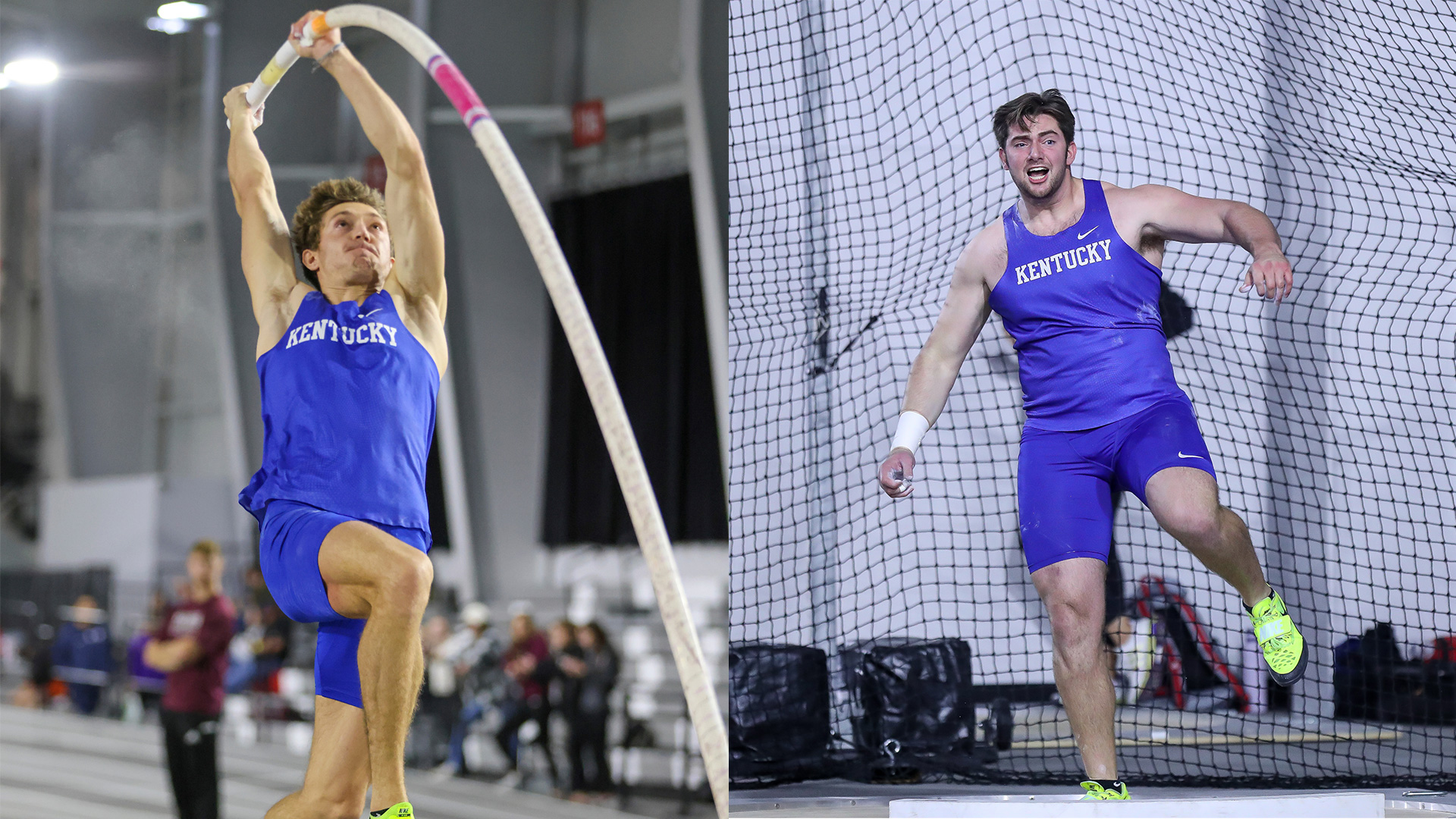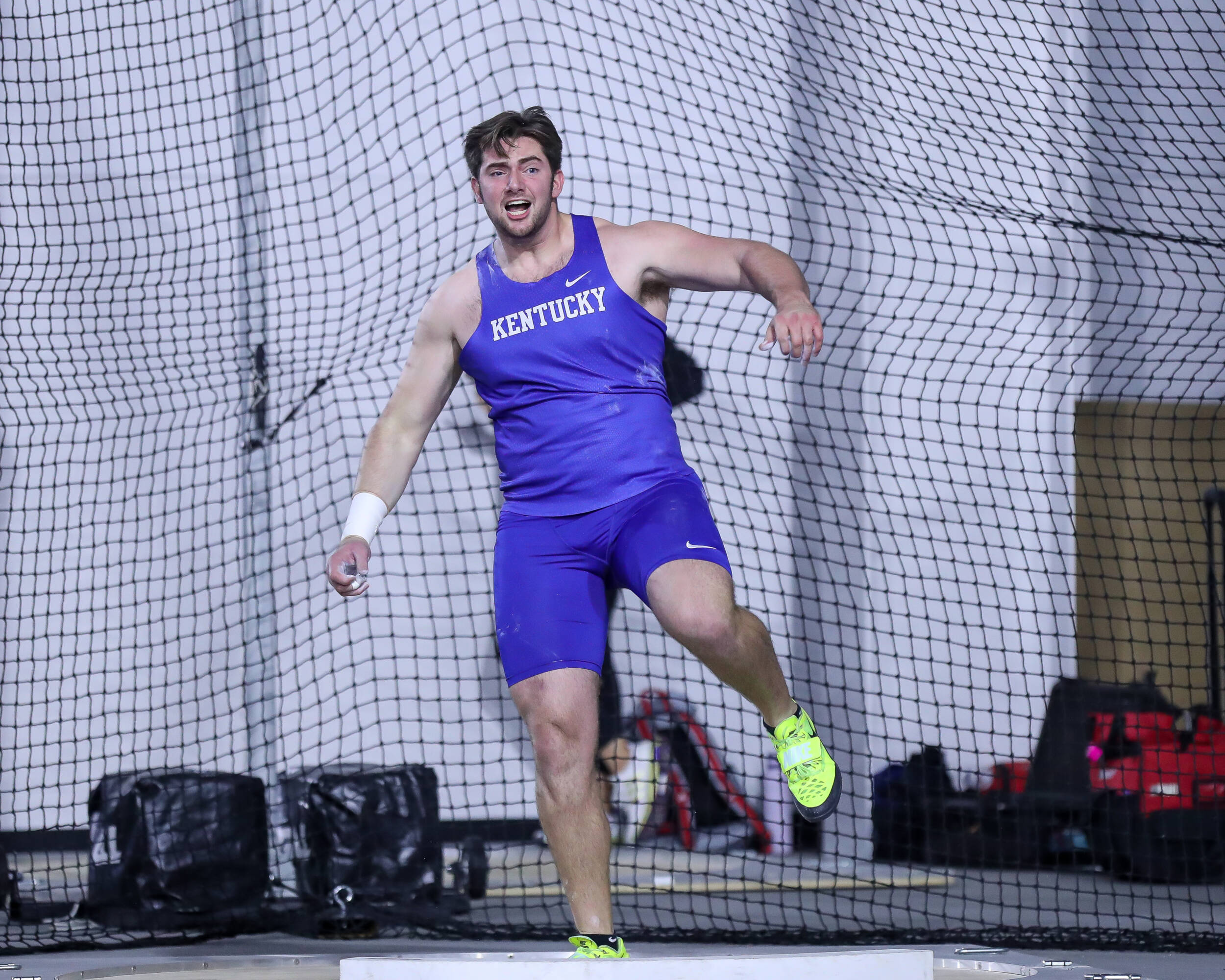 December 4, 2022 - 11:39 AM
UKTF's Keaton Daniel & Josh Sobota Open 2022-23 With School Records
LOUISVILLE, Ky. – Pole vaulter Keaton Daniel and shot putter Josh Sobota broke indoor school records during a banner season-opening meet filled with individual wins for the University of Kentucky track and field teams on Saturday inside Norton HealthCare Sports & Learning Center.
In all, Kentucky Wildcats won a combined 16 individual events over the course of the one-day-meet that served as an opening test of the athletes' standing going into the holiday break before the indoor season begins in earnest in January 2023.
Keaton Daniel opened his indoor season with a pole vault win. The two-time reigning Southeastern Conference Outdoor Champion broke the indoor school record he shared with Matt Peare, clearing 18-feet, 1.25 inches/5.52 meters. Daniel's mark ranks No. 2 in the nation this season with only a handful of meets having taken place.
Sobota tossed the early-season NCAA Division I leader: 66'5.75"/20.26m to win by nearly eight feet. Teammate Dennis Ohene-Adue was third with a mark of 57'9.75"/17.62m.
Langston Jackson posted the nation-leading times in two events. He won the men's 60m in 6.65, and the 200m, crossing the finish line first in 21.30. Myles Anders, running unattached, was second in the 200m (21.60).
Masai Russell won the women's 60m hurdles and 200m, both in nation-leading times. Russell, who was NCAA silver medalist in the event last year, won the hurdles in 8.11 and led a UK 1-2-3-4-5-6 finish in the 200m.
Russell ran 23.51 in the 200m followed by Karimah Davis (23.61), Tamiia Fuller (24.06), Victoria Perrow (24.47), Colleen Branch (24.56) and Anthaya Charlton (24.91).
Sophie Galloway won the women's triple jump (41'11.5"/12.79m). Galloway ranks No. 2 nationally in the event.
Perrow won the women's 60m with a time of 7.29, which moved her to No. 10 on the UK all-time performers' list. She is tied for second fastest in the nation so far this year.
Graduate student Simisola Akinrinsola won the women's shot put and the Wildcats went 1-2-3 in the event. Akinrinsola's top mark was 49'2.5"15m, multi-eventer Annika Williams was second with a 44'11.50"/13.70m and Leah Moore placed third (43'5"/13.23m).
Katelyn Hutchinson won the women's 400m and Wildcats swept the podium in the event. Hutshinson's winning time was 58.27. Jasmine Jackson was second in 58.61 and Mahogany Mobley was third in 59.22.
Brandon Nyandoro and Beck O'Daniel went 1-2 in the men's 400m (49.38 and 49.41).
John O'Donnell won the men's 1,000m (2:26.16).
Justin Sawnn won the men's 600m (1:20.50).
Kennedy Lightner won the men's 300m (32.85). Brandon Miller was third (33.64).
UK's men's and women's 4x400m relays each won to conclude the track portion of the meet. The men's 4×4 of Brandon Miller, Wayne Lawrence Jr. Markevus Jackson and Kennedy Ligtner ran 3:11.14, which is the earl-season NCAA leader.
The women's 4×4 of Karimah Davis, Masai Russell, Megan Moss and Yasmin Brooks ran 3:40.05, ranking second nationally.
Mallory Mullen was runner-up in the women's high jump clearing 5'8"75"/1.79m, a mark that tied for No. 9 on the UK all-time list.
Michael Browning was second place in the men's weight throw with a mark of 60'11.25"/18.57m. Akinrinsola took third place in the women's weight throw.
Payton Phillips improved her No. 3 on the UK indoor all-time list, clearing 13'3.5"/4.05m to earn runner-up honors in the women's pole vault.
Joseph Palmer opened up with a second-place men's triple jump (48'3.25"/14.71m). Robbie Springfield leapt to third place in the men's long jump (48'3.25"/14.71m).
Wayne Lawrence Jr. took second in the men's 500m (1:01.00). Megan Moss was runner-up in the women's 500m (1:13.24).
Anthaya Charlton got third place in the women's triple jump (19'6"/5.94m).
Saturday, December 3
Women
Weight Throw
Prelim/Final
3. Simi Akinrinsola: 62'3.75"/18.99m

6. Leah Moore: 52'0.00"/15.85m

Men
Weight Throw
Prelim/Final
2. Michael Browning: 60'11.25'/18.57m

5. Dennis Ohene-Adu: 58'11.25"/18.0m

Men
Shot Put
Prelim/Final
1. Josh Sobota: 66'5.75"/20.26m

3. Dennis Ohene-Adu: 57'9.75"/17.62m

Women
Shot Put
Prelim/Final
1. Simi Akinrinsola: 49'2.5"15m

2. Annika Williams: 44'11.50"/13.70m

3. Leah Moore: 43'5"/13.23m

11. Sophie Galloway: 34'1.25"/10.39m

Women
High Jump
Final
2. Mallory Mullen: 5'8.75"/1.79m | Tied-No. 9 on UK all-time list.
Men
High Jump
Final
5. Donsten Brown: 6'6.75"/2.0m
Men
Pole Vault
Final
1. Keaton Daniel: 18'1.25"/5.52m | Indoor school record

4. Dalton Shepler: 16'8.75"/5.10m | indoor/outdoor PB, T-No. 8 on UK all-time list

Women
Pole Vault
Final
2. Payton Phillips: 13'3.5"/4.05m | improves No. 3 mark on UK indoor all-time list

7. Kaitlyn Cain: 11'9.75"/3.60m

Men
Long Jump
Prelim/Final
3. Robbie Springfield: 23'4.75"/7.13m
Men
Triple Jump
Prelim/Final
2. Joseph Palmer: 48'3.25"/14.71m
Women
Long Jump
Prelim/Final
3. Anthaya Charlton: 19'6"/5.94m

7. Meg Wilson: 17'8.25"/5.39m

Women
Triple Jump
Prelim/Final
1. Sophie Galloway: 41'11.50"/12.79m | T-No. 5 on UK all-time list
Women
60 Meter
Prelim
1. Victoria Perrow: 7.40Q

2. Anthaya Charlton: 7.41Q

3. Shadajah Ballard: 7.46Q

4. Tamiia Fuller: 7.54Q

23. Timika Scarlett: 7.98

Men
60 Meter
Prelim
1. Langston Jackson: 6.70Q
Women
60 Hurdles
Prelim
1. Masai Russell: 8.13

2. Yasmin Brooks: 8.56

2. Shadajah Ballard: 8.56

5. Carolyn Boyke-Johnson: 9.04

Women
60 Hurdles
Final
1. Masai Russell: 8.11

3. Carolyn Boyke-Johnson: 9.03

7. Yasmin Brooks

Women
60 Meter
Final
1. Victoria Perrow: 7.29 | No. 10 on UK all-time list

4. Anthaya Charlton: 7.53

5. Tamiia Fuller: 7.53

6. Shadajah Ballard: 7.54

Men
60 Meter
Final
1. Langston Jackson: 6.65
Women
400 Meter
Final
1. Katelyn Hutchinson: 58.27

2. Jasmine Jackson: 58.61

3. Mahogany Mobley: 59.22

Men
400 Meter
Final
1. Brandon Nyandoro: 49.38

2. Beck O'Daniel: 49.41

Men
1000 Meter
Final
1. John O'Donnell: 2:26.16
Men
600 Meter
Final
1. Justin Swann: 1:20.50
Women
300 Meter
Final
5. Yasmin Brooks: 39.51

6. Reynei Wallace: 39.85

26. Patrice Cornelius: 44.27

Men
300 Meter
Final
1. Kennedy Lightner: 32.85

3. Brandon Miller: 33.64

8. Markevus Jackson: 34.23

Women
500 Meter
Final
2. Megan Moss: 1:13.24
Men
500 Meter
Final
2. Wayne Lawrence Jr.: 1:01.00
Women
200 Meter
Final
1. Masai Russell: 23.51

2. Karimah Davis: 23.61

3. Tamiia Fuller: 24.06

4. Victoria Perrow: 24.47

5. Collleen Branch: 24.56

6. Anthaya Charlton: 24.91

12. Seven Simms: 25.44

18. Carolyn Boyke-Johnson: 26.82

Men
200 Meter
Final
1. Langston Jackson: 21.30

2. Myles Anders (Unattached): 21.60

Women
4 x 400 Meter Relay
Final
1. UK (Karimah Davis, Masai Russell, Megan Moss, Yasmin Brooks): 3:40.05

5. UK (Tamiia Fuller, Colleen Branch, Shadajah Ballard, Mahogany Mobley): 3:56.84

7. UK: 4:03.78

8. UK: 4:04.22

Men
4 x 400 Meter Relay
Final
1. UK (Brandon Miller, Wayne Lawrence Jr., Markevus Jackson, Kennedy Lightner): 3:11.14

2. UK (Beck O'Daniel, Justin Swann, Langston Jackson, Brandon Nyandoro): 3:17.17