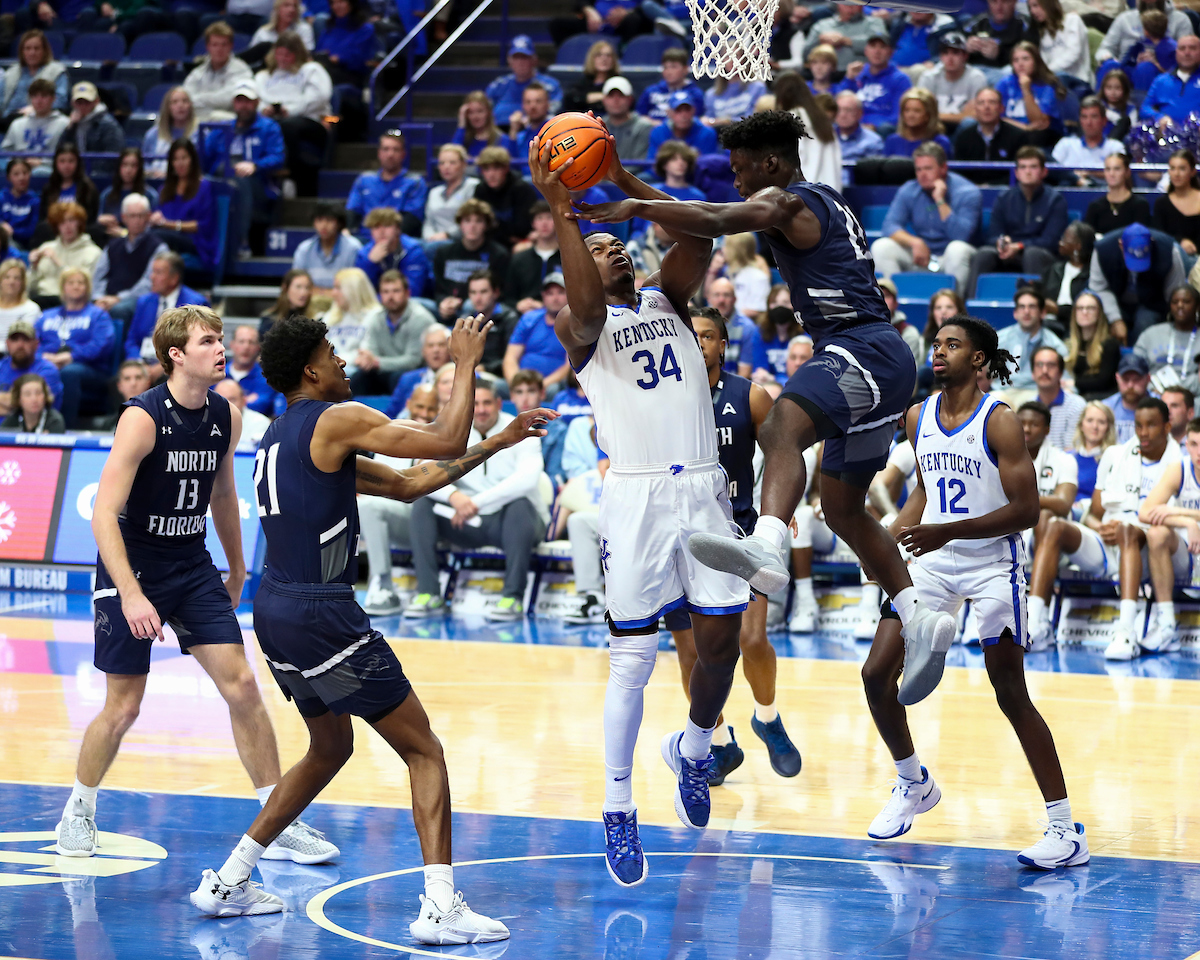 December 3, 2022 - 11:17 AM
Kentucky, Michigan Set to Meet in London on Sunday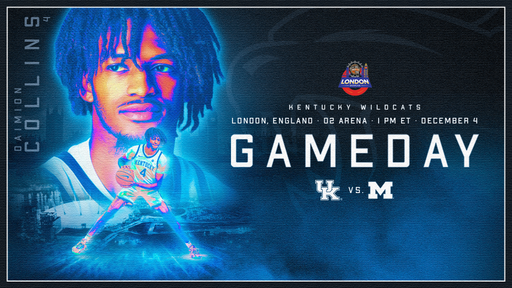 Kentucky head coach John Calipari has never been afraid to take his team on the road. But even Coach Cal may have outdone himself this week.
Calipari and his Cats are in London (England, not Kentucky), where UK will face Michigan at O2 Arena in the Basketball Hall of Fame London Showcase on Sunday. It will be the first official game that Kentucky has ever played outside of North America.
The 19th-ranked Cats are coming off a 60-41 win over Bellarmine on Tuesday night at Rupp Arena. After being tied 21-21 at the half, UK was able to use its size advantage to open up the lead in the second half to win for the fifth time in seven starts.
Antonio Reeves leads Kentucky in scoring, averaging 14.9 points per game. Defending National Player of the Year Oscar Tshiebwe, who missed the first two games of the season due to injury, is averaging 14.4 points and 13.4 rebounds per game. Jacob Toppin averages 12.7 points per game, while Cason Wallace (10.6 ppg) and CJ Fredrick (10.3) are also averaging double figures in scoring.
Kentucky lost to Michigan State 86-77 in double overtime in the Champions Classic in Indianapolis. The Cats' other setback came at No. 2 Gonzaga, 88-72, on Nov. 20.
Michigan is also 5-2 after suffering a hard-fought loss, at home, to No. 3 Virginia on Tuesday night in the ACC-Big Ten Challenge. The Wolverines also lost to Arizona State in the Legends Classic in Brooklyn.
Juwan Howard's team is led by Hunter Dickinson, a 7-1 junior center who scores 19.1 points and grabs 9.1 rebounds per game. Jett Howard, the son of the UM head coach, averages 15.1 points per game for Michigan.
Sunday's game is set for a 1 p.m. ET tipoff and can be seen on ABC.
On Foreign Soil
The game against the Wolverines will be the Cats' seventh alltime matchup outside the United States. Kentucky is 5-1 in such contests.
•UK went 2-1 in the San Juan Shootout in Puerto Rico in the 1998-99 season, earning wins over Colorado and UCLA sandwiched around a defeat to Pittsburgh
•Kentucky picked up victories over Cleveland State and Stanford at the Cancun Challenge in the 2009-10 campaign
•UK also defeated Arizona State in the Atlantis Showcase in The Bahamas in the 2016-17 season
Cats Deliver the Knockout Punch
Kentucky is 315-13 (96.0%) in the John Calipari era when leading by at least 10 points at any time in the contest. Ten of the 13 losses in the Calipari era are to conference opponents.
Perhaps most impressive of all is that 69.3% of games Calipari has coached in at Kentucky have produced 10-point leads at some point during the game for UK. The Wildcats have led by 10 points or more in a whopping 85.1% of Calipari's 370 career wins at Kentucky.
Need to Know …
Need to know facts about the Cats:
• Sahvir Wheeler ranks second in the league and 12th nationally with a 4-to-1 assist-to-turnover ratio. Wheeler leads the SEC and ranks 11th nationally with 7.3 assists per game
• Since the start of the 2019-20 season, his freshman season at Georgia, Wheeler's 583 total assists rank second nationally, only behind the 627 by Yuri Collins of Saint Louis
• Cason Wallace ranks 11th nationally with 20 total steals
• Wallace has totaled 32 assists and 20 steals through the first seven games of his college career. The freshman is one of three players nationally to have totaled at least 30 assists and 20 steals
• Oscar Tshiebwe's 22-point, 18-rebound game against Michigan State was the third such contest of his UK Career. He now has three of the six 20 or more and at least 18 rebounds in a game by an SEC player in the last 10 seasons. No other player has more than one and the feat had not been accomplished since South Carolina's Sindarius Thornwell did so against Alabama on Feb. 7, 2017
• Tshiebwe also has tallied a pair of 20-point, 15 rebound games so far this season and has five over the last two seasons. He has nine of the 51 20-point, 15-rebound contests by SEC players in the last 10 seasons
• Tshiebwe is the only player in the NCAA this season averaging more than 14 points and 13 rebounds per game
• As a team, Kentucky has been one of the best nationally in keeping opponents from blocking their shots. UK is tied for fourth in the country, having only 10 shots blocked through seven games