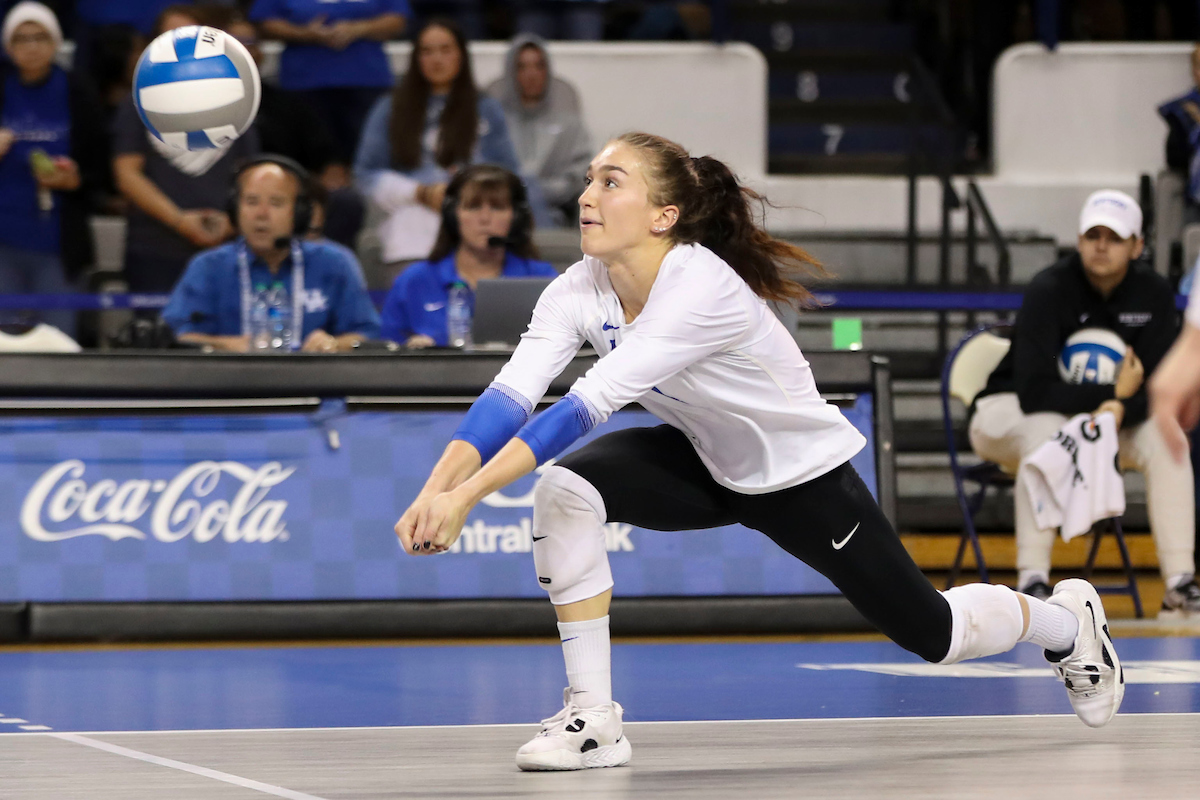 December 1, 2022 - 09:48 PM
Motivated Cats Cruise Past Loyola-Chicago on Thursday
Playing against rival Florida, in Gainesville, with the Southeastern Conference regular season title on the line, the Kentucky volleyball team found itself getting swept by the Gators in the first of back-to-back matches. The Cats would be forced to win the Sunday match just to have a chance at winning, or sharing, the title.
That fact seemed to spark the Cats. UK would sweep Florida to split the weekend set. Then, the Cats would sweep South Carolina on consecutive days to claim a share of a sixth consecutive SEC championship. That made it nine sets in a row that the Cats had won heading into the postseason.
That stretch continued on Thursday night as Kentucky opened the 2022 NCAA Tournament with a sweep of Loyola-Chicago inside Memorial Coliseum.
The sweep at Florida served as both motivation and a bit of a wake-up call for the Cats, according to Emma Grome.
"Nobody likes to get swept, especially against an opponent like Florida, so I think that definitely kicked us into gear a little bit," Grome said. "We've been working really hard in the gym, staying focused and intentional."
Senior Adanna Rollins got the Cats' offense going in the first set with seven kills, while Bella Bell had four. UK hit .433 as a team in the first set on their way to winning 25-17.
The onslaught continued in set two as the Cats hit .385 on their way to a 25-14 set win. And in the final stanza, the Cats hit .359 on their way to winning 25-20. The final frame helped the Cats put the Ramblers away in under 90 minutes. UK head coach Craig Skinner was pleased with his team's effort on Thursday.
"Loyola is a very good team," Skinner said. "They've won 25 matches and 17 in their league and for us to hold them to 20 or under for three sets is a pretty significant defensive performances."
The Cats were able to have balance on offense throughout Thursday's match. Rollins led the Cats with 15 kills, but UK got 11 kills from Reagan Rutherford, nine from Bella Bell and Azhani Tealer and eight from Erin Lamb.
Grome is happy to have so many options to which she can distribute the ball.
"We have so many good hitters on this team," Grome said. "We keep it really balanced. Having so many different options makes it really fun for me. I have a lot of confidence in my hitters."
Skinner was impressed with the balance as well.
"I was impressed today with that. Emma did a really good job of getting the ball to the right people at the right time. And the balance got better as the match went on. It's definitely an important piece in the tournament for sure.
"We're blocking a lot better than we were in September. Our execution after point 20 is much better. I think this team is starting to believe a little bit."
Kentucky advances to Friday's second round, where they will take on intrastate rival Western Kentucky. First serve will be at 7 p.m. ET. Between now and then, the Cats will focus on the little things, as well as preparing for the Toppers.
"Eat, sleep, watch some film, rest for tomorrow," Grome said. "We're going to come into practice ready to scout Western Kentucky."
The Cats appear to be using the loss at Florida as motivation. UK hopes that trend continues on Friday against WKU.