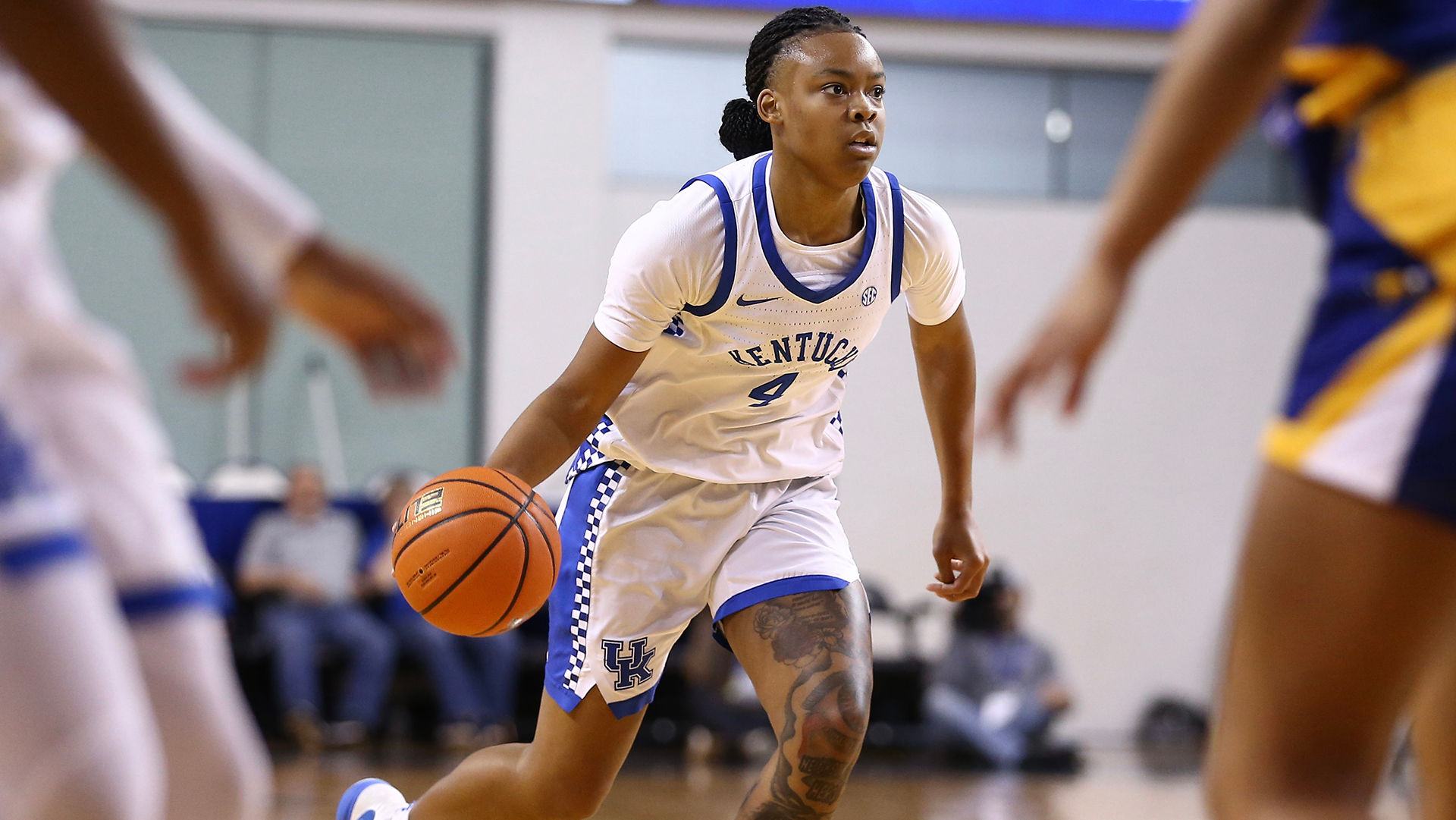 November 29, 2022 - 01:47 PM
Ajae Petty, Eniya Russell Enjoying 'Reunion' at Kentucky
One of the greatest advantages in college sports is knowing your teammates. That advantage can be enhanced if players have known each other for a long time.
For Kentucky women's basketball junior transfers Eniya Russell and Ajae Petty, the ability to predict the other's move is one that comes just as easily to them as dominating the court.
The pair of Baltimore natives first met while playing on their middle school basketball team. They played several seasons together until they were separated by high school transfers and college commitments, only to be finally reunited as teammates this season at the University of Kentucky. The move to the Bluegrass is working out well for both players.
"Living with Eniya has made this transfer a lot smoother for me, especially with having someone to relate to," Petty said.
This duo joined the team with a secret weapon – knowing what to expect from one another at all times.
"I know when she wants the ball and where she wants it," Russell said. "I know what she's capable of. We've been playing together for so long, I just know her game."
The bond between the two players, both on and off the court, is evident. In a competitive environment like collegiate sports, sometimes the game can be more mental than physical.
"A couple days ago, I was feeling pretty down with where I was at and (Eniya) texted me to check in and help me get out of my head," Petty said.
Russell agrees with her teammate.
"Sometimes we get a little off track, but (Ajae) always tells me to fix my mindset and be positive," Russell added.
One of the biggest things that drew the duo to UK was the positivity they saw from the coaches during their visits to Lexington. Since meeting their teammates, they've seen that same positivity is spread throughout the program.
"(Adebola Adeyeye) is a really supportive teammate," Petty said. "I look to her like an older sister because she's very wise and is a great leader to us," Petty said. "Jada (Walker) and Robyn (Benton) are also very supportive. A lot of people bring support in a lot of different ways."
These long-time members of the SEC (having transferred from LSU and South Carolina) have one piece of advice for other players: make sure you're improving as a person off the court as well as on.
"People are out to get any team, a lot of people want to win, so in practice I try to get one percent better every day," Russell said. "Holding yourself accountable, helping your teammates, giving our freshmen teammates a shoulder to lean on. They all play a part in improving as a player and as a person."
Russell and Petty are a duo that works well together and with the rest of the team. With their experience, skill, and supportive attitude, the pair's best times with the Wildcats are still ahead of them.