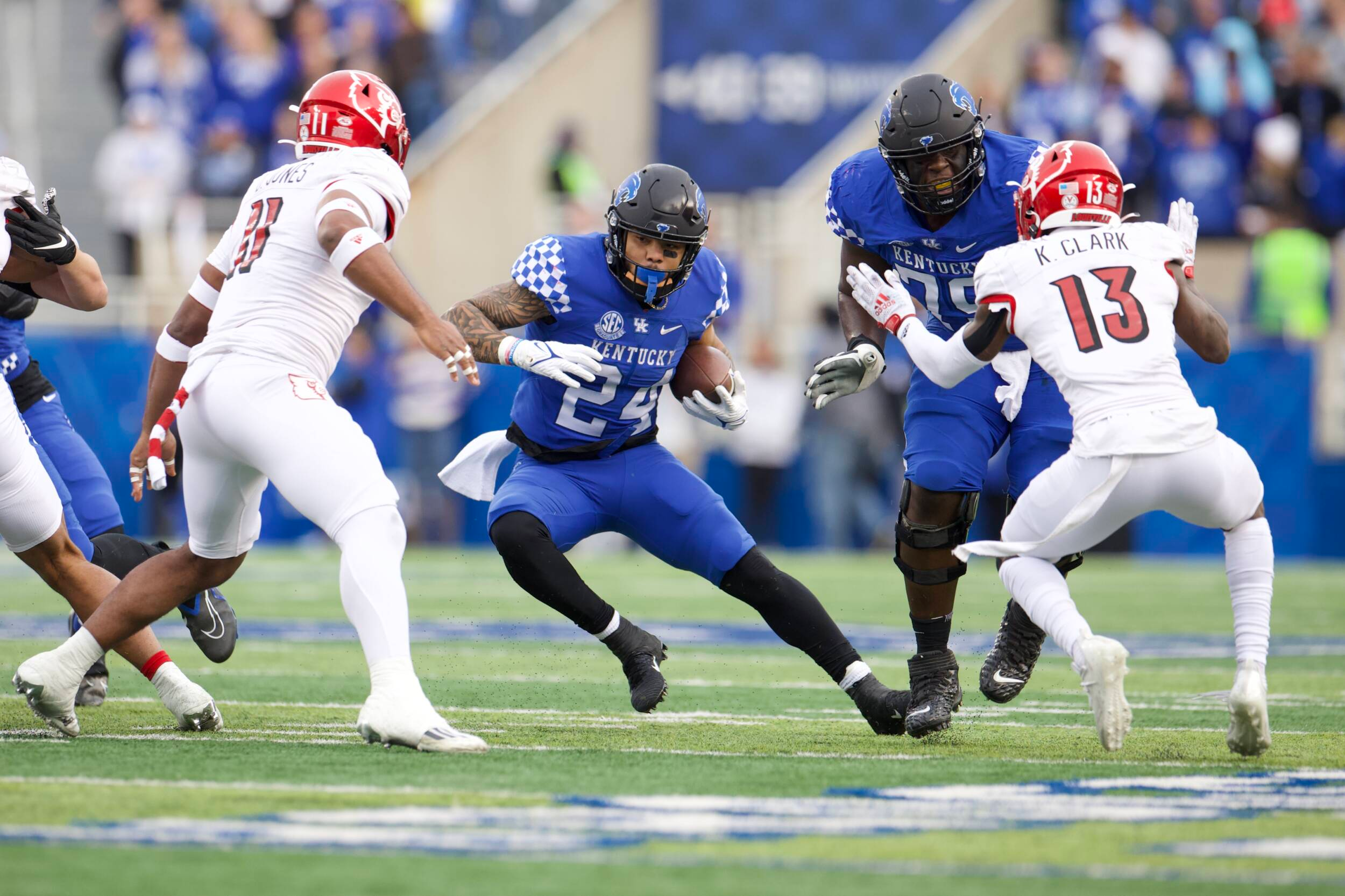 On Saturday at Kroger Field, Kentucky honored its decorated 2022 senior class. Then, that group of seniors proceeded to help the Cats dominate intrastate rival Louisville.
Will Levis, Chris Rodriguez Jr., a host of defenders and others helped the Cats to a 26-13 win, the fourth straight for Kentucky in the series. The Cats will keep the Governor's Cup trophy, and bragging rights, for another straight season.
Rodriguez rushed for 120 yards on 24 carries, marking his 20th career game with at least 100 yards rushing. That broke the school record previously held by Benny Snell, who hit the 100-yard mark on 19 occasions.
Levis was solid behind center on Saturday, connecting on 11 of 19 through the air for 188 yards and a pair of touchdowns. He also rushed for a score, his fifth in two years against the Cards. Most importantly, facing a defense that has turned opponents over all season, the UK quarterback did not have a turnover against the Cards.
Seniors led the way on defense for the Cats on this day. Keidron Smith, JJ Weaver and Jordan Wright all had seven tackles to lead the Kentucky attack. Weaver had a sack and a pass breakup, while Wright had a half tackle for loss and two quarterback hurries.
After each missing several games due to injury, both Jacquez Jones and DeAndre Square were able to play in Saturday's game, and each reached a career milestone. Both players had three tackles in the game and both went over 300 career tackles on Saturday.
UK head coach Mark Stoops was pleased with his seniors' efforts on this day.
"Just the way they played today you could tell the way they care about each other and wanted to finish strong," Stoops said. "I greatly appreciate that, and I know they will as well."
Perhaps the most pleasant surprise of the day was senior kicker Matt Ruffolo, who was named the game's MVP after his performance on Saturday. The kicking game has been shaky for the Cats this season but not on Saturday. UK made the kicking game look routine against the Cards, and Ruffolo converted a career-high four field goals, in addition to two extra points after struggling at times this season.
"It was great to see Ruff finish that way," UK head coach Mark Stoops said. "I had confidence in him, the team did, I treated him like I always did. We worked on it. He kicked it really solid tonight."
Ruffolo was honored to win the Howard Schnellenberger Award as the MVP, but he noted that it was a team effort.
"Oh yeah, they told me I was the first kicker to win that award," Ruffolo said. "It just means a lot as the field goal unit with my long snapper Cade DeGraw and my holder Chance Poore and all the line to end on that performance… they gave it to me, but it is really for all of us."
The four-game winning streak by the Cats has come in dominating fashion. All four wins have been by double digits, with this year's game being the closest of the four. UK has outscored U of L 179-57 over those four contests, an average margin of victory of more than 30 points per game.
In the 2022 version of the Governor's Cup, it was the UK seniors leading the Cats to another victory in the series. It was a fitting end for a special group of UK seniors.