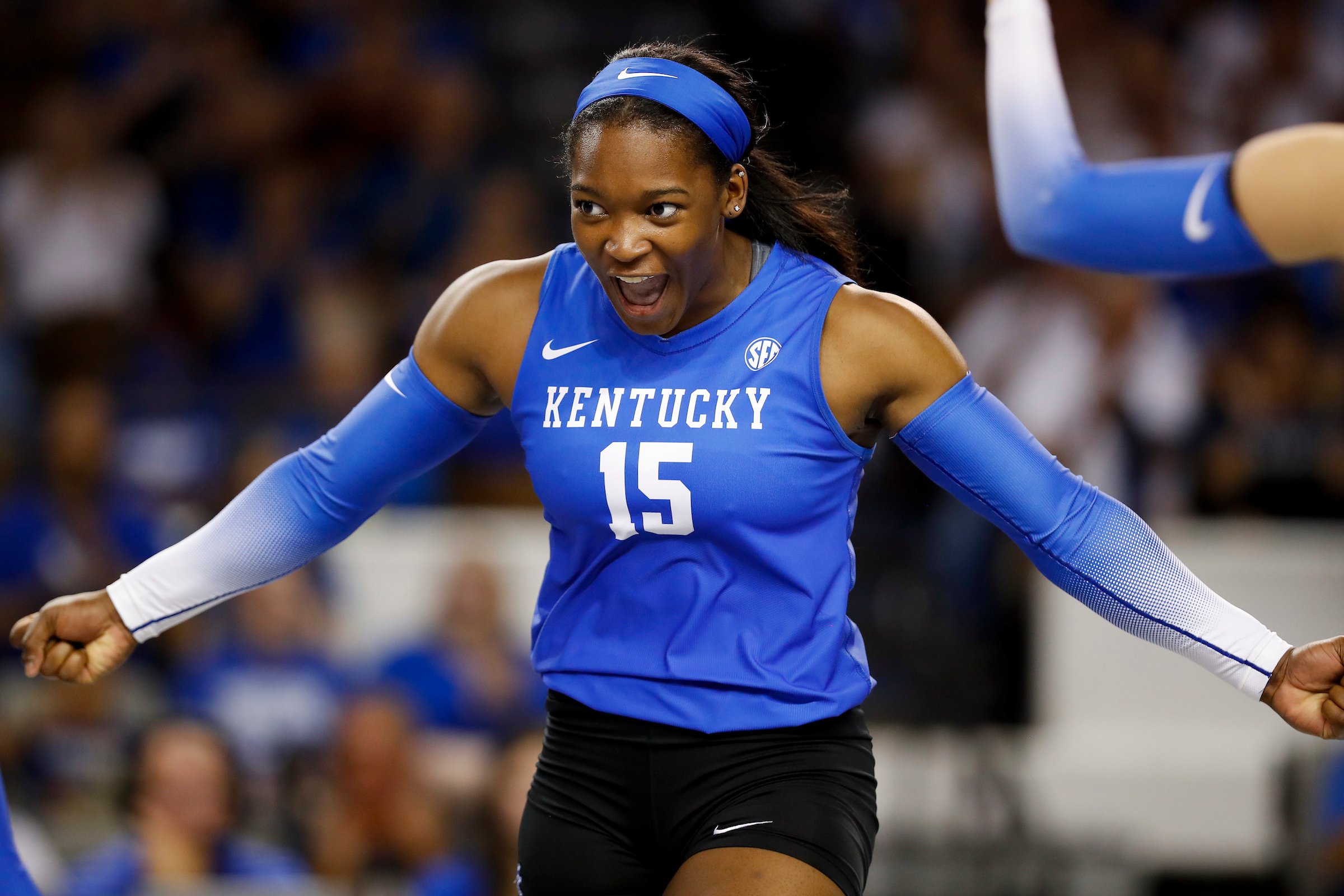 November 25, 2022 - 06:24 PM
Tealer Sets School Record with 13 Block Assists in Sweep of USC
LEXINGTON, Ky. – Senior Azhani Tealer had a school-record 13 block assists and did it all in just three sets Friday afternoon as the No. 16 Kentucky Volleyball team swept South Carolina 3-0 (25-17, 25-12, 25-21) to put its magic number at one for a Southeastern Conference championship.
The Wildcats will close out the SEC season on Saturday afternoon at 1 p.m. ET against South Carolina with free admission inside Memorial Coliseum. A win on Saturday, and UK clinches the SEC Championship for 2022. For fans looking to attend both VB and UK Football, there will be a $1 shuttle running from Noon ET – 3:30 p.m. ET between Memorial Coliseum and Kroger Field. The match will also be broadcasted live on SEC Network+ and the ESPN app.
UK held South Carolina to a -.010 hitting percentage for the match and used a 21-3 run in the second set to take a 9-4 Gamecock advantage and turn it around into a 25-12 second-set win. No player reached double-figures for Kentucky in kills, but a whopping five players all had five-plus terminations in the match.
The no-doubt standout of Friday's match was Tealer, who tallied seven kills on 17 swings, an ace, a dig and a school-record 13 block assists as part of an 18-block performance by the Wildcats as a team Friday. Reagan Rutherford had one solo stuff and six block assists in the match with Adanna Rollins also adding in a solo block of her own. Tealer, Rutherford, Rollins, Erin Lamb and Bella Bell all had three-plus blocks in the matinee.
Kentucky's record improves to 19-7 overall on the year as the Wildcats now sport a 14-3 record in SEC play with one match to play.
Friday afternoon was Senior Day in Lexington, with Bella Bell, Maddie Berezowitz, Kelly Franxman, Adanna Rollins and Azhani Tealer all honored pregame. Tealer announced prior to the match that she will be returning in 2023 for her fifth year of eligibility.
Set One
The match started as a back-and-forth affair, as both teams traded side-outs to 3-3. A pair of blocks highlighted a 4-1 scoring run that allowed the Wildcats to open up a lead at 8-4. South Carolina was forced into its first timeout of the set as consecutive kills by Erin Lamb, Rollins, and Tealer pushed the Wildcat advantage to 12-6.  Kentucky continued to apply pressure defensively as a South Carolina attack error, challenged to no avail, pushed the advantage to 16-9.  Tealer and Rutherford combined for a stuff block to push Kentucky's lead to eight at 20-12. South Carolina would go on a 3-0 run to cut the gap to 20-15, but back-to-back Gamecock errors forced Carolina Coach Tom Mendoza to call his final timeout of the set, trailing 22-15. Kentucky claimed the first set, 25-17, with seniors Bella Bell and Adanna Rollins teaming up for the stuff block. Kentucky held South Carolina to a .065 hitting percentage, led by four rejections.
Set Two
Led by two aces from Eleanor Beavin, Kentucky roared back after a timeout, tying the set at 9-9 and forcing the Gamecocks into a stoppage of their own. The Kentucky run ballooned to eight in a row as Rutherford and Tealer combined for a pair of blocks, forcing South Carolina to use its final timeout of the stanza at 12-9 Kentucky after it was down 9-4 earlier in the set. After the timeout, Kentucky's run stretched to 12-0 as the Wildcats were able to continue its dominance at the net, as Rutherford found three more rejections, one solo and two in combination with Tealer. Runs of 4-0 and 5-0 propelled the Wildcats to the finish line as Kentucky won the second set, 25-12.  Reagan Rutherford dominated the frame with three kills, five blocks and an ace. Kentucky's defense held the Gamecocks to -.267 hitting in the frame, led by ten Wildcat blocks. Kentucky scored 21 of the final 24 points of the second set.
Set Three
Kentucky kept its foot the gas, opening up the third frame with six of the first seven points. South Carolina was forced into its first timeout of the set, trailing 11-5, thanks to an Erin Lamb 3-0 run that included two kills and a block. After the resumption of play, kills by Lamb and Tealer extended the Kentucky lead to eight at 16-8. South Carolina did not go away quietly, putting together a 3-0 run to force Kentucky into its first timeout of the set. Kentucky responded out of the timeout with a Rutherford kill, pushing the score to 19-15 in favor of the Cats. A Carolina attack error on the next play forced the Gamecocks into their last timeout of the set. Senior Kelly Franxman checked in, making her impact immediately with a stuff block and a kill to set up match point at 24-18. On its fourth match point, Kentucky put the match away thanks to another Franxman kill, ending the set at 25-21.
Follow along with the Wildcats on Twitter, Facebook and Instagram, and on the web at UKathletics.com.