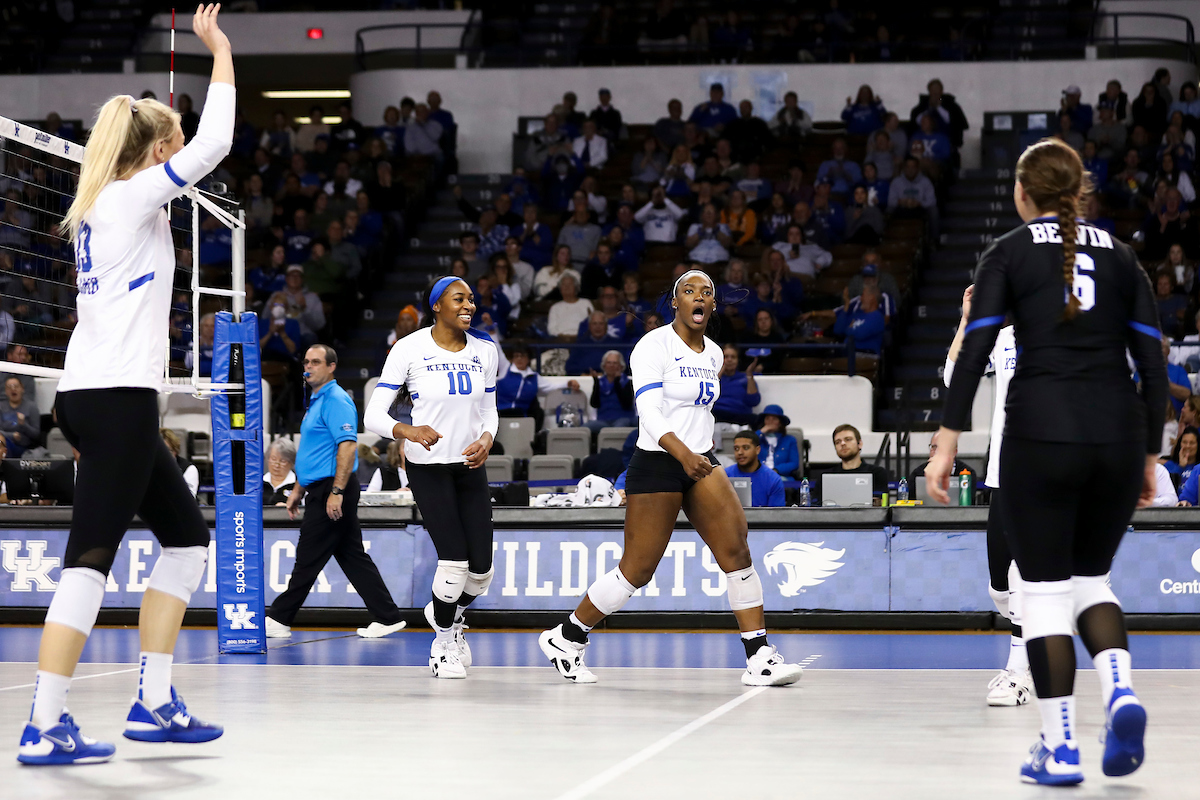 November 25, 2022 - 06:39 PM
Azhani Tealer's Record-Breaking Performance Lifts Cats on Friday
Kentucky honored its volleyball senior class prior to Friday's match against South Carolina. And senior honoree Azhani Tealer responded to the ceremonies with a record-breaking performance.
Tealer set a new UK record for block assists in a match as the Cats literally blocked South Carolina's hopes for an upset on Saturday, sweeping the Gamecocks 25-17, 25-12, 25-21 on Senior Day.
The Grand Prairie, Texas, native, had 13 block assists in the match, breaking the previous record of 12 held by four players, the last of whom was Queen Nzenwa, who had 12 against Arkansas in 2007. Tealer added seven kills for good measure.
After the emotion of the Senior Day ceremonies, Tealer knew she needed to gather her emotions and focus on the task at hand.
"It's super emotional. Bella (Bell) and Maddie (Berezowitz) have been with me since day one and that's why I wanted to do (Senior Day) with them," Tealer said. "After that whole thing, we got into the match and I was saying 'you've got to lock in right now', I was still wiping my tears from my eyes. It was hard to get it together."
A casual observer would guess that Tealer had no such issues. By the time the Cats had claimed the second set, Tealer already had 10 block assists and the record was within reach. Five of Tealer's block assists came on a 12-0 Kentucky run in the second set, which turned a 9-4 deficit into a 16-9 lead. Has she ever had a match like she had on Friday?
"No, obviously," she said. "I'd like to take credit for a lot of that but a lot of it was Emma (Grome) and Rebo (Reagan Rutherford) and Erin (Lamb) and Adanna (Rollins), they did a really good job on their blocking assignments today so it made it really easy for us."
The UK serve was also an important factor in the block game. It may not seem like that could be possible, but sophomore libero Eleanor Beavin knows it can be.
"Yeah, that's the goal with serving is to get them out of system and make floor defense easier, blocking easier," Beavin said. "They don't have as much range when they're off the net. Credit to the serving today for sure."
UK head coach was pleased with his team's performance on Friday and even more pleased with how the Cats' blocking has improved this season.
"We're definitely a lot more disciplined right now in blocking," Skinner said. "Blocking and passing are the two hardest skills in volleyball to master and it took us a little longer this year."
With the win, Kentucky will now have an opportunity to at least share the Southeastern Conference title for the sixth straight season if they can win on Saturday against South Carolina. But Tealer knows that it's not a given, despite Friday's result.
"They're not going to give it to us, we have to go and get it," Tealer said. "We have to come out even more prepared tomorrow and more intense and go take it from them because that team can play way better. We're excited for the opportunity to play for (the title) tomorrow."
Tealer and her teammates put the Cats in position to do just that with a dominant performance on Friday.