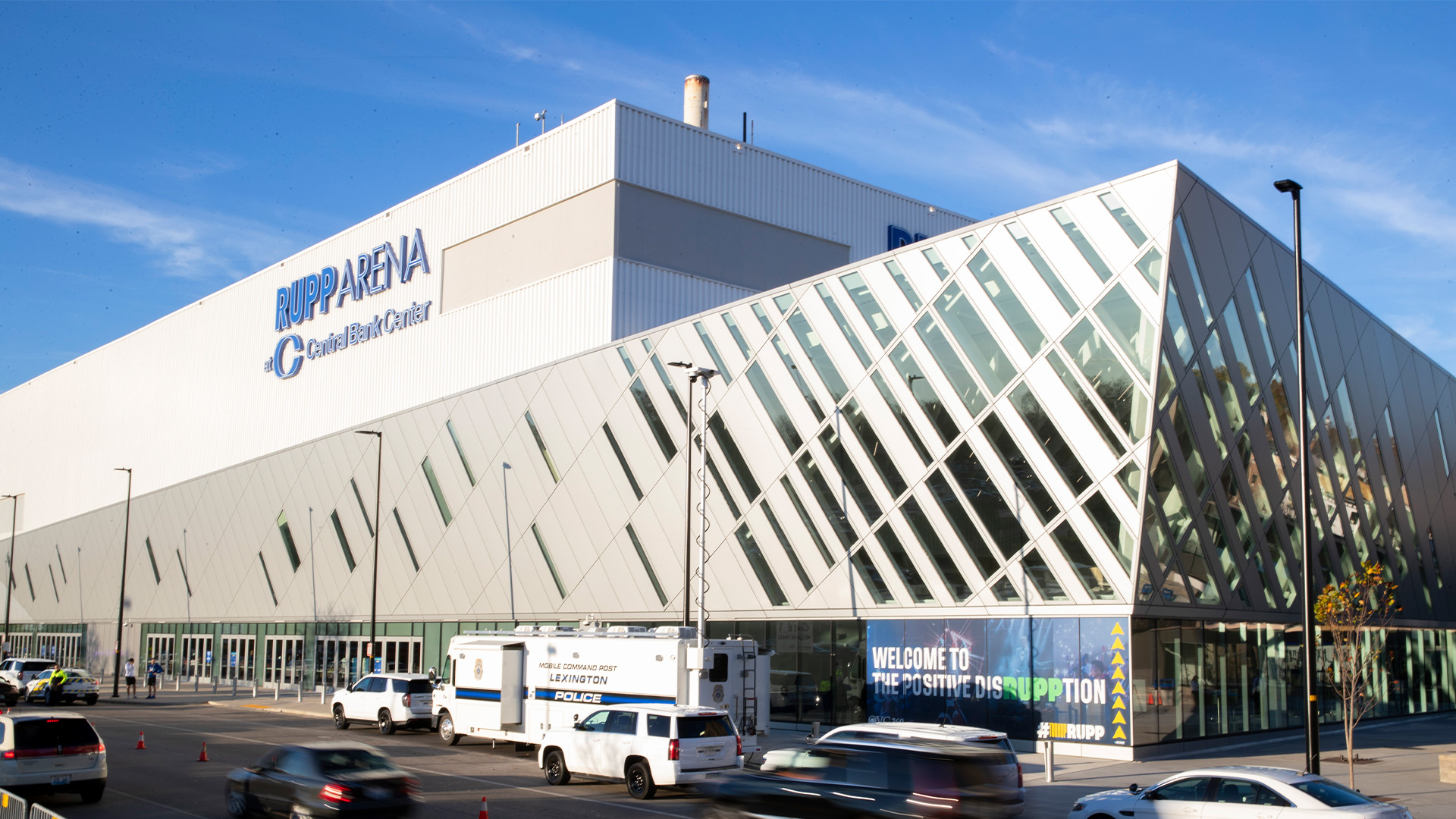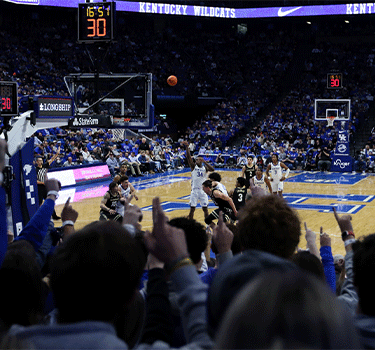 November 23, 2022 - 12:30 PM
Single-Game Tickets for Final 11 Kentucky MBB Home Matchups On Sale Nov. 30
LEXINGTON, Ky. – Single-game tickets for the final 11 Kentucky men's basketball home games, including all Southeastern Conference games and matchups with Louisville and Kansas, will go on sale Wednesday, November 30 at 5 p.m. ET exclusively online at Ticketmaster.com or through the Ticketmaster app.
Fans are reminded that single-game inventory for Kentucky basketball games, especially the highly sought-after matchups in the slate of the final 11 home games , is extremely limited. The majority of tickets are sold as season ticket packages or held as part of the student allotment. Additional ticket inventory from the student allotment may be released to the public later.
Games going on-sale on Nov. 30:
Dec. 31: vs. Louisville
Jan. 3: vs. LSU
Jan. 10: vs. South Carolina
Jan. 17: vs. Georgia
Jan. 21: vs. Texas A&M
Jan. 28: vs. Kansas
Feb. 4: vs. Florida
Feb. 7: vs. Arkansas
Feb. 18: vs. Tennessee
Feb. 25: vs. Auburn
March 1 vs. Vanderbilt
Fans interested in acquiring new season tickets are encouraged to enter the men's basketball season ticket lottery online or contact the UK Sales Office directly at (800) 928-2287, option 1. An extremely limited number of season tickets will be available. The season ticket lottery will continue for a short while longer this regular season while supplies last. For more information on K Fund seating availability in the lower bowl, please call 859-257-6300. Complete season ticket information, including pricing, can be found online at www.UKathletics.com/tickets.
Groups interested in attending games together are eligible for specially-priced tickets for select games. Group tickets are a great way to provide entertainment for clients and businesses, team-building activities, employee appreciation outings, birthdays, youth teams, school groups and civic organizations. Interested groups can email groupsales@uky.edu for more information.
A limited number of premium floor and courtside single-game ticket options are available through the K Fund. For more information, contact the K Fund at (859) 257-6300.
Information on student tickets for regular-season games is also now available at UKStudentTix.com, including how and when season pass holders can claim tickets for each game, as well as how and when students can purchase single-game tickets. The student claim and purchase process is currently under way for the games through Dec. 10.
Limited inventory for the remaining home games leading up to the Louisville game on Dec. 31 – matchups against South Carolina State, North Florida, Bellarmine, Yale and the Unity Series matchup vs. Florida A&M, which went on sale last month — remains available for purchase. In addition, some exclusive Early Cyber Week specials are now available through Monday, Nov. 28 for select games.
In addition to the public on-sales, the UK Athletics Ticket Office, in conjunction with its partnership with Ticketmaster, has enabled its official online resale marketplace this week for Kentucky Men's Basketball home games.
Ticketmaster's resale marketplace is completely integrated with UK Athletics' ticketing system and uses barcode verification technology to ensure the authenticity of all tickets. As the official fan-to-fan marketplace of Big Blue Nation, Ticketmaster provides fans with reliable and convenient access to purchase tickets for games and sections that otherwise may be sold out as well as post verified tickets for sale. Please note that tickets posted on Kentucky's resale marketplace may exceed face value.
All tickets purchased directly through Kentucky's official ticket outlets — the UK Ticket Office, Ticketmaster, FEVO, the visiting team ticket office and the Rupp Arena box office — are guaranteed to be valid. UK Athletics cautions against purchasing tickets through other outlets that may be unable to provide this assurance. UK Athletics strives to provide fans with a ticketing experience that is convenient, safe and secure.
All tickets will be mobile, and season ticket holders and individual game buyers will use the UK Athletics App to access and manage tickets. New this year for basketball, SafeTix™ will be implemented as an additional feature on mobile tickets. To fight fraud, Ticketmaster launched SafeTix™, which uses an encrypted barcode that automatically refreshes every 15 seconds, or a tap-and-go ticket stored in a fan's digital wallet. The process for accessing mobile tickets has not changed; however, with SafeTix™, screenshots or recordings of tickets will no longer work for entry. Fans may still transfer tickets through their accounts or the UK Athletics App. For more information, helpful tips, and FAQs, visit UKathletics.com/MobileTickets.
For fans attending 2022-23 Kentucky basketball events at Rupp Arena, all items are subject to search due to security reasons and the SEC clear bag policy is in place. Backpacks and large bags are prohibited. Guests may enter Rupp Arena with one clear bag no larger than 12" x 6" x 12" plus a small clutch that does not exceed 4.5" x 6.5". A clear bag shall be clear from top-to-bottom and a 2' trim/border is generally acceptable. To expedite entry into Rupp Arena, fans are encouraged not to bring a bag to sporting events at Rupp Arena. Additional gameday information about parking and new entry points for fans will be released in the coming days.
For the latest on the Kentucky men's basketball team, follow @KentuckyMBB on Twitter, Facebook, Instagram and TikTok, and on the web at UKathletics.com.