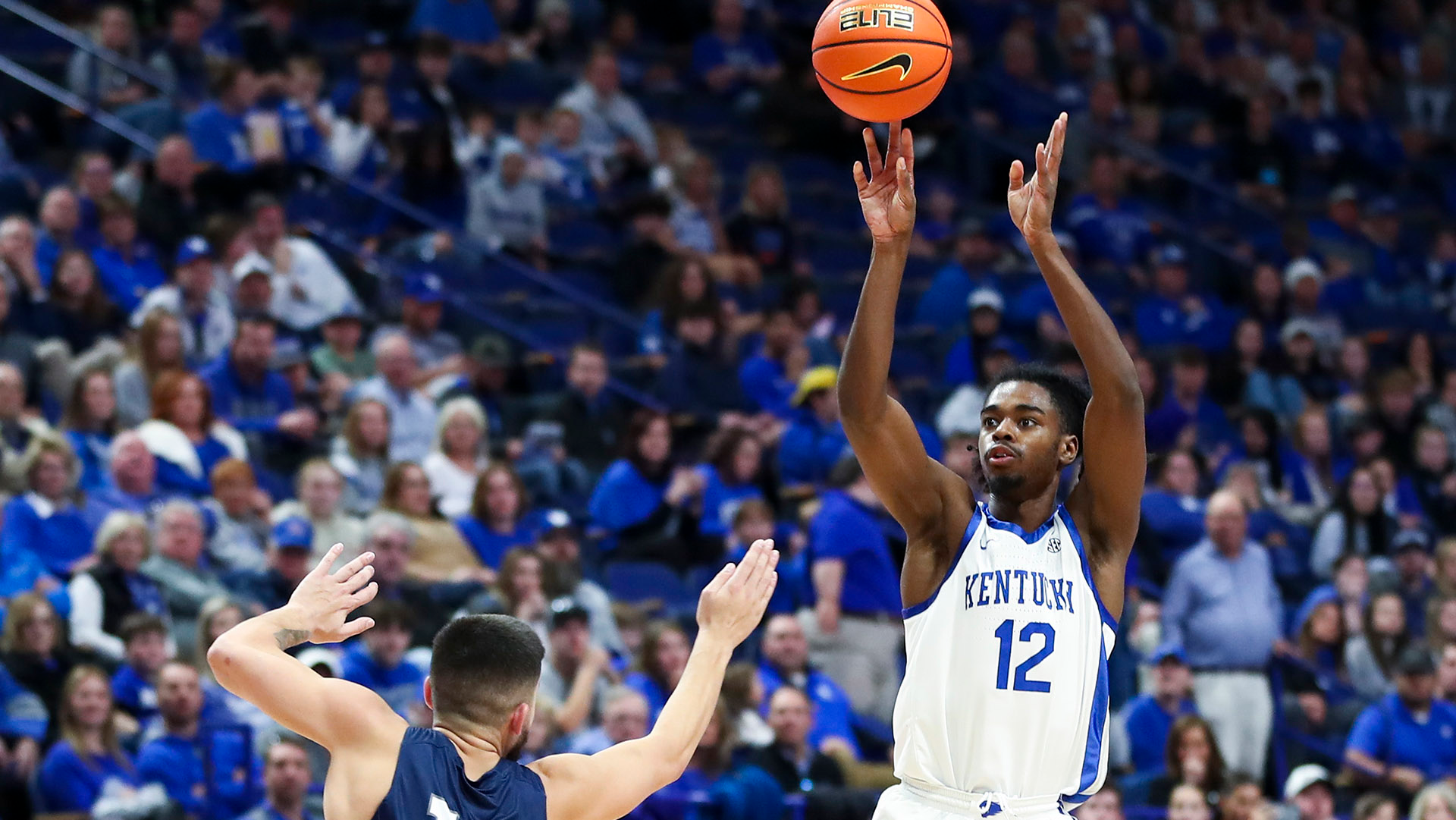 November 23, 2022 - 06:24 PM
Kentucky Cruises Past North Florida on Wednesday
Kentucky got off to a slow start in Sunday's loss at No. 2 Gonzaga. The Cats had no such problems on Wednesday.
After hitting just 25 percent of its first-half shots, and no three pointers in the first 20 minutes on Sunday, the Cats were much the opposite on Wednesday. UK hit 22 of 41 (53.7 percent) of its shots in the first half, including seven of 15 (46.7 percent) from behind the arc.
Kentucky would go on to an easy 96-56 victory on Wednesday, moving to 4-2 on the season.
The spark came from Antonio Reeves, who responded in a big way to getting his first start of the season. In the first half alone, the Chicago native hit seven of nine from the floor, including four of five from behind the arc, on his way to 18 points. Reeves sparked the Cats to a 54-23 advantage at the break, marking the most points UK has scored in the first half this season.
Reeves, one might say, was in the zone in the first half.
"It felt great," Reeves said. "Out there, feeling comfortable. The team got me involved in the game. The rim got bigger for me. I just kept shooting the ball. There were a couple of times I missed. Shooters shoot, so I definitely have that mentality."
Reeves' first half output was the most points scored by a UK player in the first half since PJ Washington did so against Vanderbilt in 2019. He finished the game with 20 points.
In the second half, it was Jacob Toppin who had the hot hand. Toppin made four of his first five shots, including a three, on his way to 11 second-half points and a career-high 20 points for the game.
Oscar Tshiebwe had a solid all-around game with 16 points, 15 rebounds and a career-high five assists. He added two blocks and three steals for good measure.
Kentucky returns to the court on Monday, hosting Bellarmine at Rupp Arena. Tipoff is set for 7 p.m. and the game can be seen on SEC Network Plus.