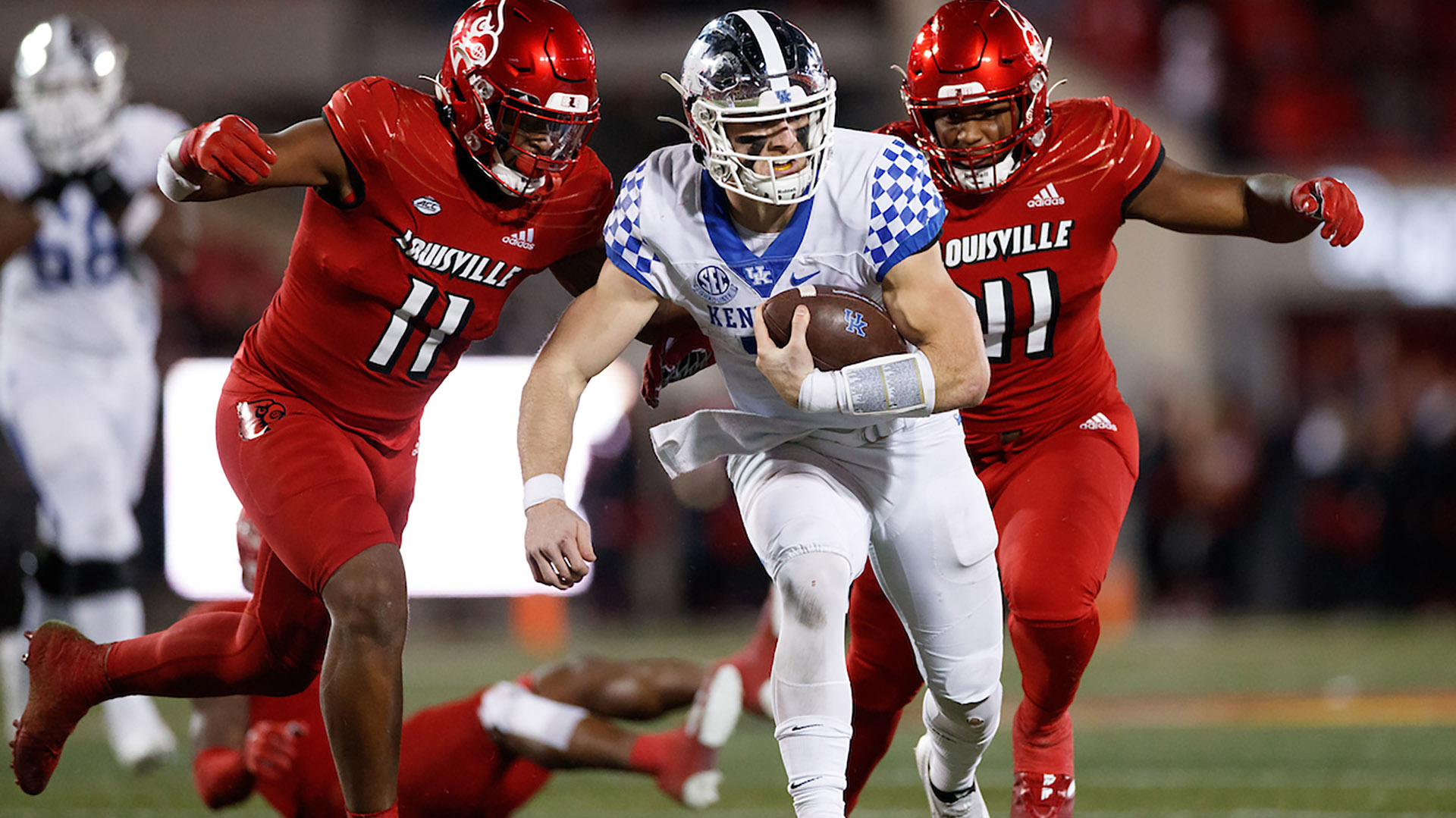 In the cites of Lexington and Louisville, there will be buzz words tossed about all week relating to the Kentucky-Louisville football rivalry. But UK defensive coordinator Brad White may have cited the most important word of the week.
"It's going to be about composure," White said. "And that's, whether it's Senior Day, whether it's rivalry, the team that can stay composed, stay focused on the job at hand and not let their emotions get the best of them, they can let those emotions fuel them but not overtake them."
The Cats and the Cards meet in the annual Governor's Cup rivalry on Saturday at Kroger Field. It will be Senior Day for 28 Cats who are playing in their final home game. White has grown especially close to players like Tyrell Ajian, DeAndre Square and Jordan Wright, who have been with White for a long time in Lexington.
"For me, those are guys who, as I grew in this defense, they grew with me," White said. "It will be an emotional day for me. For all of us, we kind of just have to keep it in check. You've emotional Senior Day, a rivalry game, there's a lot of emotions going on."
The players know how big this game is. It's openly talked about within the program.
"Most people around the facility know this is a big rivalry," said UK linebacker Jordan Wright. "They're going to try to do a lot of extra stuff, just don't let that get to you. Just put your performance on the field. That's how you talk back to them."
Wright and the Cats have one ultimate goal over the next few days.
"Trying to keep that trophy (the Governor's Cup) here," Wright said. "That's the big goal for this week."
JJ Weaver hails from Louisville, so he has always known how big this rivalry is.
"It means a lot for me, an in-state kid," Weaver said. "You've got to win it. The fans care about this game right here, so we've got to win it."
The Cats have won three in a row in the series, all in blowout fashion. Last year, Kentucky quarterback Will Levis had a huge game at Cardinal Stadium, rushing for four touchdowns. Levis, who was demonstrative throughout last season's contest, knows that the Cards will use last year's game film as motivation for this year's game.
"If anything, I know that they're watching that," Levis said. "They're watching that, using it as motivation. Because of that, we have to make sure we're ready."
Levis doesn't think it will take much to motivate the Cats for Saturday's game.
"I think the fact that it is a rivalry game is as much motivation as we need," Levis said. "Just how much it means to our team. To be a part of the rivalry is fun."
The Cats offense will take on a talented Louisville defense that has largely had its way with opponents lately. UK offensive coordinator Rich Scangarello has been impressed with the Cards.
"They are playing very confident, they're playing together, they've got a lot of veteran players who have played together for a while up front," Scangarello said. "They're playing very well. Outside of Clemson, people have really struggled against them."
Emotions will be running high at Kroger Field on Saturday. Senior Day, along with a huge rivalry game, will bring that out on both sides. The team that maintains their composure may be the one with the advantage in the end.