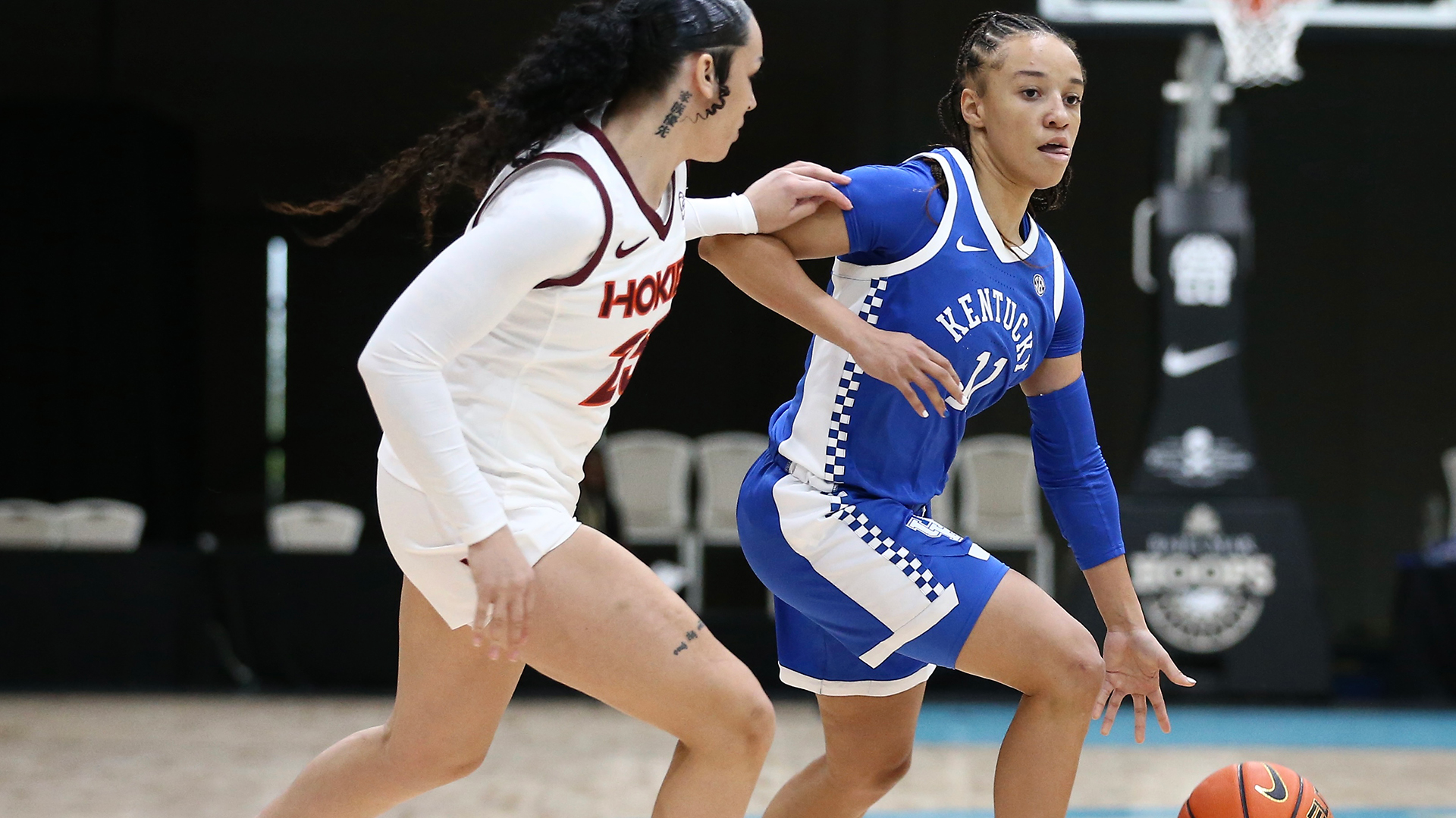 November 21, 2022 - 02:21 PM
Late Rally Falls Just Short as Kentucky Loses to No. 14/14 Virginia Tech
NASSAU, Bahamas – The Kentucky women's basketball team rallied in the fourth quarter but came up short, falling to No. 14 Virginia Tech 82-74 on Monday at the Baha Mar Hoops Pink Flamingo Championship.
Kentucky (4-1) trailed by 18 entering the final period but outscored the Hokies 25-15 in the stanza. However, it was not enough.
The Cats got 17 points from Jada Walker and 12 points from Ajae Petty. Robyn Benton had 13 points, while Maddie Scherr had six points, seven rebounds and four assists before fouling out.
The first quarter was tight early but Virginia Tech went on an 8-0 run to take a 13-4 lead halfway through the period. The Hokies did not let up, closing the period on a 16-2 run and taking a 29-8 advantage after one period of play.
In the second quarter, again, the teams were tight early, but the Hokies would eventually open a 28-point lead. But the Cat would close the half on a 9-2 run, sparked by five points from Robyn Benton, to cut the deficit to 44-23 at the break.
Kentucky would continue to try to chip away at the Virginia Tech lead in the third quarter. But every time the Cats seemed to get something going, the Hokies would answer. Kentucky would eventually get within 15 points, 58-43, on an Amiya Jenkins layup. However, Virginia Tech would close the period holding a 67-49 lead.
The Cats would not go away in the fourth period. After Virginia Tech opened a 74-53 advantage, Kentucky went on a big run. The Cats would score seven in a row as part of a 17-2 run that got UK within 76-70 with 44 seconds to go. But, it was too little, too late as the Hokies hung on for the win.
Kentucky returns to action on Wednesday, facing Dayton in the final game of the Baha Mar Hoops Pink Flamingo Championship.