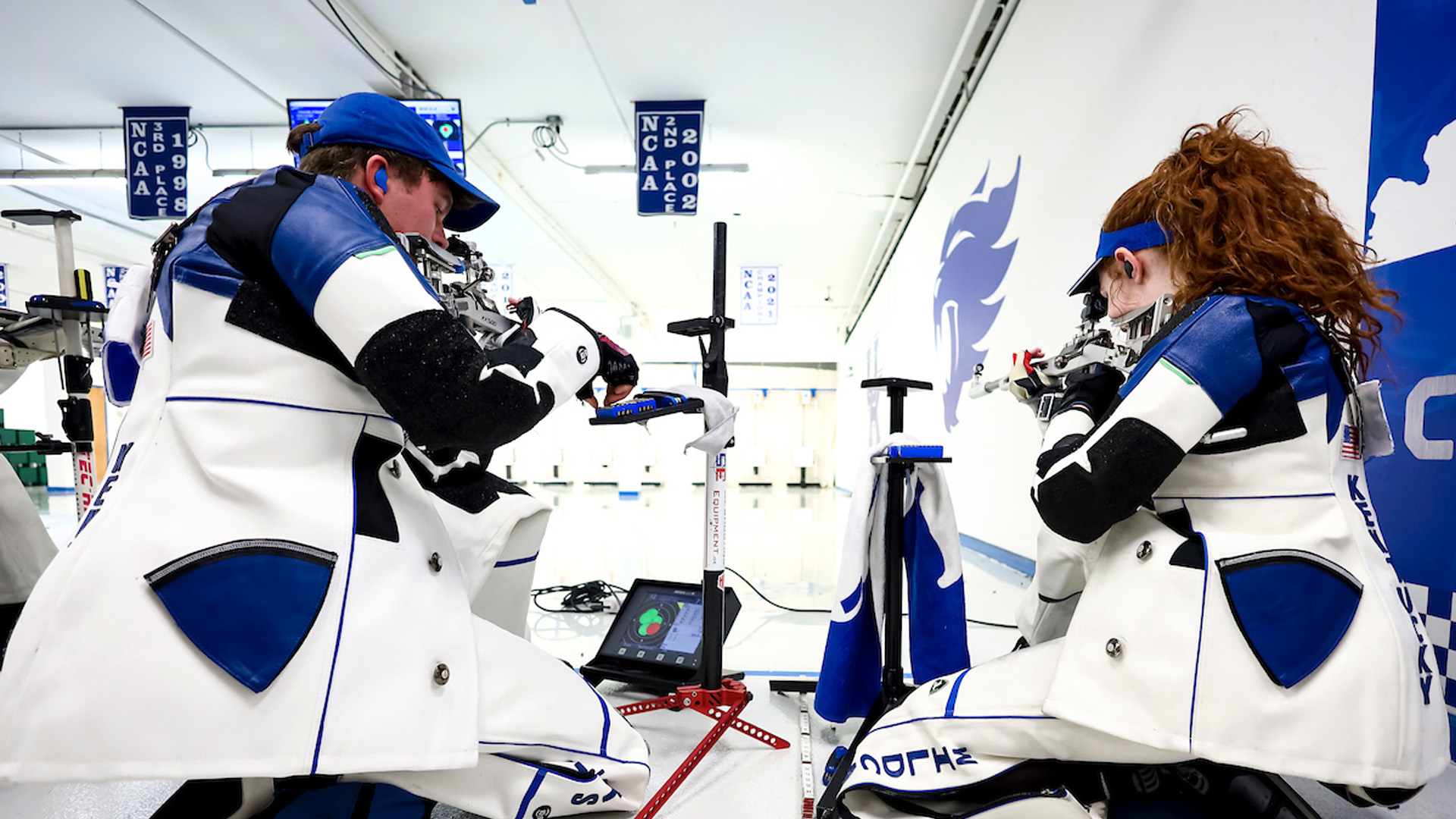 LEXINGTON, Ky. – The No. 3 University of Kentucky rifle kept its momentum going Sunday as it posted an impressive 4734 team score to earn a dual-match victory at No. 13 Memphis. The Tigers scored a 4691 in the match.
Kentucky put all five of its countable athletes in the first relay, taking control of the match from the start. UK's countable lineup consisted of super seniors Will Shaner and Richard Clark, sophomore Kayla Kalenza and Allison Buesseler and freshman Sofia Ceccarello. The lineup posted a 2349 in smallbore and 2385 in air rifle to secure the high aggregate team score of 4734. The Wildcats end the fall season having secured a 4733 or higher aggregate in four of their last five matches, including two team scores of 4740+.
"Overall, we are very pleased to end the fall with two impressive team scores on the road against two very talented programs," UK head coach Harry Mullins said. "The fall season is about building momentum and finding areas for improvement so when the spring comes around you are clicking on all cylinders and competing at your best. I feel we are in a good position to do that because through this fall we have shown improvement each and every day. I know the team will take some confidence and momentum into the winter training and we will look forward to getting back to competitions in a month or so."
In smallbore, Clark led the way for Kentucky with a 592, while Ceccarello scored a 589 and Buesseler had a 588. Martin Voss and Mitchell Nelson performed well in the second relay with a 586 and 584, respectively, while Kalenza scored a 580. Shaner and sophomore Tori Kopelen scored 579s, while freshman AJ Hotko had a 576. Juniors Jaden Thompson, Mason Hamilton and Emmie Sellers wrapped up the scoring for Kentucky with Thompson earning a 571, while Hamilton and Sellers earned 570s.
In air rifle, Ceccarello and Kalenza both stole the show with 599s. The high score was the second time this weekend that Ceccarello had scored a career-high tying 599. The high mark for Kalenza was a career high and topped her previous best, which she set Saturday in UK's win at Ole Miss. Nelson scored an impressive 596, while Shaner and Thompson earned 594s. Buesseler and Voss each earned 593s with Clark becoming the eighth Wildcat to score a 590 or better in the discipline with a 591. Hamilton performed well with a 589 while Sellers had a 586 and Kopelen and Hotko 585s.
Kentucky will return to action in 2023 as it opens the spring portion of its schedule at Alaska-Fairbanks on Saturday, Jan. 14.
For more information on the Kentucky rifle team, visit UKathletics.com or follow UKRifle on Twitter, Instagram and Facebook.