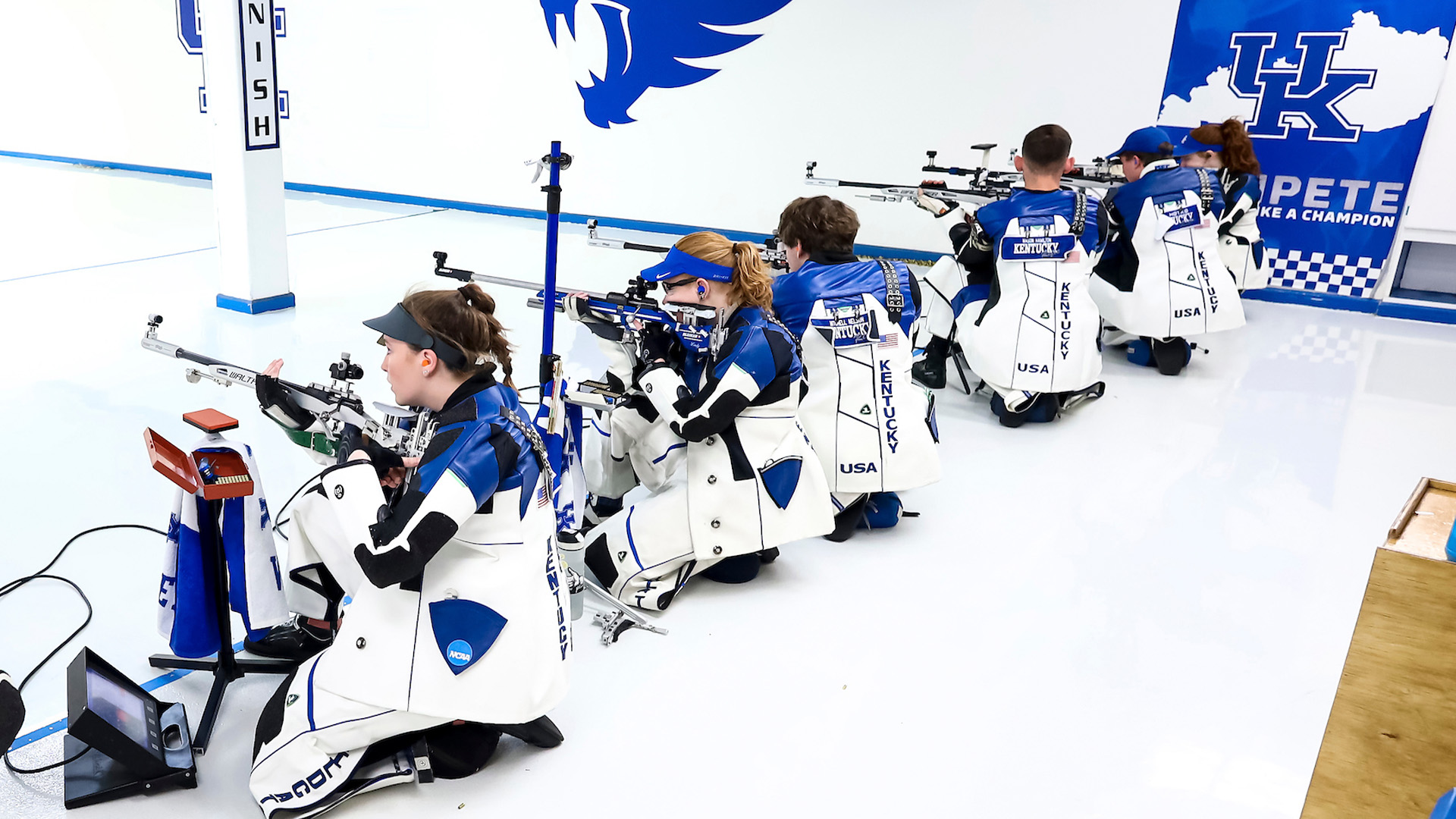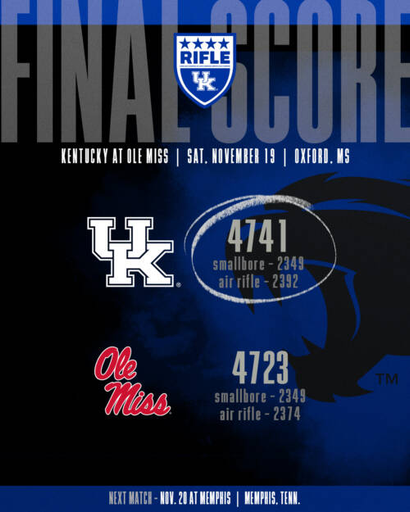 LEXINGTON, Ky. – The No. 3 University of Kentucky rifle team was on-target in air rifle, tying its school-record air rifle team score of 2392 en route to its second highest team score of the year Saturday in a victory at No. 1 Ole Miss in Oxford, Mississippi.
Kentucky started the day with a 2349 in smallbore, but it was air rifle that propelled UK to victory. The Wildcats scored a 2392 in air rifle, which ties the highest air rifle team score in program history. All five in UK's countable air rifle lineup scored a 592 or higher with UK's four top scores each being over 597.
The high air rifle score gave UK a 4741 aggregate team score, which is UK's second-highest team score of the year and best road score of the year. Ole Miss posted a 2349 in smallbore and 2374 in air rifle for a 4723 team score.
"Happy with the performance today," UK head coach Harry Mullins said. "The team has been training very, very hard and to see them get some high scores today was good. We have a quick turnaround now, competing against Memphis tomorrow. So we will enjoy them victory briefly and then get focused up for another dual match tomorrow."
Kentucky used the same five athletes in both countable lineups in super seniors Richard Clark and Will Shaner, sophomores Kayla Kalenza and Allison Buesseler and freshman Sofia Ceccarello. In smallbore, Ceccarello and Clark led the way with 590s, while Shaner scored a 585, Buesseler a 584 and Kalenza a 582. In air rifle, Buesseler set a career high and Ceccarello tied it as each scored 599, while Kalenza also earned a career high with a 597. Shaner also had a 597, while Clark finished the scoring with a 592.
The rest of UK's roster competed Saturday and put up good numbers. Seniors Mason Hamilton, Jaden Thompson and Emmie Sellers each scored over 1170 aggregates. Hamilton was 584 in smallbore and 588 in air rifle, while Thompson was 582 in smallbore and 593 in air rifle and Sellers was 585 in smallbore and 597 in air rifle. Senior Mitchell Nelson was 583 in smallbore and 593 in air rifle, while sophomore Tori Kopelen scored a 574 in smallbore and 593 in air rifle. Freshmen Martin Voss and AJ Hotko each performed well. Voss scored a 584 in smallbore and 587 in air rifle, while Hotko had a 532 in smallbore and 587 in air rifle.
Ole Miss was led by Kristen Derting, who scored a 589 in smallbore and 595 in air rifle. Lea Horvath was right behind her with a 587 in smallbore and 594 in air rifle.
Kentucky will be back in action Sunday at Memphis in a dual match with the Tigers. The match is scheduled to start around 9 a.m. ET and live targets will be available online at Megalink, while a live scorecard can be found at NCAArifle.org.
For more information on the Kentucky rifle team, visit UKathletics.com or follow UKRifle on Twitter, Instagram and Facebook.