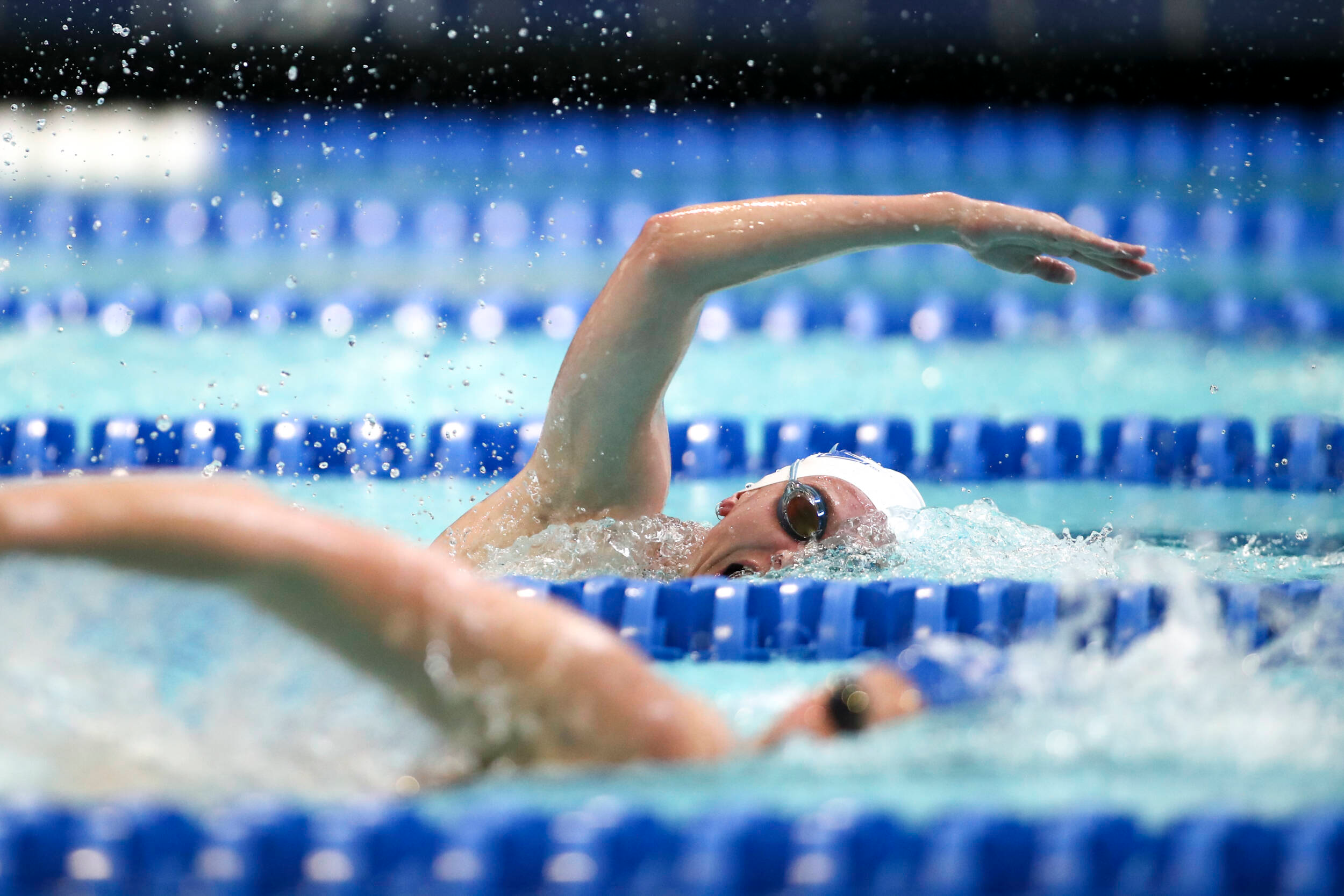 November 18, 2022 - 10:27 PM
Swim & Dive Maintains Position on Day Two of OSU Invitational
COLUMBUS, Ohio – Day two of the Ohio St. Invitational concluded on Friday night at McCorkle Aquatic Center with Kentucky swim and dive in third-place in the women's division and sixth in the men's competition.
The Wildcat women own a score of 1,402, while the men sit at 635.50.
Kentucky picked up three victories on the day, all on the women's side. First, diver Kyndal Knight won her second event of the meet, claiming the women's 1-meter with a score of 329.25. Earlier in the day, Knight posted a new career-best score of 339.20 in the qualifying round, the second-best mark at UK all-time.
Lauren Poole became Kentucky's other individual winner on day two, swimming a NCAA B-standard time of 4:07.13 in the 400 IM to edge second-place finisher, teammate Gillian Davey.
The Wildcats' third and final victory came in the night's last event as the women's 800 free relay of Izzy Gati, Kaitlynn Wheeler, Beth McNeese and Poole finished in 7:06.18 to take first in the A-final.
Freshman Lydia Hanlon and junior Torie Buerger each had career days, posting personal bests in the morning qualifying swims of the 100 backstroke. Hanlon's time of 53.20 places her ninth on the UK all-time list, while Buerger moves into eighth at 53.03. Freshman Grace Frericks joined her teammates in the all-time top-10 with a swim of 53.65 in the 100-backstroke final.
Denise Phelan found her way into the program's top-10 all-time in the 100 breaststroke, recording a 1:01.15 to match teammate Olivia Mendenhall for ninth in Kentucky history.
The Cats will be back at it tomorrow for the final day of competition featuring the 1650 free, 200 back, 100 free, 200 breast, 200 fly, 400 free relay and platform dive.
UK Event Winners
Women's 1-meter diving – Kyndal Knight (329.25)
Women's 400 IM – Lauren Poole (4:07.36)
Women's 800 Free Relay – Gati, Wheeler, McNeese, Poole (7:06.18)
NCAA B Cuts
Caitlin Brooks – 100 fly (53.20)
Gillian Davey – 400 IM (4:07.36)
Lauren Poole – 400 IM (4:07.13)
Zane Rosely – 400 IM (3:50.24)
Anna Havens Rice – 400 IM (4:16.10)
Kaitlynn Wheeler – 200 Free (1:45.55)
Izzy Gati – 200 Free (1:46.71) *prelims
Max Berg – 200 Free (1:35.42) *prelims
Denise Phelan – 100 breast (1:01.15)
Olivia Mendenhall – 100 breast (1:01.45)
Gillian Davey – 100 Breast (1:01.12)
Bridget Engel – 100 breast (1:01.48)
Caitlin Brooks – 100 back (52.17) *prelims
Torie Buerger – 100 back (53.03) *prelims
Lydia Hanlon – 100 back (53.20) *prelims
Grace Frericks – 100 back (53.65)
For the latest on UK Swim & Dive, follow the Wildcats on Twitter and Instagram at @UKSwimDive, and on Facebook at Kentucky Swimming and Diving.