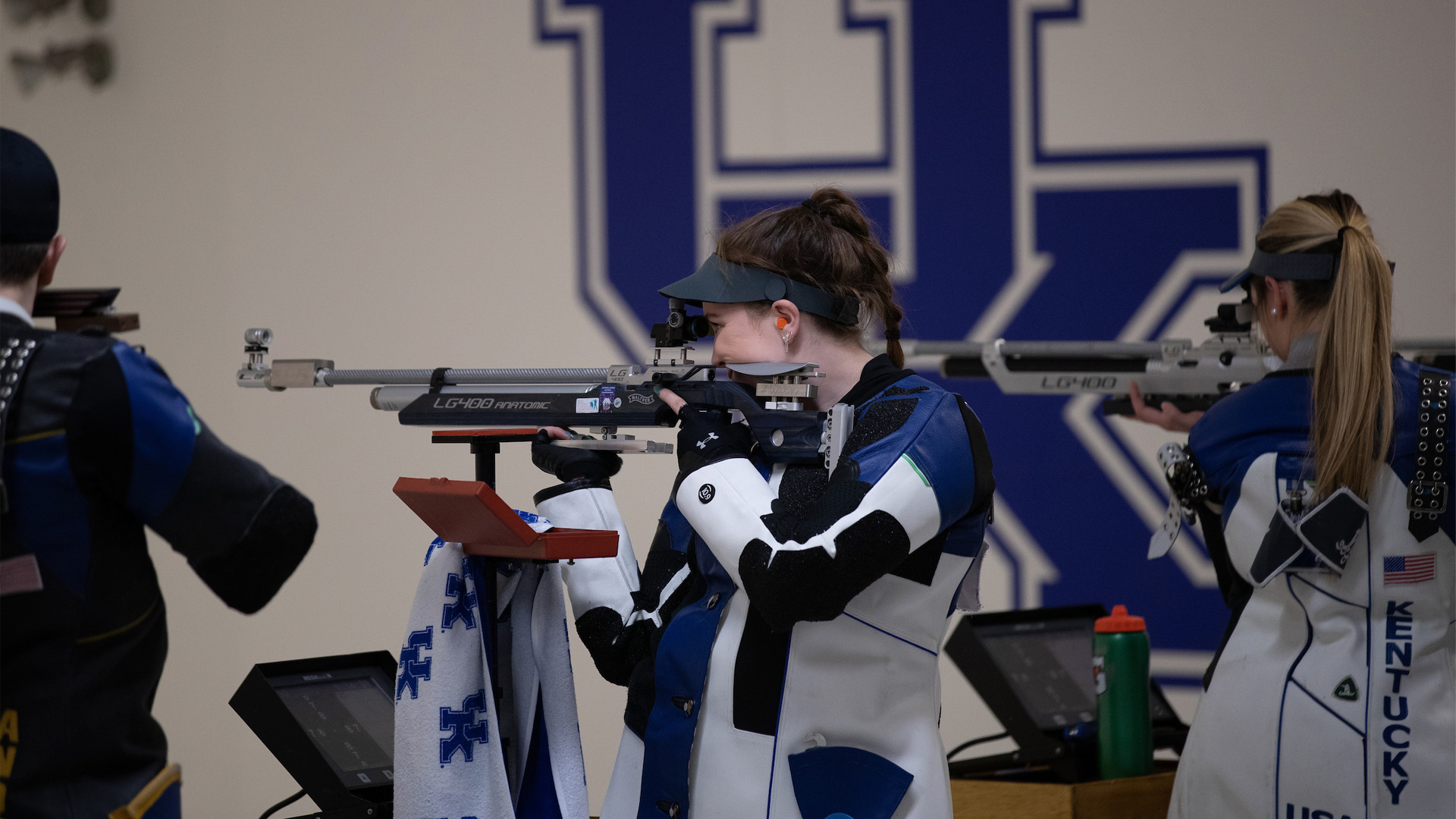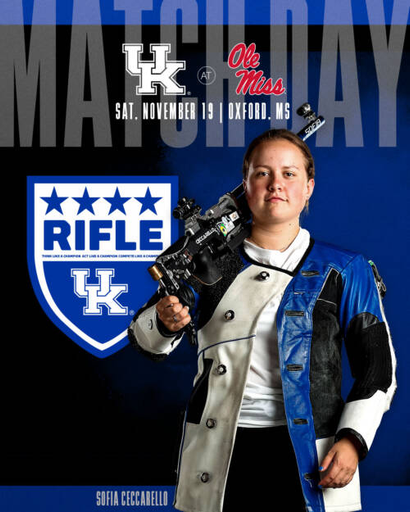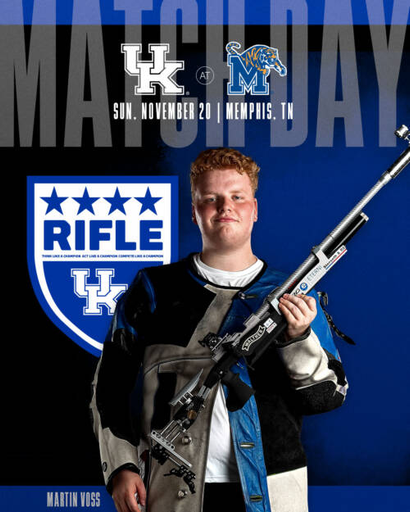 LEXINGTON, Ky. – Fresh off scoring its second-highest team score of the season last weekend in a victory at the Kentucky Long Rifle Match, the No. 3 University of Kentucky rifle team will face stiff road tests this weekend competing at No. 1 Ole Miss on Saturday and at No. 13 Memphis on Sunday.
Both matches will begin each morning at 9 a.m. ET with live targets available online at Megalink, while a live scorecard can be found at NCAArifle.org.
Kentucky is coming off a strong performance last weekend at the Kentucky Long Rifle Match, defeating Murray State and Morehead State in both long scoring and regular NCAA scoring. Using the long rifle match scoring, Kentucky earned an 8240 overall, with a 4078 in smallbore and 4162 in air rifle. Using traditional scoring, UK scored a 4733 aggregate, which was the second highest score of the season for Kentucky, behind its 4742 put up a few weeks back. UK's 2386 air rifle score was its highest of the season and tied the fourth highest score of any team this season in NCAA competition.
UK was paced in the match by super senior Richard Clark, who scored a 1187 aggregate after a 591 smallbore and 596 air rifle. Sophomore Allison Buesseler tied her career high in air rifle with a 598, which added with a 585 smallbore and gave her a strong aggregate of 1183. Also scoring above a 1180 aggregate was super senior Will Shaner, who had a 588 smallbore and 594 air rifle, and freshman Sofia Ceccarello, who had a 582 smallbore and 598 air rifle.
As a team, Kentucky is averaging a 2337.00 in smallbore and 2378.60 in air rifle for an aggregate average of 4715.60. UK's highest team score of the season was its 4742 put up a few weeks back against Navy and North Georgia. UK has not faired as well on the road this season, scoring a 4705 in both of its two road matches this season.
Shaner leads Kentucky in aggregate average this season at 1183.667, while Ceccarello is right behind him at 1183.5. Clark is the third Wildcat averaging over 1180 aggregate at 1180.4. Buesseler is having a great season with a 1177.6 average, while Nelson is earning a 1172.4. Freshman Martin Voss is earning an aggregate average of 1169.2, while sophomore Kayla Kalenza is right behind him at 1167.2. Seniors Jaden Thompson and Emmie Sellers are each having good seasons, averaging 1166 and 1164.75, respectively. Sophomore Tori Kopelen is earning a 1160.55, while senior Mason Hamilton is averaging a 1151.8 and freshman AJ Hotko a 1147.4.
Ole Miss is the No. 1 team in the country, averaging 2345.60 in smallbore and 2375.60 in air rifle for an aggregate average of 4721.20. Ole Miss has posted the top team score in the nation this season with its 4743 a few weekends back at Memphis. This will be only the second home match of the season for Ole Miss, who defeated Army with a 4720 team score in its previous match. Lea Horvath is leading the team with a 1184.2 aggregate average, while Kristen Derting is right behind her with a 1183.6.
Memphis ranks 13th currently in the Collegiate Rifle Coaches Association Top 20 averaging a 4670.43 aggregate, including a 2308.71 in smallbore and 2361.71 in air rifle. The Tigers highest score of the season was a 4677 it scored at Navy back in early October. Angeline Henry leads the team with a 1176.429 aggregate average.
For more information on the Kentucky rifle team, visit UKathletics.com or follow UKRifle on Twitter, Instagram and Facebook.