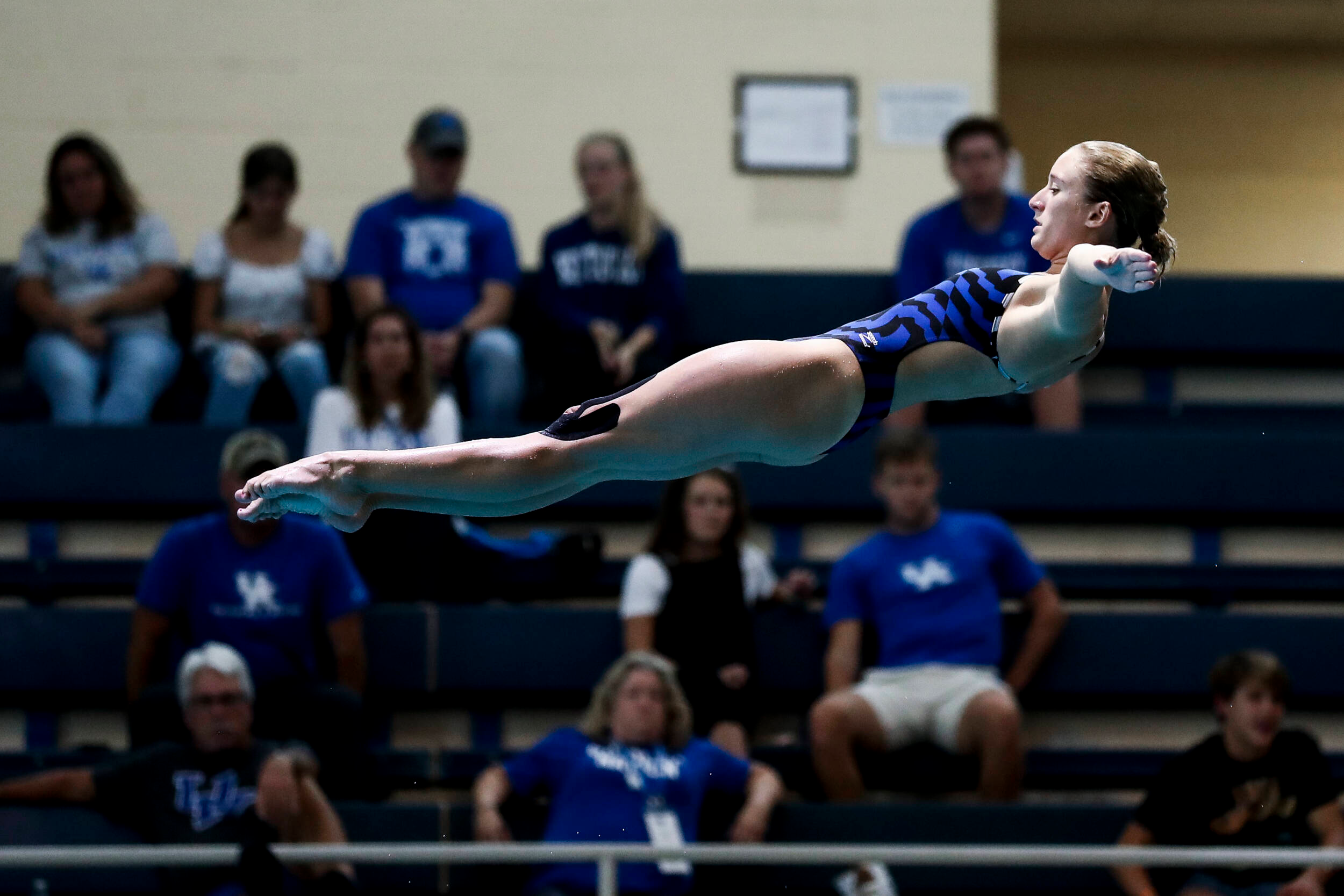 November 17, 2022 - 10:01 PM
Knight Shatters Program Record on Day One at OSU Invitational
COLUMBUS, Ohio – Kyndal Knight bested an 18-year-old program record and three other Wildcats claimed wins in their respective events as Kentucky swimming & diving wrapped up the opening day of the Ohio State Invitational at McCorkle Aquatic Center on Thursday.
The Kentucky women ended the night in third place among 13 teams with 583 points. The men, meanwhile, find themselves in sixth out of 11 squads with two days of competition remaining.
"I thought the team fought really hard and competed well," head coach Lars Jorgensen said. "We have some great teams here that we are competing against and we're excited for the next two days."
Knight's mark of 382.30 in the 3-meter springboard topped the previous program record holder, Jessica Thompson, by nearly 20 points. Junior Sam Duncan completed the diving sweep for UK with his win on the 1-meter springboard, eclipsing his personal best by nearly 25 points to move into fourth on the UK all-time list with a score of 381.30.
"I thought competitively, they all stepped up and delivered," head diving coach, Ted Hautau, said. "I thought there was a lot of consistency. That's what I'm really proud of."
Other Kentucky winners from day one included Kaitlynn Wheeler and Lauren Poole. Wheeler's standout performance began with a personal best in the morning prelims of the 500 freestyle, and continued with the senior breaking her own mark in the evening final with the fourth fastest time in program history at 4:40.56.
Poole, too, earned a new PB, swimming the 200 IM final in 1:55.33. The senior remains second all-time in the event at Kentucky behind Asia Seidt (1:53.04).
Several other Wildcats achieved NCAA B cuts on the day. Izzy Gati (4:42.90) and Beth McNeese (4:45.74) joined Wheeler with B standards in the women's 500 freestyle, while Nick Caruso (4:19.85), Zane Rosely (4:21.06) and Adam Rosipal (4:21.44) all met the threshold on the men's side.
Gillian Davey (1:58.44) and Torie Buerger (1:59.50) accompanied Poole with B-cuts in the 200 IM, before the women's 400-IM relay of Caitlin Brooks, Davey, Poole and Wheeler closed the night by becoming the Cats' first relay to meet NCAA standards this season with a time of 3:33.35.
Day two of the Ohio State invitation is scheduled for Friday with the 200-medley relay, 100 fly, 400 IM, 200 free, 100 breast, 100 back, 800 free relay, 1-meter dive (women) and 3-meter dive (men) on the docket.
UK Event Winners
Women's 500 Free – Kaitlynn Wheeler (4:40.56)
Women's 200 IM – Lauren Poole (1:55.33)
Men's 1-meter diving – Sam Duncan (381.30)
Women's 3-meter diving – Kyndal Knight (382.30)
For the latest on UK Swim & Dive, follow the Wildcats on Twitter and Instagram at @UKSwimDive, and on Facebook at Kentucky Swimming and Diving.