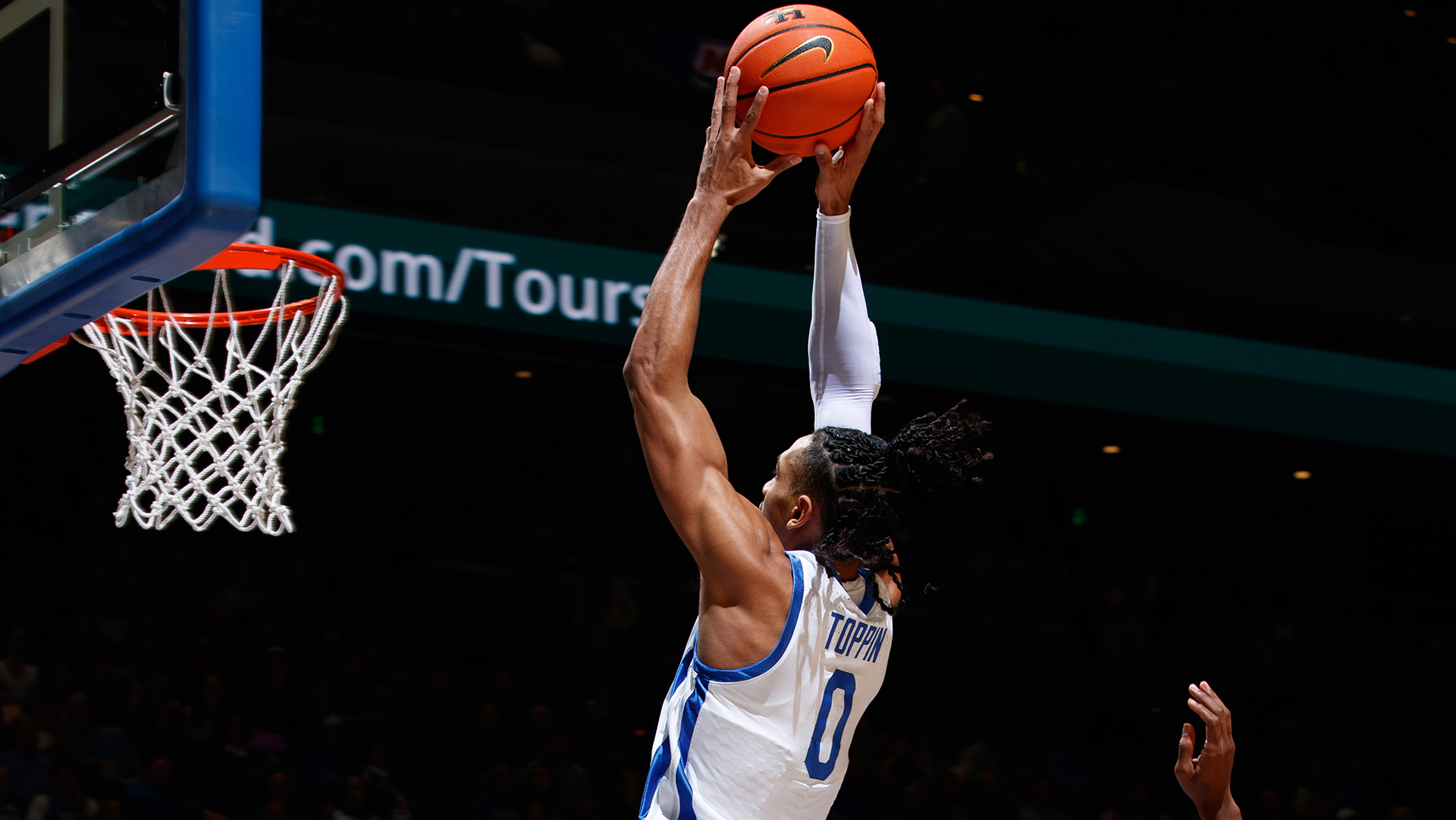 November 17, 2022 - 10:18 PM
Kentucky-South Carolina State Postgame Notes
KENTUCKY MEN'S BASKETBALL POSTGAME NOTES
RUPP ARENA AT CENTRAL BANK CENTER | LEXINGTON, KY
NOV. 17, 2022
ATTENDANCE: 18,885
Final Score: #4/4 Kentucky 106, South Carolina State 63
Team Records and Series Notes
Kentucky is 3-1, South Carolina State is 0-4.
Kentucky leads the series, 2-0. The previous matchup was an 82-67 UK win in the 1998 NCAA Tournament in Atlanta.
The Wildcats fly to Spokane, Washington, on Friday to prepare for Sunday's game vs. Gonzaga. Game time is 7:30 p.m. ET (4:30 p.m. PT) at Spokane Arena and it will be televised on ESPN.
Team Notes
Kentucky limited South Carolina State to 35.3% from the field. UK is 224-24 (90.3%) under Calipari when keeping the opponent to 40 percent or less shooting, including 3-0 this season.
Kentucky held SC State to 63 points. UK is 205-9 (95.8%) under Calipari when keeping the opponent to 63 points or less, including 3-0 this season.
Kentucky led by as many as 47 points at 106-59. UK is 313-13 (96.0%) when leading by as many as 10 points at any time in the contest.
Kentucky scored 106 points, first time this season to reach the century mark, and most since the 107-79 win over Tennessee on January 15.
The Wildcats had balanced scoring tonight – five Wildcats scored in double figures and all 11 scholarship players netted at least six points. The last time UK had five players in double figures was Feb. 5, 2022, when TyTy Washington Jr. (15), Keion Brooks Jr. (10), Kellan Grady (10), Oscar Tshiebwe (10) and Daimion Collins (10) accomplished the feat at Alabama.
Kentucky shot a season-high 57.4 percent from the field, making 39 of 68.
Kentucky had a +20 rebound margin, 48-28.
Kentucky had 25 assists tonight and has had at least 20 in all three victories this season.
Player Notes
CJ Fredrick had a game-high 17 points and a career-high four steals.
Freshman Chris Livingston had 13 points, his first double-figure game as a Wildcat.
Freshman Cason Wallace had 12 points, his third double-figure game of the season.
Lance Ware had a career-high 12 points, making all six field-goal attempts.
Antonio Reeves tossed in 11 points, his third double-figure game of the season.   
Sahvir Wheeler had six points and a game-high 10 assists and is averaging 9.7 for the season.
In his second game back after recovering from a knee injury and surgery, Oscar Tshiebwe was given only 14 minutes and totaled six points and game-high-tying seven rebounds.

It ended a streak of 17 consecutive double-doubles, including the final 16 games of last season.

Daimion Collins tied Tshiebwe for game rebounding honors with seven and added six points.
Coach John Calipari
This was Coach Calipari's first game vs. South Carolina State.
Calipari has an 813-242 all-time on-court record and a 368-102 mark in his 14th season at UK.
UK is 301-58 (83.8%) against unranked competition under Calipari.
Rupp Arena
UK extended its home win streak to 22 games, dating back to the 2020-21 season, and is the longest current home win streak in the Southeastern Conference.
Kentucky is 636-77 (89.2%) in the 47-year history of Rupp Arena.
Kentucky is 209-17 (92.5%) in Rupp Arena under Calipari.
In the First Half
Kentucky started the combination of Sahvir Wheeler, Cason Wallace, CJ Fredrick, Jacob Toppin and Lance Ware for the first time this season.
Daimion Collins was UK's first substitute at the 15:04 mark.
Fredrick scored UK's first six points with a pair of threes – a 3-pointer on the game's first possession, followed by a basket-and-one a couple of minutes later.
Kentucky never trailed, although the game was tied once at 3-3.
Ahead 32-22, UK took control with a 13-0 run, marking the largest lead of the half at 45-22.
Ten Wildcats scored in the first half, and led by Fredrick's 11 points, UK went to intermission ahead 49-30.
In the Second Half
Kentucky began the second half with Wheeler, Fredrick, Wallace, Toppin and Tshiebwe.
Kentucky stretched the lead to as many as 47 points at 106-59.
Kentucky hit the 100-point mark at 2:03 on a Chris Livingston foul shot.