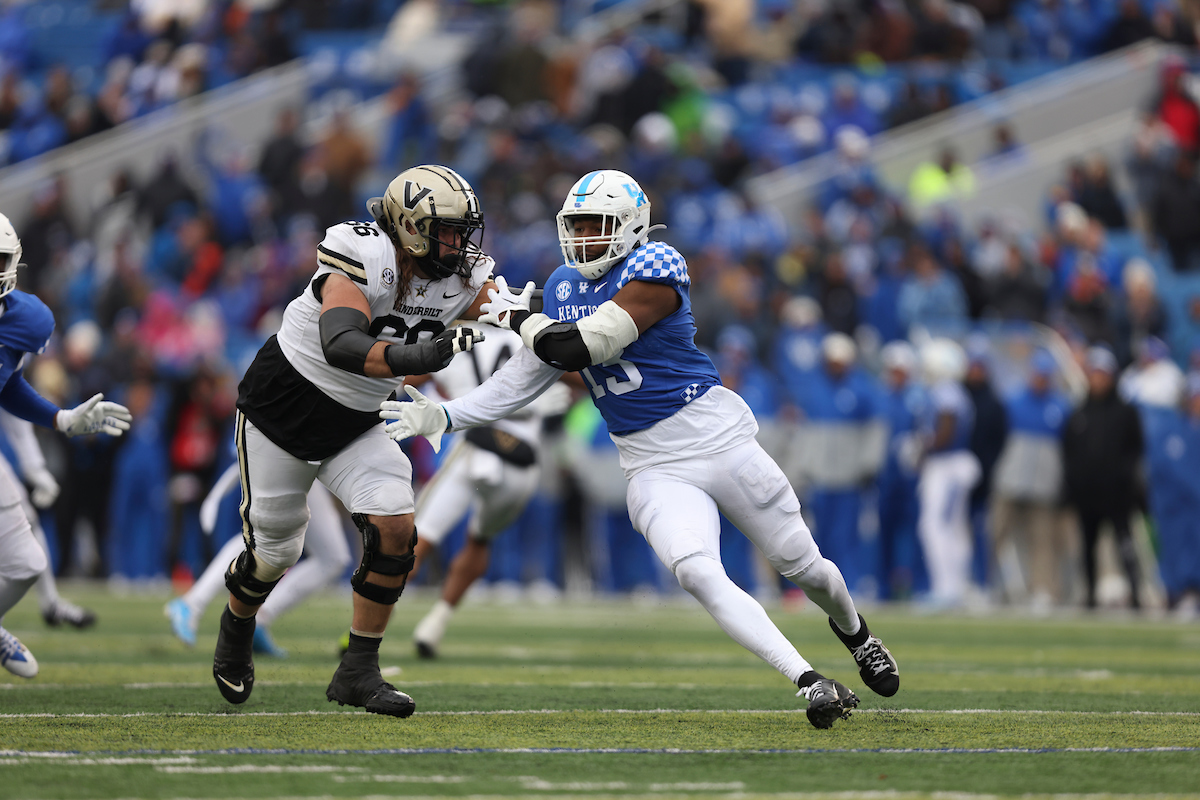 After reviewing the film of last week's 24-21 loss to Vanderbilt, Kentucky defensive coordinator Brad White knew that his team did not play its best. But he also knew that the Cats were so, so close to winning that game.
"We did not play, any of us, coaching staff, players, we could have played so much better in that game," White said. "Obviously, there were opportunities to get off (the field). That happens in two-minute drives. In a two-minute drive, if you have a dropped interception, if you have a chance to get off the field, a penalty, something that causes you to extend the drive, nine time out of ten, bad things happen."
On the film, it was plain to White and his staff that they missed some calls, especially on the final drive. The players also saw where they came up short. White knows that there's no going back in situations like that.
"We've been on the good end of a lot of good finishes. It's tough to be on the wrong end of it," White said. "There are some calls on that drive that I'd like to have back. I told the guys and they know that. There are some plays they'd like to have back but that's football and you can't get them back."
So, how do White and his defense handle what was a disappointing loss?
"You've got to learn from it, like coach (Mark Stoops) said you've got to learn from the scars, and you've got to grow from them," White said. "Obviously, we've got a huge test this week and if we get put in that same situation this week, I'm confident our guys will be able to rise up to the challenge."
That challenge comes in the form of the top-ranked Georgia Bulldogs. Georgia is 10-0 this season and is led by quarterback Stetson Bennett, someone who White thinks is playing extremely well.
"He is playing at an extremely high level right now. Quite frankly, I'm really surprised that he hasn't had much Heisman buzz," White said. "He is playing at the kind of level. He does not get enough credit in terms of his command of the offense, his ability to distribute all over the field, his ability to create with his legs. He knows where to go with the ball. He's in real command back there. He makes the right reads. He's playing as well as anybody."
And when Bennett needs someone to make a play, he has an abundance of talent at tight end, another group that stands out to White.
"This is as good of a tight end group that you will see in college football," White said. "I think everybody sees their ability to make plays in the passing game but they're also really willing blockers. With (Brock)Bowers and (Darnell) Washington and (Oscar) Delp, the whole group, could be a starter on any program in the country."
The Cats hope that the lessons learned against Vanderbilt last week can help them this week, when they face the challenge of the nation's top-ranked team.