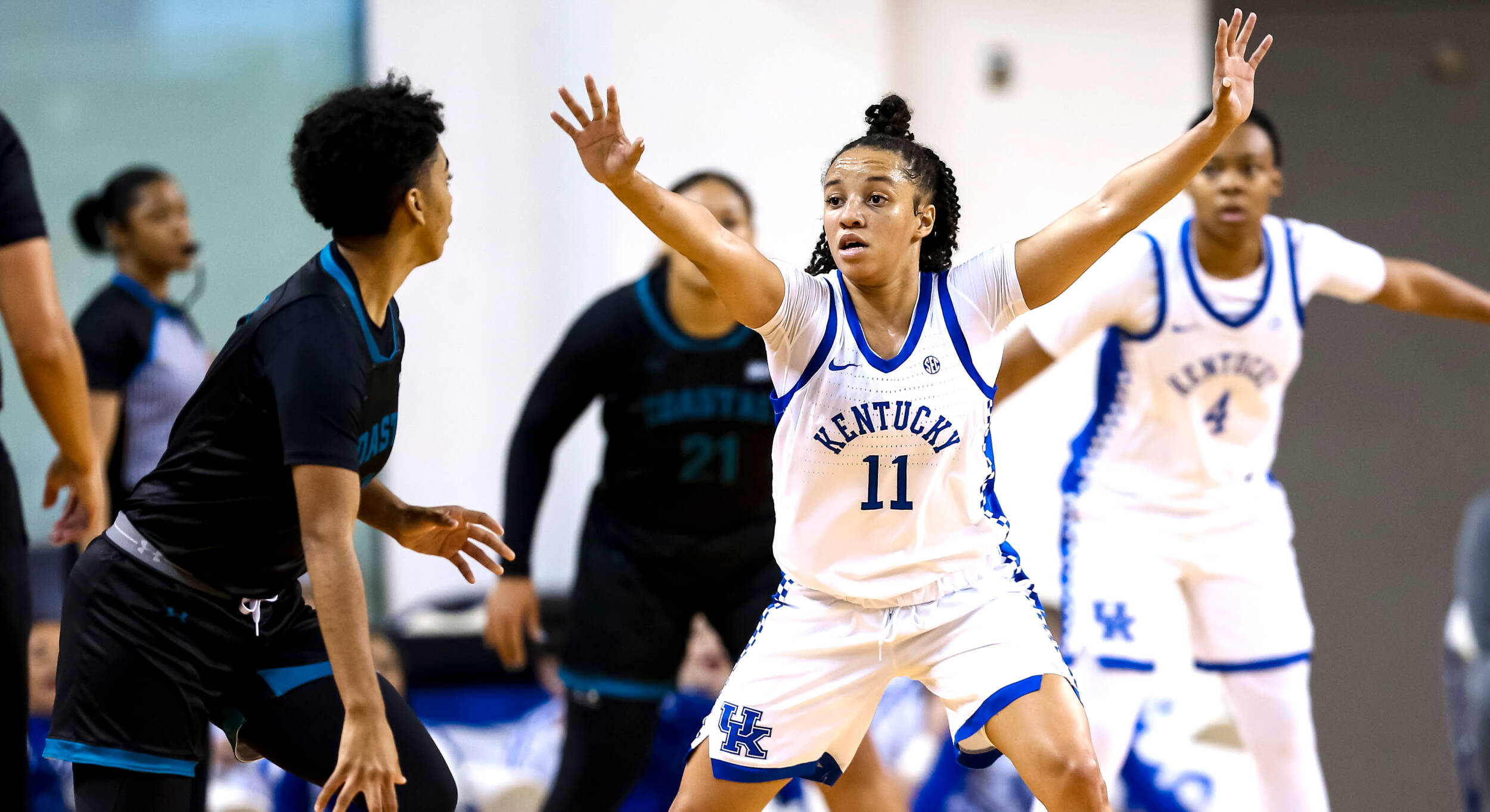 November 16, 2022 - 11:45 AM
Kentucky, Bellarmine Square Off Thursday at 7 p.m. ET at Memorial Coliseum
LEXINGTON, Ky. – The University of Kentucky women's basketball program will play host to Bellarmine on Thursday, Nov. 17 at 7 p.m. ET inside Memorial Coliseum, marking the third in-state matchup of the season for the program. The game will be broadcast on SEC Network+, with Jeff Piecoro and Christi Thomas on the call.
It is the program's annual Professors and Teachers Appreciation game.
Doors to Memorial Coliseum will open one hour prior to the tip time. Bags must adhere to the UK Athletics Clear Bag policy, and bags and items will be searched. To avoid additional touch points, fans are strongly encouraged to not bring unnecessary bags to Memorial Coliseum. More on UK Athletics' Clear Bag policy can be found online here.
Parking for games is available starting three hours prior to tipoff in a majority of surface lots surrounding Memorial Coliseum, including the High Street Lot, East Maxwell Lot, Joe Craft Center Lot, College View Lot, Alumni Center Lot and Career Center Lot. The Cornerstone Garage and Parking Structure No. 2 will open two hours prior to tip. The Gatton Student Center Lot is pay-to-park while all other parking options are free. The JCC Lot is primarily used for limited mobility/handicap parking. No shuttles are being offered at this point in the season.
Darren Headrick will have the call on the UK Sports Network on 630AM WLAP in Lexington. Free live audio will be available online at UKathletics.com and live stats will be available online at KentuckyStats.com.
The Wildcats are 3-0 this season, with all three wins coming within a seven-day stretch. Sophomore guard Jada Walker has led the team in scoring twice this season, while graduate guard Robyn Benton has produced double-digit scoring for three straight games. Three players are averaging double-digit scoring in 2022-23, including Benton (15.7), Walker (14.0) and Blair Green (10.7).
Kentucky is shooting 47.7 percent from the field, while its averaging 78.0 points per game this season. Nearly 60.0 percent of its 94 field goals have been a product of its 63 assists. The Wildcats lead the Southeastern Conference and are ranked top 15 in the nation in assists per game, averaging 21.0.
Meanwhile, Kentucky is holding its opponents to 39.5 percent from the field and less than 60.0 points per game.
Kentucky is coming off a season-high, 26-point triumph over Coastal Carolina, 79-53, last Sunday. Walker paced the team with a career-high tying 21 points, a career-high 10 assists and a season-high five steals. It marked the first double-double of her career and UK's first double-double of the season. She is leading the conference game highs in assists with that performance.
The Wildcats also forced the Chanticleers to commit 32 turnovers in the game, as the Cats scored 27 points off those miscues. The Cats are ranked third in the conference and top 10 in the nation in forced turnovers.
Bellarmine is 0-2 this season, with both losses happening on the road. Hayley Harrison, a Winchester, Kentucky, native, scored 19 points against LSU in its season opener last Monday, while her and Gracie Merkle, a Mt. Washington, Kentucky, native, lead the team with 12.5 points per game. Merkle is also leading the effort on the boards, pacing her team with 8.0 rebounds per game.
The Knights, who elevated to NCAA Division I in July 2020, are averaging 56.0 points per game on 36.0 shooting. They're averaging 9.5 assists per game, 6.5 steals per game and swatting 3.5 blocks per game.
The game will mark the first meeting between the two teams in 46 years, as all six games were played in the 1970s. According to Kentucky's records, just two of those six meetings were contested in the varsity era, which began in 1974-75.
For more information on the Kentucky women's basketball team, visit UKathletics.com or follow @KentuckyWBB on Twitter, Instagram and Facebook.