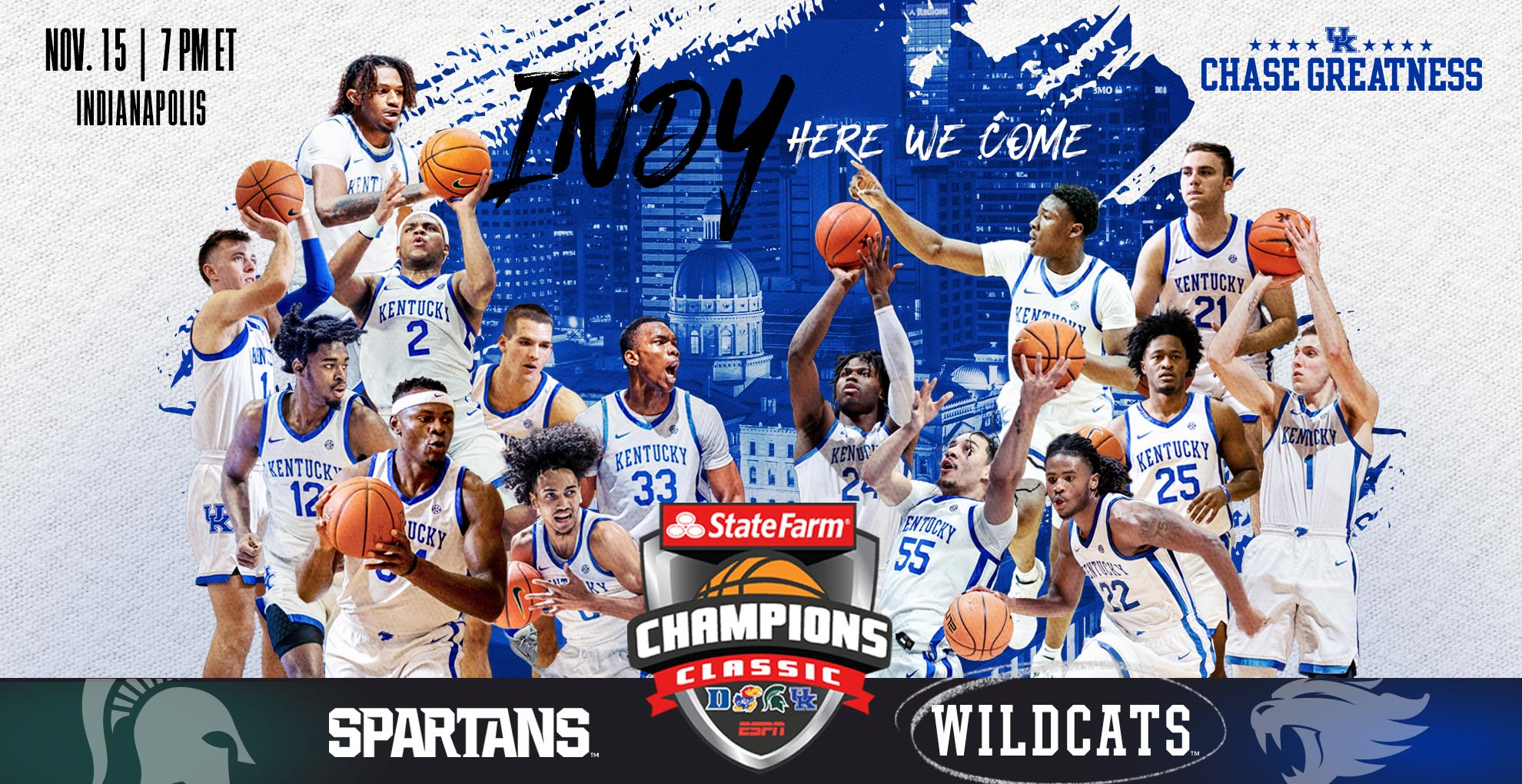 November 14, 2022 - 02:36 PM
Calipari, Cats Face Michigan State in Champions Classic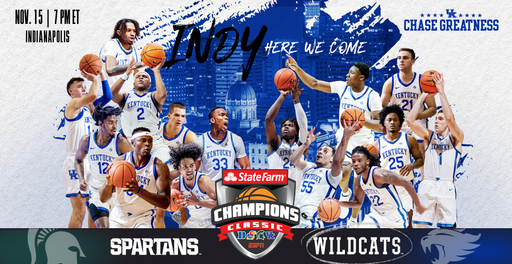 Many Kentucky fans are wondering what to expect from their fourth-ranked Cats on Tuesday night, as they face their first Power Five opponent, Michigan State, of the season.
Turns out UK head coach John Calipari is wondering the exact same thing.
"I have no idea what to expect," Calipari admitted on Monday. "First of all, I don't know if (Oscar Tshiebwe) is playing or how much he'll play. Sahvir (Wheeler) just joined (the team). Daimion (Collins) had two days of practice before he left, then he came back. How's he doing? That's why I've said all along – it's going to take us time to get this right."
The biggest question remains about Tsheibwe, the defending National Player of the Year. He has missed UK's games against Howard and Duquesne while recovering from a procedure on his knee. Calipari was non-committal on Monday.
"He's supposed to practice (Monday), so we'll have a better idea," Calipari said. "He's been doing the conditioning stuff but he hasn't been on that court and that's totally different. My guess would be he plays three or four minutes in a stretch – if he plays."
Calipari has been forced to mix and match lineups early in the season, which has been a challenge for the staff and the team.
"There will be stuff out there that you'll say – what in the world did he just do? Well, Oscar's not been around for four weeks," Calipari said. "We had Sahvir out for two weeks. Daimion has been out two weeks – in and out. You're talking about three players that we could be relying on."
The positive side of that is that other players who might not have played much have been able to see significant minutes, helping their progressions.
"But, it gave Lance (Ware) a chance, Ugo (Onyenso) a chance, it gave Jacob (Toppin) a chance to play more, it gave Chris (Livingston) a chance to play three and four. It gave Cason (Wallace) a chance to be a point, which means if we have any hiccups, he can move to point and we'll be fine."
The last time these two teams met, which was in the Champions Classic in 2019 at Madison Square Garden, UK freshman Tyrese Maxey put on an unbelievable performance. In his first college game, Maxey had 26 points and five rebounds as second-ranked Kentucky beat No. 1 Michigan State 69-62.
Calipari is hoping for another game like that on come Tuesday. But he really doesn't know exactly what to expect.
The Champions Classic
Kentucky is 5-6 in Champions Classic games. Kentucky is 2-1 against Michigan State in the event, including winning by a 69-62 score in 2019 when the teams opened the season as the No. 1 and No. 2 ranked squads in the country.
This will mark the fourth time the event has been held in Gainbridge Fieldhouse. UK is 1-2 in the event in the building. The victory came in historic fashion in a 72-40 win over No. 5 Kansas on Nov. 18, 2014. UK's team would finish the regular season unbeaten that season.
UK leads the all-time series with the Spartans by a 14-11 margin. The teams have never met in Indianapolis.
| | | | | |
| --- | --- | --- | --- | --- |
| Date | Opponent | Result | Score | Site |
| Nov. 15, 2011 | Kansas | W | 75-65 | New York, N.Y. |
| Nov. 13, 2012 | Duke | L | 68-75 | Atlanta, Ga. |
| Nov. 12, 2013 | Michigan State | L | 74-78 | Chicago, Ill. |
| Nov. 18, 2014 | Kansas | W | 72-40 | Indianapolis, Ind. |
| Nov. 17, 2015 | Duke | W | 74-63 | Chicago, Ill. |
| Nov. 15, 2016 | Michigan State | W | 69-48 | New York, N.Y. |
| Nov. 14, 2017 | Kansas | L | 61-65 | Chicago, Ill. |
| Nov. 6, 2018 | Duke | L | 84-118 | Indianapolis, Ind. |
| Nov. 5, 2019 | Michigan State | W | 69-62 | New York, N.Y. |
| Dec. 1, 2020 | Kansas | L | 62-65 | Indianapolis, Ind. |
| Nov. 9, 2021 | Duke | L | 71-79 | New York, N.Y. |
Historic Opener
With a 95-63 win over Howard to open the 2022-23 campaign, a few Wildcats set records along the way.
• Cason Wallace recorded the second-most assists in a UK freshman debut, while becoming the first UK freshman in school history to have at least 15 points, eight rebounds, and nine assists in a collegiate debut
• Wallace was one of only two freshmen to accomplish the season-opening feat since the 2010-11 season, joining Lonzo Ball, who went for 19 points, 11 assists, eight rebounds and two steals in a 119-80 win over Pacific on Nov. 11, 2016
• Antonio Reeves sunk a game-high six 3-pointers, which is a record for any UK player in his debut with the Cats
• Lance Ware totaled four steals, the most in a Kentucky season-opener since Knox and Gilgeous-Alexander each had four in a 73-63 win over Utah Valley Nov. 10, 2017