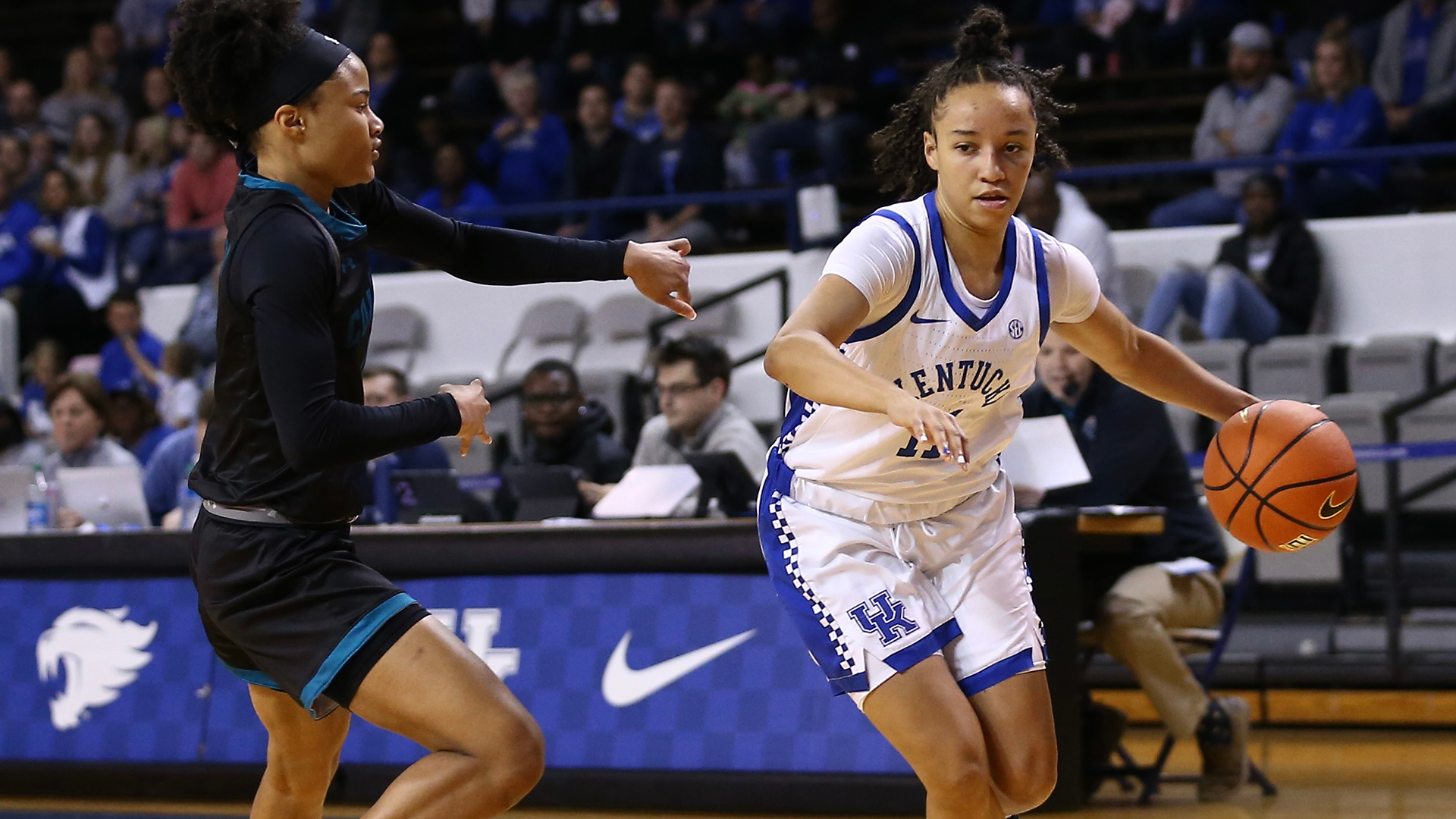 November 13, 2022 - 04:28 PM
Jada Walker Shines for Cats on Sunday
In Kentucky's last game, a Friday win over Morehead State, Jada Walker was not at her best. She picked up two early fouls and was forced to go to the bench early in UK's win over the Lady Eagles.
Walker never found her rhythm in that game. She played just 12 minutes and had only two points against the Lady Eagles.
The sophomore experienced no such problems on Sunday as Kentucky blasted Coastal Carolina 79-53 inside Memorial Coliseum. In fact, Walker might have had the best all-around game of her UK career.
The Richmond, Virginia, native had 21 points, tying her career high, dished out a career-high 10 assists, had five steals, three rebounds and even blocked a shot for the Cats. For Walker, it was redemption for Friday night's game.
"This game was definitely a chance to rebound," Walker said. "I feel like I could've played better two days ago, so just to come back today and play even better. And the fact that I got beat up last game, so just being tougher and pushing through."
Walker had a chance to be more of a lead guard on Sunday, a position that she believes fits her well.
"Playing off the ball was an adjustment for me just because I'm the shortest person on the floor," Walker said. "So, adjusting from 2-2-1 and scoring from a 2 (shooting guard) position but also setting my team up from a 1 (point guard) position."
UK head coach Kyra Elzy praised Walker's play on Sunday.
"Jada played a majority of the point today and she had a phenomenal game, I thought she was aggressive, I thought she was poised," Elzy said. "Offensively not only did she score 21, which is a career high for her, but also 10 assists today. Let's not forget about what she did on the defensive end."
The UK head coach was somewhat miffed that Walker was not recognized with preseason All-SEC honors. Elzy said a game like Sunday's proves that Walker belongs in the conversation with the league's best players.
"Well Jada is one of the best guards in this league and you now, we can't worry about how people vote or what they say," Elzy said. "Finished product, you do what you're supposed to do and at the end you have a chance to make one of the All-SEC teams. It's up for grabs, preseason is preseason, that doesn't mean that's what it's going to be in the final."
Walker's five steals helped the Cats get out in transition several times. Kentucky had 26 fast break points in the game, many of which were baskets, or assists, by Walker.
With Walker and Maddie Scherr both being able to play either guard position, the Cats become that much more difficult to guard for their opponents. Walker showed today that Friday's tough effort was just an off night, and not what should be expected from the sophomore sensation.