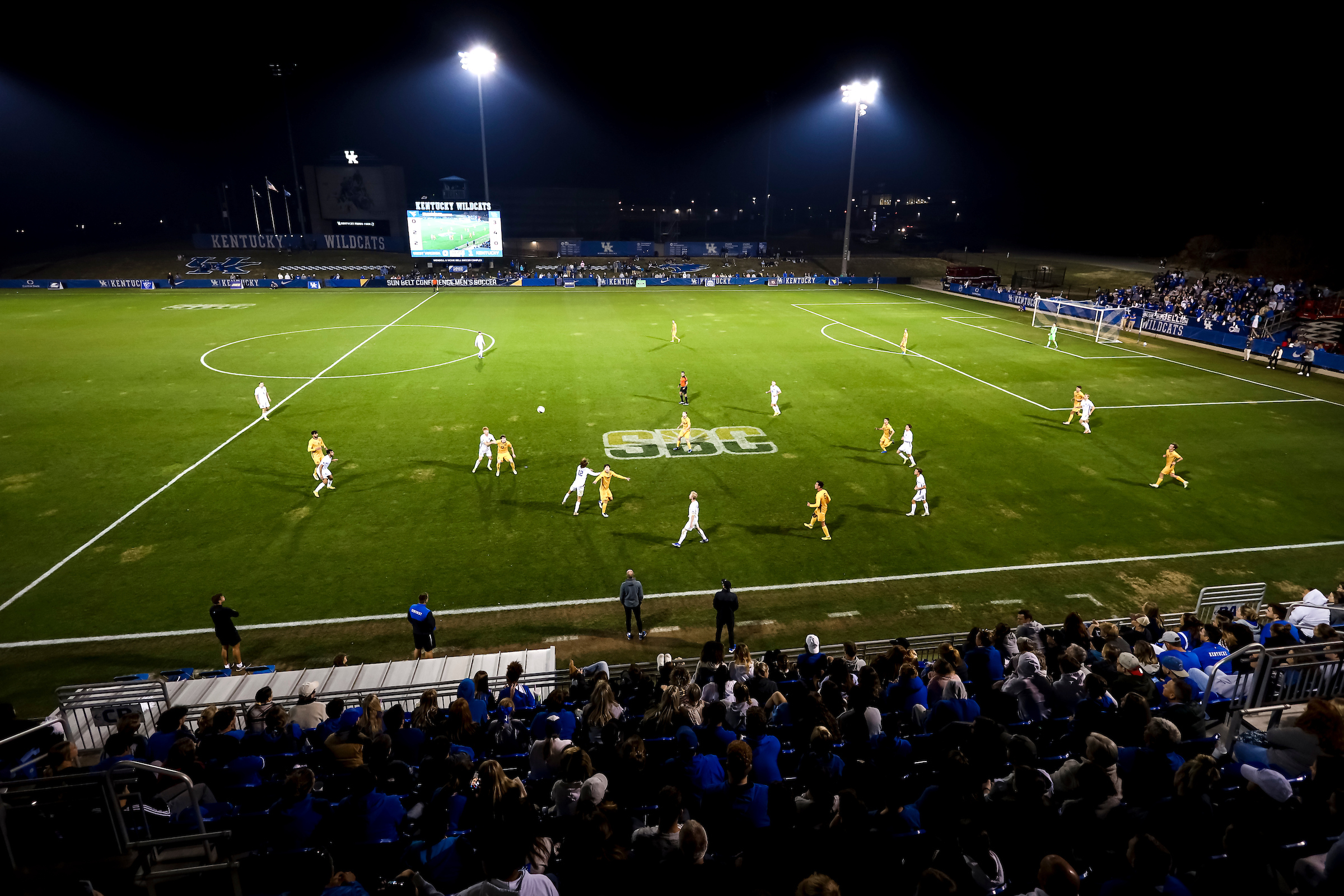 November 12, 2022 - 01:20 PM
Men's Soccer to Play for Tournament Title Sunday
LEXINGTON, Ky. – No. 2 nationally ranked Kentucky men's soccer (13-0-5, 7-0-5 Sun Belt) will host James Madison (8-7-4, 2-3-3 Sun Belt) on Sunday at 1 p.m. EST in hopes of securing the 2022 Sun Belt Conference Tournament championship title.
Following two impressive performances at the Wendell & Vickie Bell Soccer Complex defeating South Carolina in the quarterfinal round and West Virginia University in semifinals, the Cats look to walk away with another Sun Belt trophy on the season. The undefeated Wildcats won the regular season title last month in Columbia, S.C.
UK is the only NCAA Division I men's soccer program still undefeated in the nation.
Kentucky and JMU met once earlier this season with the Wildcats earning at 3-1 victory in Harrisonburg, Virginia. UK earned goals in the game from Ben Damage, Lucca Rodrigues and Martin Soereide. JMU earned a lone goal from Clay Obara. UK outshot JMU 8-2, including a 5-3 edge in shots on goal.
Tickets are $10 for adults, $5 for youth (non-student ages 3-18) and $5 for senior citizens (65+). Children 2 and under will be admitted free of charge as will all Sun Belt Conference students who show a valid university issued ID. All tickets will be mobile. Fans are encouraged to purchase tickets prior to arriving at the event online. Gates to The Bell will open at Noon on Sunday.
2022 Sun Belt Conference Men's Soccer Tournament
Bell Soccer Complex – Lexington, Ky.
Sunday, Nov. 6
Match 1: (4) West Virginia def. (5) Coastal Carolina 1-0
Match 2: (1) Kentucky def. (8) South Carolina 2-1
Wednesday, Nov. 9
(1) Kentucky def. (4) West Virginia 1-0
Sunday, Nov. 13
(1) Kentucky vs. (7) James Madison – 1 p.m. ET – ESPN+
Live stats will be available for the Sunday's match. Fans can also stream the contest live on ESPN+.
For the latest on Kentucky Men's Soccer, follow @UKMensSoccer on Twitter, Facebook and Instagram, as well as on the web at UKAthletics.com.