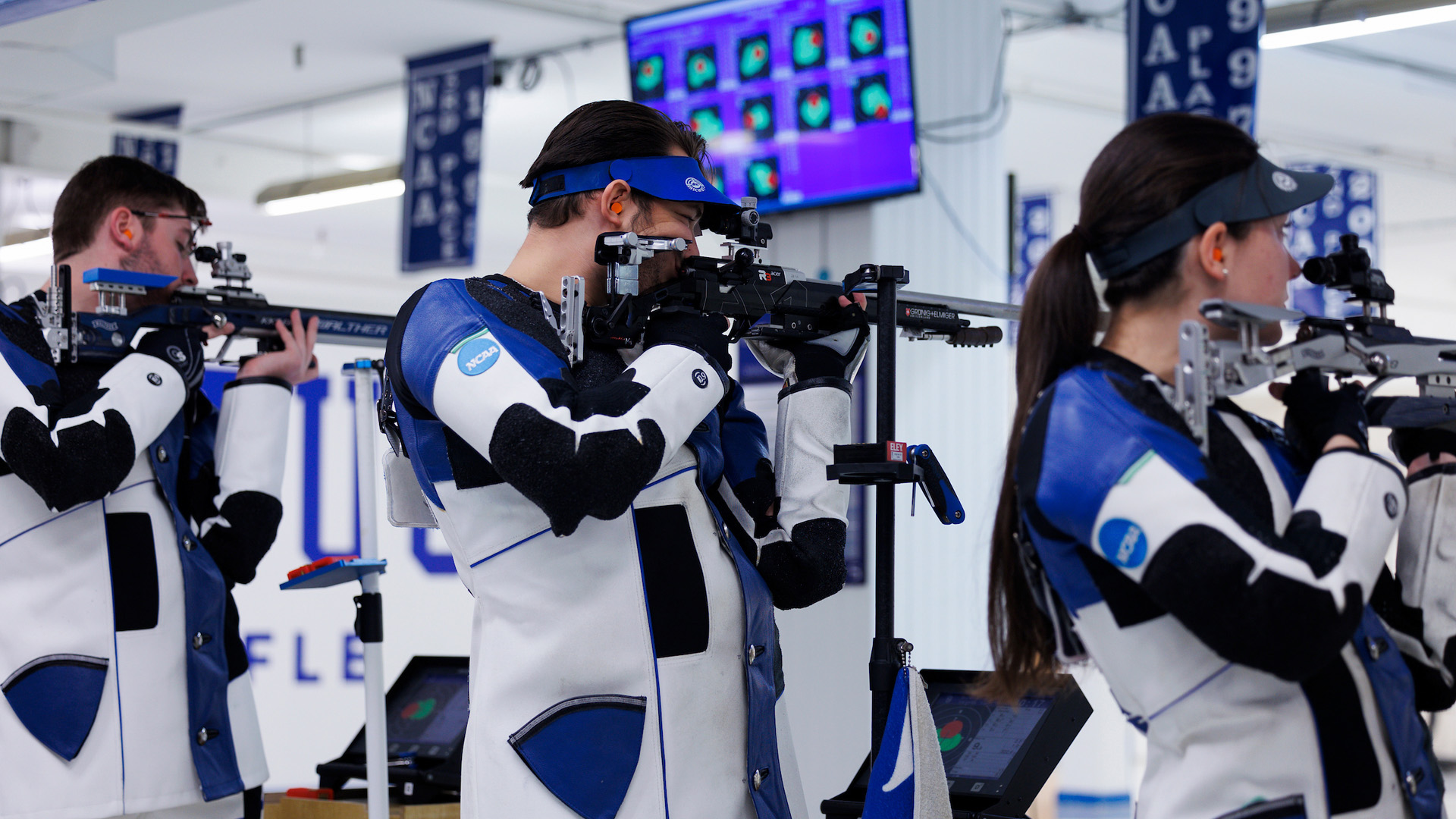 LEXINGTON, Ky. – The University of Kentucky rifle team used the fourth-highest air rifle score in the nation this season to claim victory over Murray State and Morehead State on Saturday at the Kentucky Long Rifle Match inside Barker Hall in Lexington, Ky.
"I liked how the team responded this weekend after not performing up to our standards last weekend," UK head coach Harry Mullins said. "We are still a work in progress, overall, but I thought we did some good things today. We have a big week ahead of us as we travel to compete on the road against a really, really good Ole Miss squad. I look forward to getting back to work in training this week."
The Kentucky Long Rifle Match brings together the three NCAA Division I rifle programs from the Commonwealth, as Kentucky is the only state in the country with three collegiate teams. The match utilizes a unique format, aggregating the scores from seven shooters instead of the five designated squad members for smallbore and air rifle commonly used within NCAA competition.
Using the long rifle match scoring, Kentucky earned an 8240 overall, with a 4078 in smallbore and 4162 in air rifle. Murray State finished second with an 8175 aggregate, earning a 4061 in smallbore and 4114 in air rifle. Morehead State finished third with a 4011 in smallbore and 4077 in air rifle for an aggregate of 8088.
Kentucky was paced Saturday by super senior Richard Clark, who scored a 1187 aggregate after a 591 smallbore and 596 air rifle. Sophomore Allison Buesseler tied her career high in air rifle with a 598, which added with a 585 smallbore gave her a strong aggregate of 1183. Also scoring above a 1180 aggregate was super senior Will Shaner, who had a 588 smallbore and 594 air rifle, and freshman Sofia Ceccarello, who had a 582 smallbore and 598 air rifle.
Super senior Mitchell Nelson and freshman Martin Voss each scored 1174 aggregates. Nelson earned a 578 in smallbore and 596 in air rifle, while Voss scored a 584 in smallbore and 590 in air rifle. Sophomore Kayla Kalenza scored a 583 in smallbore and 590 in air rifle for a 1173 aggregate, while fellow sophomore Tori Kopelen scored a 582 in smallbore and 588 in air rifle for a 1170 aggregate. UK's three seniors Mason Hamilton, Emmie Sellers and Jaden Thompson, scored aggregates of 1164, 1161 and 1161, respectively. Freshman AJ Hotko earned a 567 in smallbore and 584 in air rifle for a 1151 aggregate.
The scores from the five squad designees were still recorded from this match for NCAA qualifying purposes. Using traditional scoring, UK scored a 4733 aggregate, while Murray State had a 4699 and Morehead State a 4660. The 4733 is the second highest score of the season for Kentucky, behind its 4742 put up a few weeks back, which was the second-highest team score in program history. UK's 2386 air rifle score was its highest of the season and tied the fourth highest score of any team this season in NCAA competition.
The Wildcats will return to dual-match competition next weekend as the travel to face Great America Rifle Conference foe Ole Miss. The match will be Saturday, Nov. 19 in Oxford, Mississippi.
For more information on the Kentucky rifle team, visit UKathletics.com or follow UKRifle on Twitter, Instagram and Facebook.