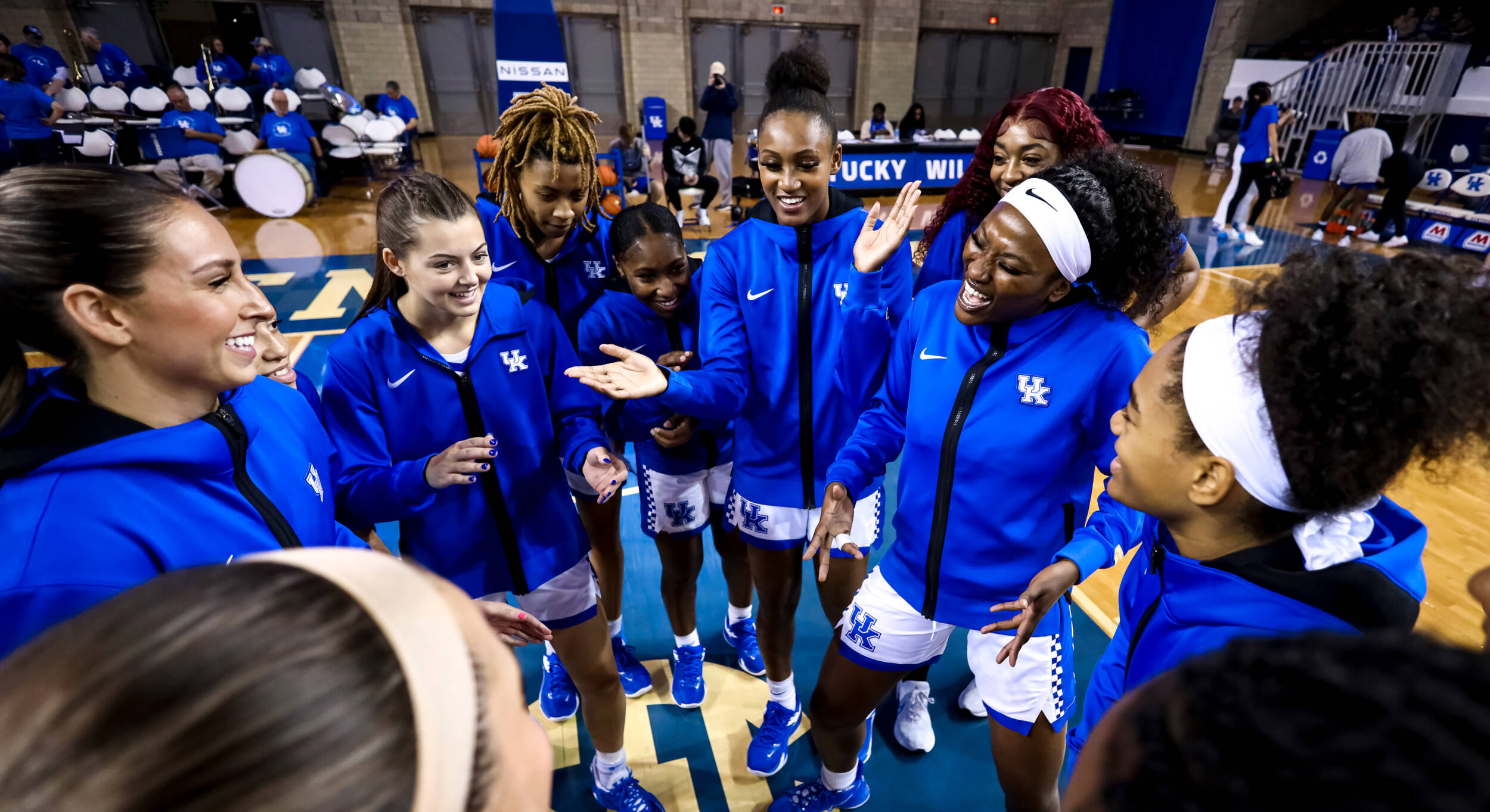 November 12, 2022 - 10:48 PM
Kentucky, Coastal Carolina Square Off for Sunday Matinee, Dads-Daughters Day
LEXINGTON, Ky. – The University of Kentucky women's basketball program will play host to Coastal Carolina on Sunday, Nov. 13 at 1 p.m. ET inside Memorial Coliseum, its third game in the last seven days. The game will be broadcast on SEC Network+, with Jeff Piecoro and Christi Thomas on the call.
It is the program's Dads and Daughters game, featuring a free photo opportunity on the concourse pregame and a free carnation giveaway.
Doors to Memorial Coliseum will open one hour prior to the tip time. Bags must adhere to the UK Athletics Clear Bag policy, and bags and items will be searched. To avoid additional touch points, fans are strongly encouraged to not bring unnecessary bags to Memorial Coliseum. More on UK Athletics' Clear Bag policy can be found online here.
Parking for games is available starting three hours prior to tipoff in a majority of surface lots surrounding Memorial Coliseum, including the High Street Lot, East Maxwell Lot, Joe Craft Center Lot, College View Lot, Alumni Center Lot and Career Center Lot. The Cornerstone Garage and Parking Structure No. 2 will open two hours prior to tip. The Gatton Student Center Lot is pay-to-park while all other parking options are free. The JCC Lot is primarily used for limited mobility/handicap parking. No shuttles are being offered at this point in the season.
Darren Headrick will have the call on the UK Sports Network on 630AM WLAP in Lexington. Free live audio will be available online at UKathletics.com and live stats will be available online at KentuckyStats.com.
Kentucky is coming off a triumph over Morehead State, 73-48, last Friday inside Memorial Coliseum. The Wildcats had three scorers in double digits, including junior guard Maddie Scherr. She scored 14 points on 5-of-7 from the field, including going a perfect 4-of-4 from long range, which ties her career high in three-point field goals. In addition to her scoring contribution, she also added a career-high tying nine assists and a career-high three blocks.
Graduate guard Blair Green had 13 points on 6-of-11 from the field, while tacking on four rebounds, an assist and a steal.
In the victory last Friday, Kentucky shot over 51.0 percent from the field. It combined for 24 assists on 30 field goals. Meanwhile, the Wildcats had 10 3-pointers on 43.5 percent from the arc. The Cats forced the Eagles to commit 30 turnovers, scoring 38 points off those miscues.
The game will mark the first all-time meeting between the two teams.
The Chanticleers (0-1) are coming off its lone loss of the season to the Georgia Bulldogs, 78-61, on the road. The Chants are averaging 61.0 points per game, while shooting 37.3 percent from the field and 30.4 from three-point range. Newcomer Anaya Barney led the team with 16 points in the season opener, while returners Aja Blount and Angie Juste-Jean added 13 and 12 points, respectively. Blount was the leading rebounder against the Bulldogs, grabbing eight boards, while Barney and Arin Freeman snagged five boards apiece.
For more information on the Kentucky women's basketball team, visit UKathletics.com or follow @KentuckyWBB on Twitter, Instagram and Facebook.