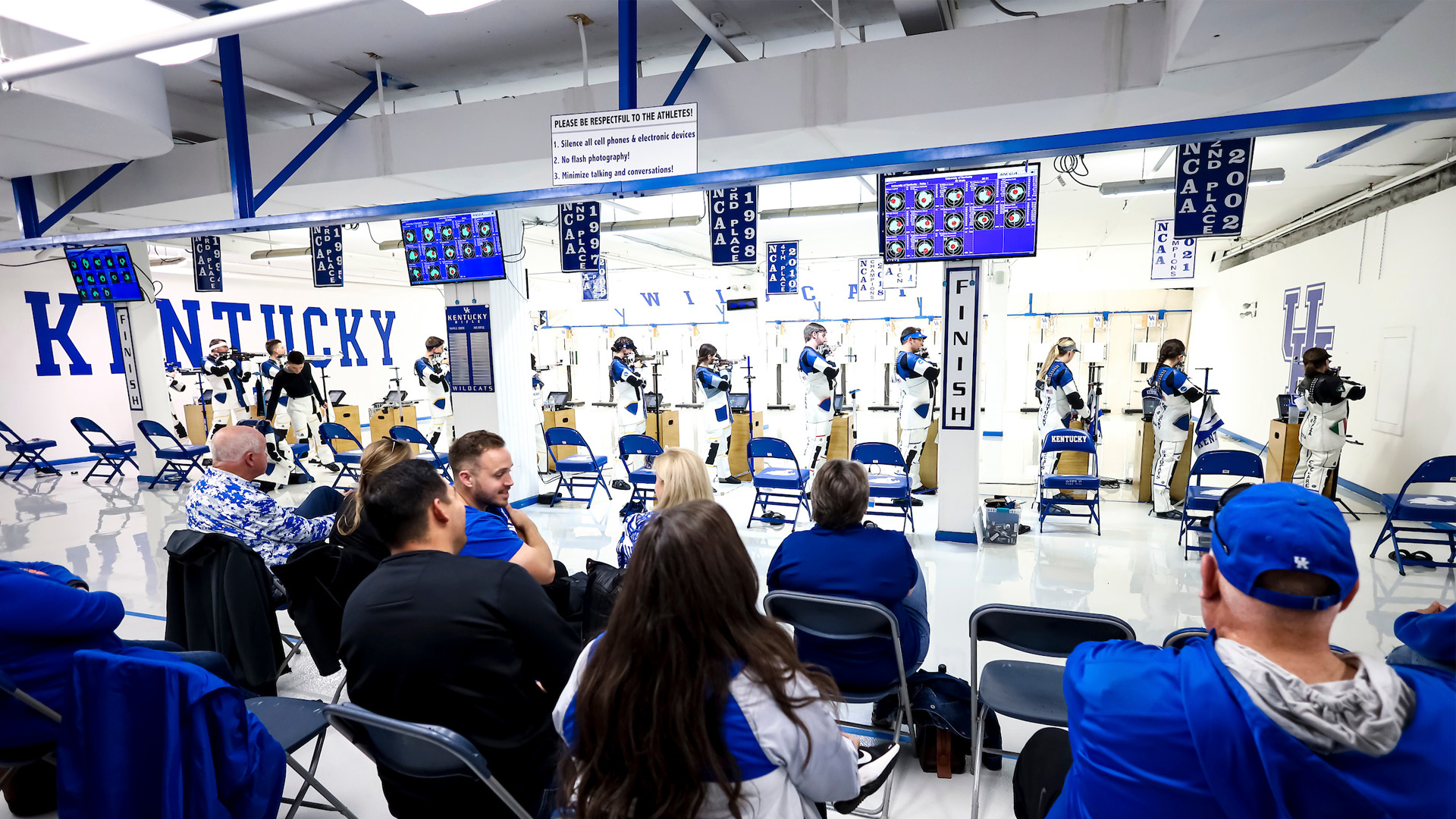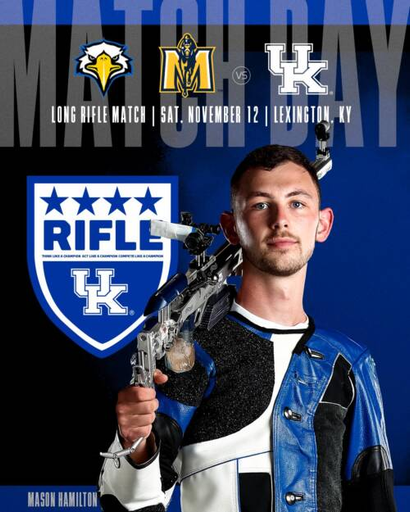 LEXINGTON, Ky. – The University of Kentucky rifle team returns to Barker Hall this weekend to host one of the program's favorite events of the year – the Kentucky Long Rifle Match – featuring all three NCAA rifle programs in the Commonwealth of Kentucky.
The three teams will compete throughout two relays Saturday with sights and prep for smallbore starting at 8 a.m. ET. Spectators are invited to watch smallbore scores up in Barker Hall and enjoy free breakfast during the first part of the relay. The range will be open to spectators for air rifle. Admission is free.
"We always love hosting the Kentucky Long Rifle Match and showcasing the talent we have from border-to-border across this great state," UK head coach Harry Mullins said. "I know we didn't score like we wanted to last weekend, but I think this weekend gives us a unique challenge to regroup and see what we can do. This is a great group to be around and they are getting better each day. Because of that, I am excited to see what we can do in the range this weekend."
The Kentucky Long Rifle Match brings together the three NCAA Division I rifle programs from the Commonwealth, as Kentucky is the only state in the country with three collegiate teams. The match will utilize a unique format, aggregating the scores from six shooters instead of the five designated squad members for smallbore and air rifle commonly used within NCAA competition. The scores from the five squad designees will still be recorded from this match for NCAA qualifying purposes.
The winning team will be awarded the Kentucky Long Rifle trophy, which has been hand engraved to honor all the teams involved.
Last season in the Kentucky Long Rifle Match, UK claimed the match with a 7059 total, scoring a 3516 in smallbore and 3543 in air rifle. Murray State finished second with a 3489 in smallbore, 3533 in air rifle and total of 7022. Morehead State was third with a 3446 in smallbore, 3542 in air rifle and 6980 total. For NCAA scoring purposes, UK posted an aggregate of 4733 with a 2356 in smallbore and 2377 in air rifle.
Kentucky is coming off a 4705 team score at the WVU Fall Classic last weekend in Morgantown, West Virginia. The Wildcats, who were competing without super senior Will Shaner, earned a 2333 in smallbore and 2372 in air rifle. UK shined in its last home match of the season, earning wins over Navy and North Georgia with a 4742 team score, which was the second highest in program history.
Freshman Sofia Ceccarello leads Kentucky in aggregate average this season with a 1184.666, while Shaner is behind her with a 1184.5 Super senior Richard Clark is earning a 1178.75, while sophomore Allison Buesseler is averaging a 1176.25. Super senior Mitchell Nelson and freshman Martin Voss are having strong seasons averaging 1172 and 1168, respectively. Seniors Jaden Thompson and Emmie Sellers are averaging 1167.25 and 1166, respectively, while sophomores Kayla Kalenza and Tori Kopelen are at 1165.75 and 1158, respectively. Senior Mason Hamilton is earning a 1148.75, while AJ Hotko is at 1146.5.
As a team, Kentucky is averaging a 2334.50 in smallbore and 2376.75 in air rifle this season for an aggregate of 4711.25.
Murray State is having a good season, averaging 2324 in smallbore and 2359.71 in air rifle for a 4683.71 aggregate average. The Racers are coming off back-to-back 4697s last weekend in Columbus, Ohio. MSU's best score of the year was a 4716 vs. Ole Miss.
Morehead State is averaging a 2307.57 in smallbore and 2361.43 in air rifle for a 4669.0 aggregate. Last weekend, Morehead State defeated UT Martin twice with a 4666 and a 4671. The Eagles' season high is a 4674 against Georgia Southern.
For more information on the Kentucky rifle team, visit UKathletics.com or follow UKRifle on Twitter, Instagram and Facebook.