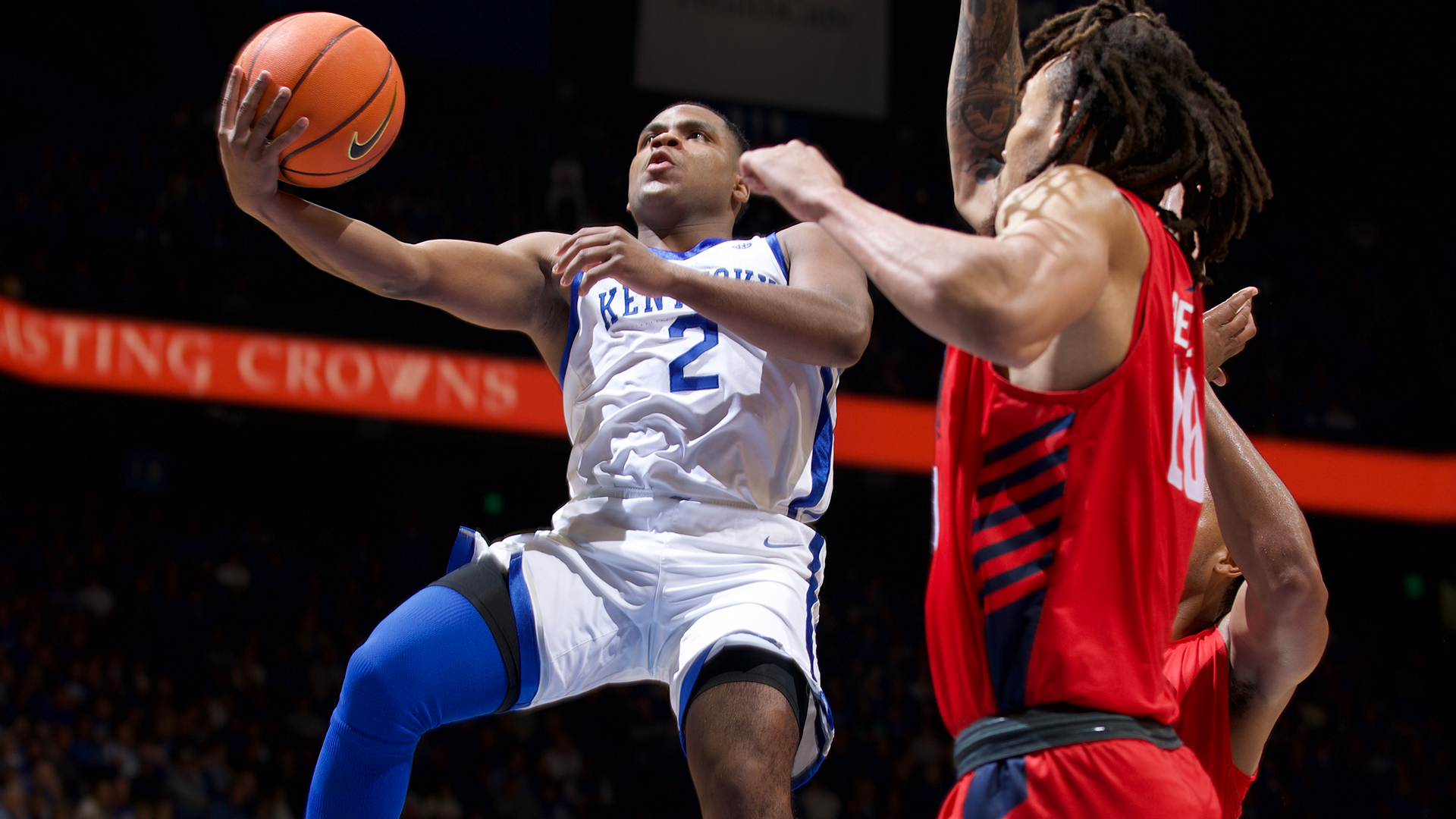 November 11, 2022 - 09:31 PM
Wheeler Leads Cats Past Duquesne
Sahvir Wheeler missed Kentucky's season opener against Howard on Monday night. But on Friday night against Duquesne, the All-SEC point guard returned and wasted no time making his presence felt.
Wheeler and the Cats beat the Dukes 77-52 at Rupp Arena behind 18 points from senior guard Antonio Reeves. But it was Wheeler who really got Kentucky going early.
The senior point guard entered the game with the Cats holding a 7-5 advantage. He would play just five minutes before he was winded and had to come out, but the 5-9 Wheeler made the most of his first action of the season.
In that span, Wheeler made his only field goal, made both of his free throws, had four points, three assists and two rebounds. When he left the game, the Cats had extended the lead to 18-11.
UK head coach John Calipari knows how important having good production at guard is to any team.
"When you have good guards in college basketball, you've got a chance," Calipari said. "We have good guards. Sahvir was good tonight."
Duquesne head coach Keith Dambrot was impressed with Wheeler on Friday.
"He's a strong, tough, little guy that gets to where he wants to get and then shares the ball," Dambrot said. "That was probably the key to the game."
Wheeler finished the game with 11 points, 11 assists and six rebounds in 27 minutes of action.
Senior guard CJ Fredrick had 14 points for the Cats, while freshman big man Ugonna Onyenso had nine points, 10 rebounds and three blocked shots.
Wheeler was on the giving end of the play that provided the exclamation point in the game. Wheeler spotted Jacob Toppin racing for the basket and, from near midcourt, Wheeler launched a pass that Toppin caught and slammed, capping a 15-5 run that put the Cats up 58-37 with just 8:17 to play.
Kentucky returns to action on Tuesday night, facing Michigan State in the Champions Classic in Indianapolis. Tipoff is set for 7 p.m. and the game can be seen on ESPN.