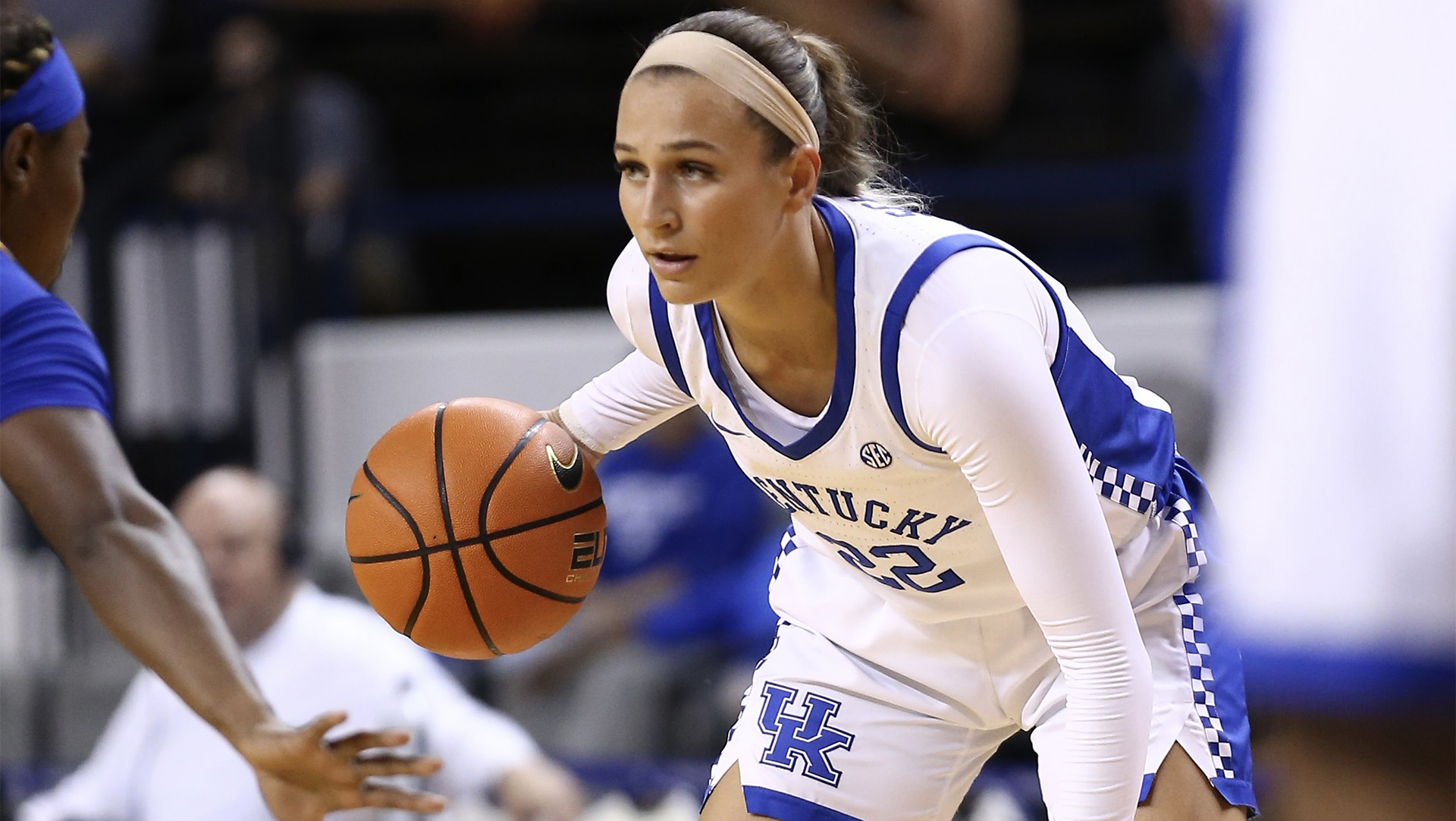 November 11, 2022 - 07:57 PM
Kentucky Cruises Past Morehead State on Friday
LEXINGTON, Ky. – Kentucky scored the first 13 points of the game and never looked back, pounding Morehead State 73-48 on Friday night at Memorial Coliseum.
Kentucky (2-0) got a big effort from Maddie Scherr, who had 14 points, nine assists, six rebounds, three blocks and a steal. The Cats got 13 points from Blair Green and 11 from Robyn Benton.
The UK defense had a strong effort on Friday night, holding Morehead State to 17 of 52 (32.7 percent) shooting from the floor, including just one of 11 (9.1 percent) from behind the arc. The Cats forced 30 turnovers and converted those into 38 points on the offensive end.
The Cats hit three of their first five shots from behind the arc, one apiece from Scherr, Emma King and Eniya Russell, to lead 9-0. After baskets by Green and Ade Adeyeye, the Cats would lead 13-0. Morehead State would not score until the 2:56 mark of the first period when Sophie Benharouga got the Lady Eagles on the board. However, UK would lead 17-6 after 10 minutes of action.
In the second period, Kentucky would extend the lead to 22-8 on a three pointer from Amiya Jenkins. MSU would answer with a 6-2 run to close the gap to 10 points, 24-14. But a Russell layup with 44 seconds left in the half gave the Cats a 26-14 lead at the break.
Kentucky would blow the game open in the third quarter. After MSU scored first, UK got threes from Benton, Green and Scherr, followed by a Jada Walker layup and another Scherr three, to lead 40-16. MSU would have a 9-0 run later in the quarter, but the Cats led 54-27 through three periods of play.
The Cats would extend the lead to as many as 31 points in the fourth quarter before settling for the 25-point victory.
Kentucky returns to action on Sunday, hosting Coastal Carolina at Memorial Coliseum. Tipoff is set for 1 p.m. and the game can be seen on SEC Network Plus.