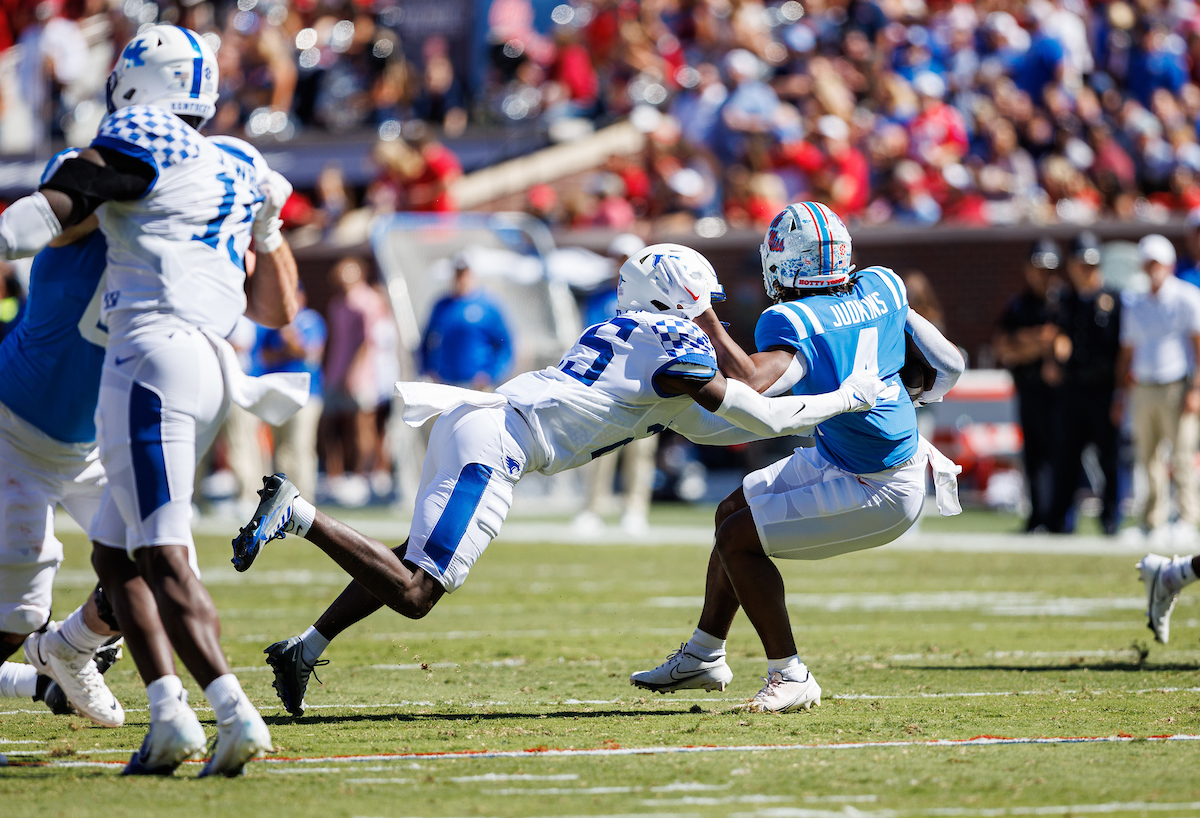 Kentucky came into the season with experience at a number of positions on defense. However, as the 2022 season has gone on, due to injury and opportunities, a number of younger players have become crucial components for the Cats.
Alex Afari, Jordan Lovett and Deone Walker are three freshmen who have been among the Cats' leading tacklers this season. Lovett is second on the team with 39 stops. Walker has 23 tackles and Afari has 18.
The young players have been able to make an impact, but Lovett likes to credit the older players on the UK defense, guys like Jacquez Jones and DeAndre Square for paving the way.
"I've got to give a shoutout to the older guys," Lovett said. "The older guys put the pathway down for us to follow."
As far as how he's doing this season, the redshirt freshman from North Hardin (Ky.) High School is pleased.
"I'm real comfortable," Lovett said. "Honestly, everything's been going good."
Walker, a true freshman from Detroit, has been a key cog in the UK defensive line this season. Standing 6-6 and weighing in at 330 pounds, Walker has literally been a massive piece on defense for the Cats. Even teammates and fellow defensive lineman Justin Rogers is amazed by Walker's size.
"I look at him and I'm like, wow, I feel short," Rogers said. "Out there playing with him, I know I've got his back and I know he's got mine."
Rogers also knows that the future is very bright for Walker.
"Man, he's different," Rogers said. "I'm not going to lie – he's different. Just his size, man, he just doesn't understand the potential he's got right now. It's crazy. I told him, the potential you've got is just outstanding. You can do some real big things."
The young Cats' defenders will have a challenge on their hands this weekend when Vanderbilt comes to Kroger Field. The Commodores are 3-6 but have faced one of the nation's toughest schedules. UK defensive coordinator Brad White knows that the Vandy offense can be explosive, whether the 'Dores are playing AJ Swann or Mike Wright at quarterback.
"I think the basic philosophy, the style, the play scheme is similar," White said of the two VU quarterbacks. "Obviously, there's differences. We know Mike Wright well, we've seen him the last two years. We've got to do a good job with him."
White and his experienced defenders have faced Wright the last two seasons, so they know what to expect from him and are making preparations to deal with his ability to make plays with both his arm and his legs.
"With the amount of points they can put on the board, they will be a big challenge for us," White said. "The guys are getting locked in and prepped."
And as the Cats prepare for the final three games of the season, the young defenders will, without a doubt, continue to make a big impact, including this weekend against Vanderbilt.