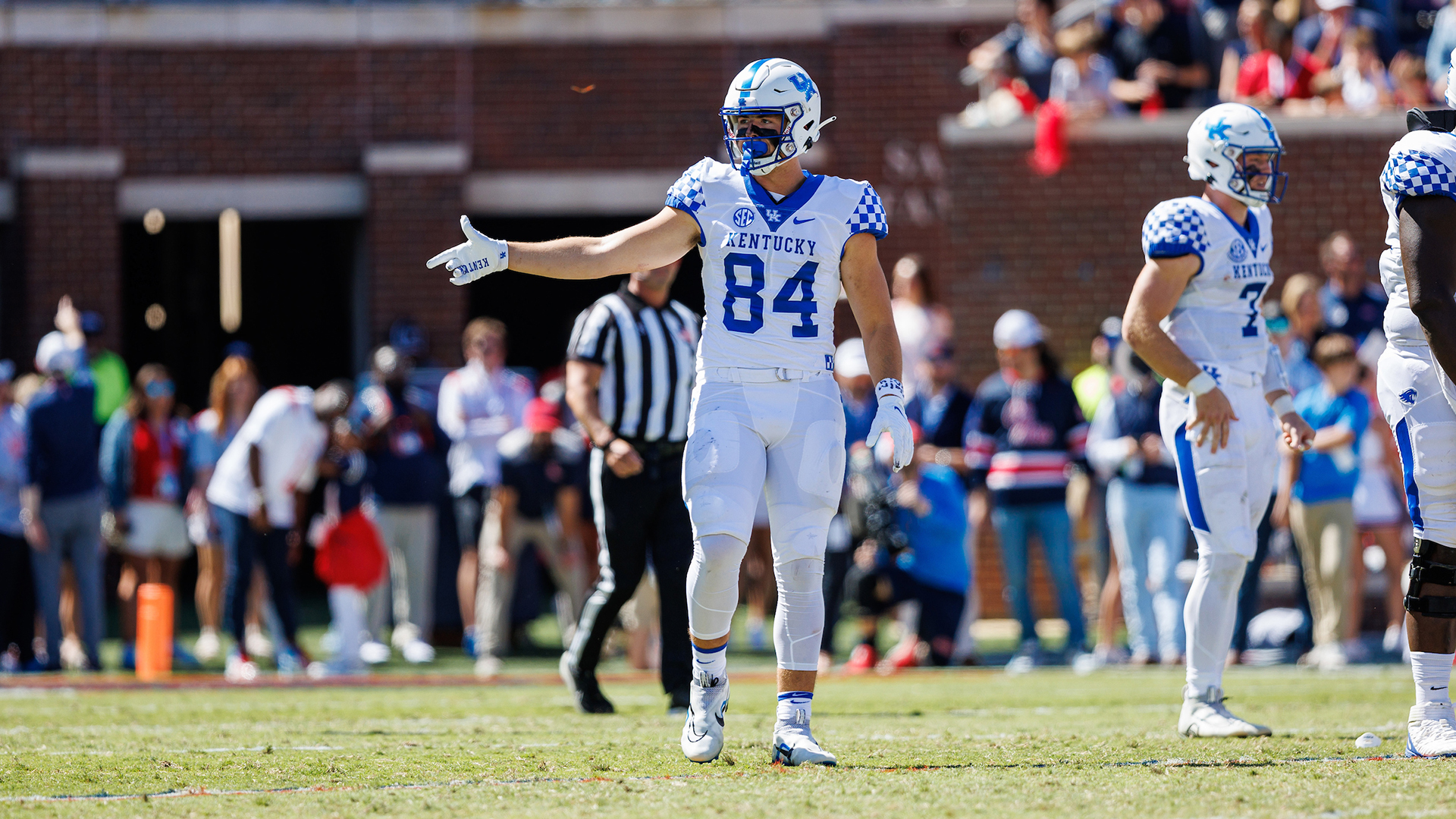 Kentucky offensive coordinator Rich Scangarello has liked his tight ends room since arriving on campus in the spring. The tight end group is deep and talented, something that Scangarello has been able to use to his advantage this season.
It's no surprise to see the UK tight ends putting up numbers in Scangarello's offense. What may be a surprise is exactly which tight ends are compiling those numbers.
As the season has moved forward, it has become evident that a pair of freshmen, Jordan Dingle and Josh Kattus, have emerged as the top tight ends, both in blocking and receiving.
Scangarello has been impressed with how Dingle and Kattus have emerged in a room full of talented, experienced players.
"It says a lot about how good they are because those other players are good players too," Scangarello said. "They earned that right through really solid play, whether it's blocking, route running, pass catch, reliability, availability, all of it. Those guys have a lot of grit. They're really special, talented players. You could see it early on. I really feel like we've got two really special freshmen who are going to be a big part of the future."
Dingle is fourth on the team, and first among tight ends, in receptions this season with 17. He has 188 receiving yards and three touchdowns on the season.
Kattus, who has been used primarily as a blocker so far this season, caught his first pass of the season in Saturday's win at Missouri. It went for just 10 yards but it's a memory that Kattus will have forever.
"It was awesome. It was a great experience, catching your first pass," Kattus said. "You're always going to remember that. I'm hoping we can continue that and that it was the first of many."
The son of former NFL tight end Eric Kattus, the younger Kattus has remained confident all season in what he can bring to the team.
"I knew what I was capable of all along and I knew I just had to keep working," Kattus said. "I knew Coach (Vince) Marrow had faith in me and I knew I had to work to get what I wanted."
During his recruitment, Marrow told Kattus how he could find his way onto the field early in his career.
"Coach Marrow told me, as a recruit, he said 'one thing I want to see you be able to do is block – if you can block, you can get on the field'," Kattus said. "So, that's one thing I was good at in high school and hope to carry on here. I do think that was a big thing that helped contribute to me getting on the field."
His teammates have commented more than once that Kattus can get under the skin of his opponents. For his part, Kattus admits to playing with an edge.
"Between the whistles, I'm nasty out there," Kattus said. "I'm going to bring it to them."
Kattus has impressed his teammates all season, including classmate Dane Key.
"Kattus is a baller," Key said. "He doesn't care if he gets the ball or not. He's going to go and there and play hard and once he's blocking, you're not going to get off him. He's going to make that block. And when it's his time to make a play, he's going to make a play."
Kentucky's young tight ends are making an impact on the team this season and figure to do so for several years to come.