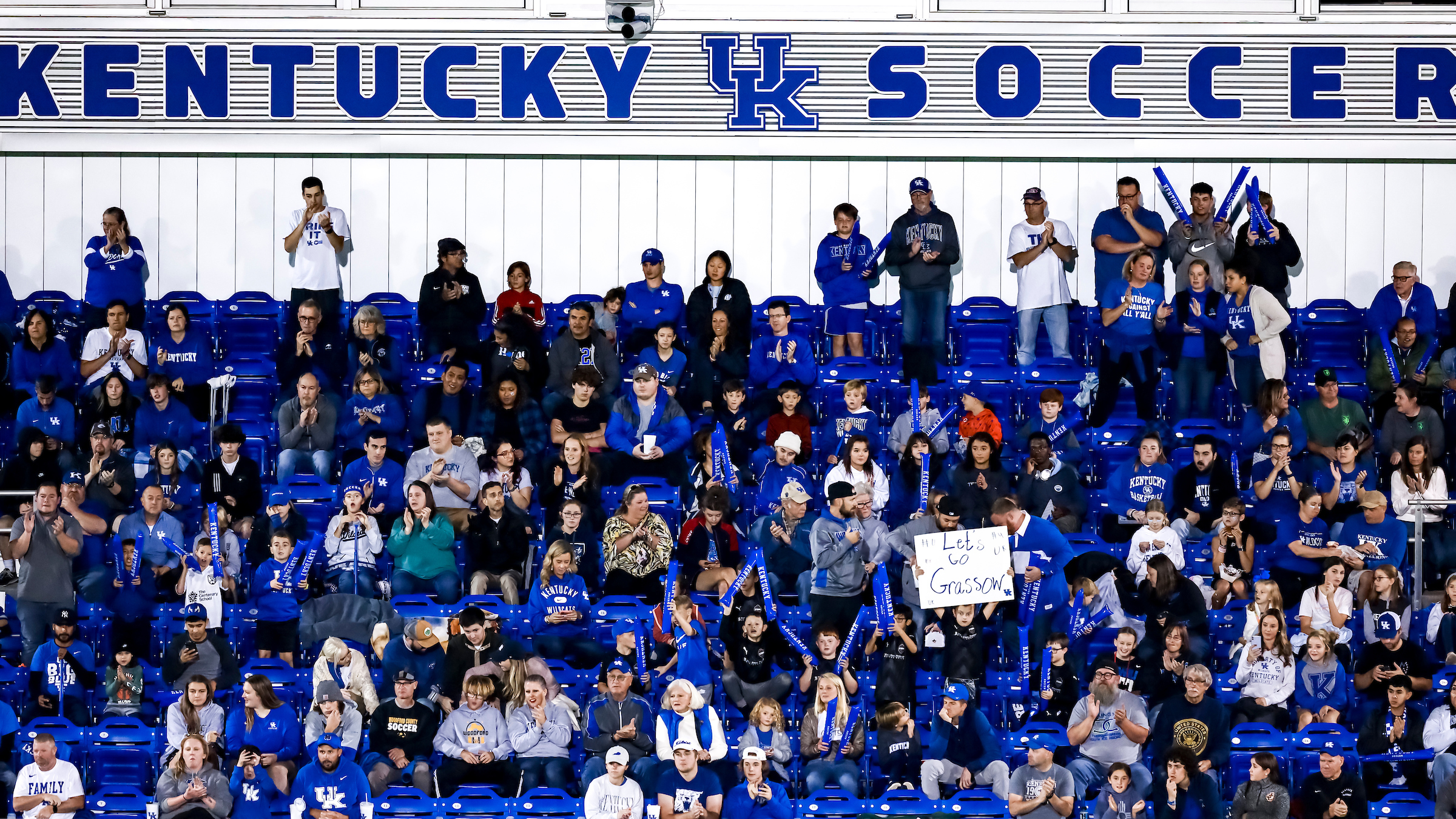 November 8, 2022 - 08:03 PM
Wildcats Battle for Chance to Play for Tournament Title
LEXINGTON, Ky. – Following an impressive comeback in the second half of the Sun Belt Conference Quarterfinal on Sunday, the No. 2 Kentucky men's soccer team (12-0-5, 6-0-3 Sun Belt) advanced to the semifinal round on Wednesday. The Cats will face West Virginia University at 7 p.m. EST at the Wendell & Vickie Bell Soccer Complex.
Senior Eythor Bjorgolfsson and junior Ben Damge scored UK's two goals to put the Cats ahead of the Gamecocks 2-1 to secure a spot in the semifinal contest. Kentucky defeated South Carolina 3-0 last Tuesday securing an undefeated regular season and 2022 Sun Belt Conference Regular Season title.
Kentucky and Washington are the only two NCAA Division I men's soccer programs still undefeated in the nation.
One-seeded Kentucky will face fourth-seeded West Virginia (7-6-4, 3-1-4 Sun Belt) on Wednesday for a spot in the championship game. The Mountaineers defeated Coastal Carolina to advance on Sunday with James Madison and Georgia State advancing to semifinals from the Marshall University quarterfinal site in Huntington, W.Va.
West Virginia and Kentucky met once this season with the teams fighting for a 3-3 draw in Morgantown.
Tickets are $10 for adults, $5 for youth (non-student ages 3-18) and $5 for senior citizens (65+). Children 2 and under will be admitted free of charge as will all Sun Belt Conference students who show a valid university issued ID. All tickets will be mobile. Fans are encouraged to purchase tickets prior to arriving at the event online.  Gates to the Bell Soccer Complex will open at 6 p.m. ET on Wednesday.
Live stats will be available for the UK's match against WVU. Fans can also stream the contest live on ESPN+.
For the latest on Kentucky Men's Soccer, follow @UKMensSoccer on Twitter, Facebook and Instagram, as well as on the web at UKAthletics.com.