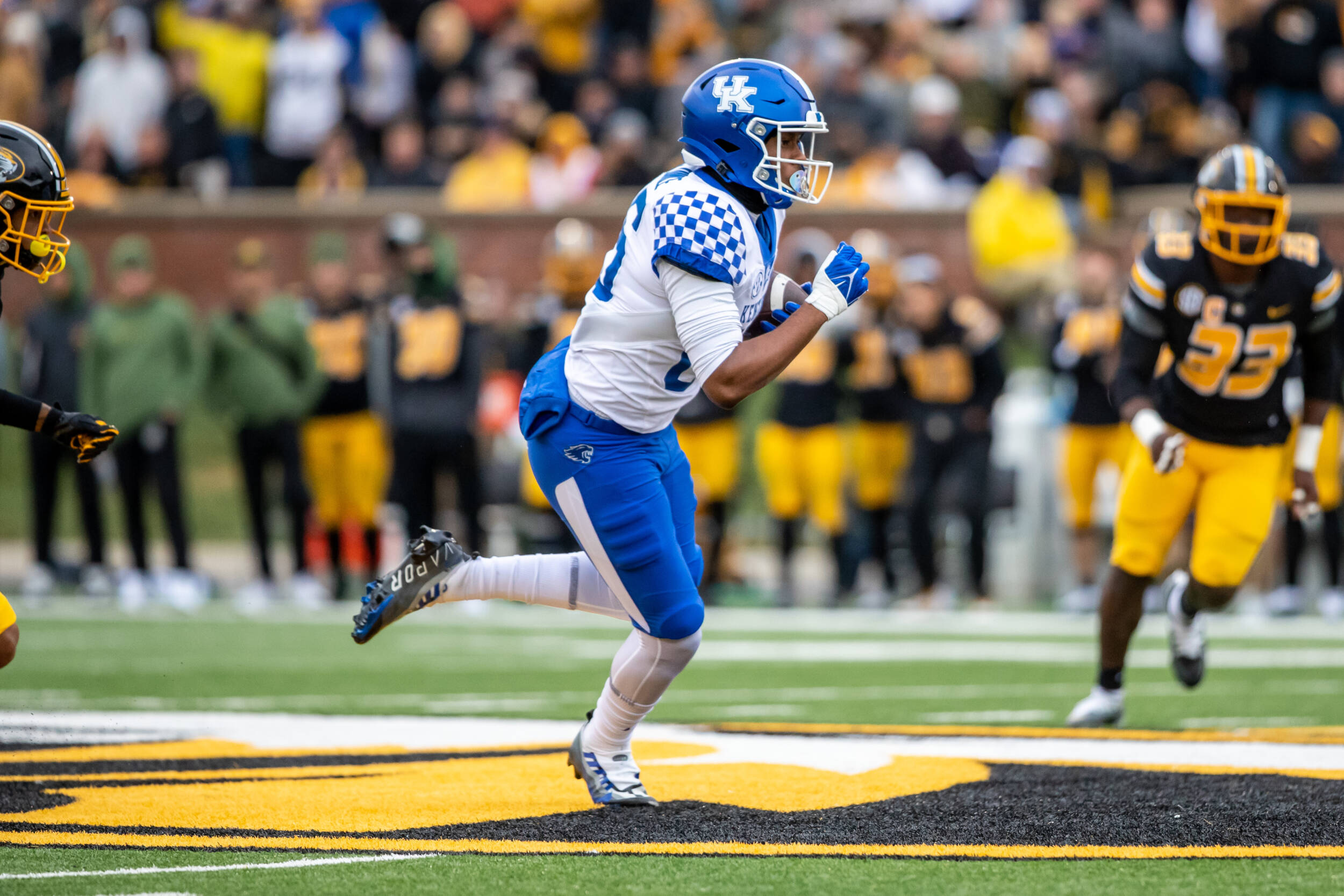 Kentucky picked up its sixth victory of the 2022 football season on Saturday, winning a hard-fought game at Missouri. The Cats played through imposing weather conditions, a tough opponent and self-inflicted mistakes to pick up a road win in the Southeastern Conference.
UK head coach Mark Stoops was pleased to get out of Columbia with a win but he knows that there is still plenty of room for improvement with three games left in the season.
"Obviously, still a lot of things to improve on," Stoops said. "That's what we have to concentrate on. "We need to play cleaner. We understand that, we know that. We need to coach better in certain areas. We need to make the routine look routine. Yes, that comes with snaps. The snaps, the missed field goals, are not OK. We will clearly continue to work at that."
Stoops has seen his UK teams battle through adversity many times during his tenure in Lexington, so what he saw on Saturday was not a surprise.
"We have to continue to work and to strive to get better," Stoops said. "The commitment to each other to elevate our toughness, our attitude, to go on to win and to bounce back, to show the resiliency we've thrown through the years. That took a high level. However, it also takes clean play to win and to win at the level we want to win at. We'll never give up on that."
How do he and the UK staff go about doing that?
"I think you continue to grind on that, continue to coach, continue to show the good things that we've done and the areas where we need to improve," Stoops said.
Kentucky will have its first chance to show off that improvement this week, hosting Vanderbilt on Saturday at noon. The Commodores are 3-6 on the season but have faced a daunting schedule that included consecutive games against Ole Miss, Alabama and Georgia.
"Everybody thinks that is not a very good football team. That is not true," Stoops said. "Vandy is coming off one of the hardest stretches of any team. It's a tough grind. We're up against a team that is much better than people perceive. I have a lot of respect for Clark Lea."
With three games still left in the regular season, the Cats are bowl eligible for the seventh consecutive year, which is the longest such streak in school history. Kentucky has played in 21 bowls all-time, with nearly a third of those coming during the Stoops Era. Now, it's about bowl positioning and making in into the best bowl possible.
The UK head coach knows that bowls are always a big deal, but he also knows that his team is playing for more than just being bowl eligible.
"Bowl eligibility – we don't take that for granted. It's very hard," Stoops said. "Take a look around. Things are hard, things are tough. There's some very good, proud programs, that we're all fighting and we don't take that for granted because things could take a tick up or a tick down very easily, very quickly nowadays. So, we don't take it for granted, but complacency won't cross our mind. It's about continuing to still be relentless in our improvement."
The Cats will look to clean up some of those mistakes as the season winds down, beginning on Saturday against Vanderbilt.