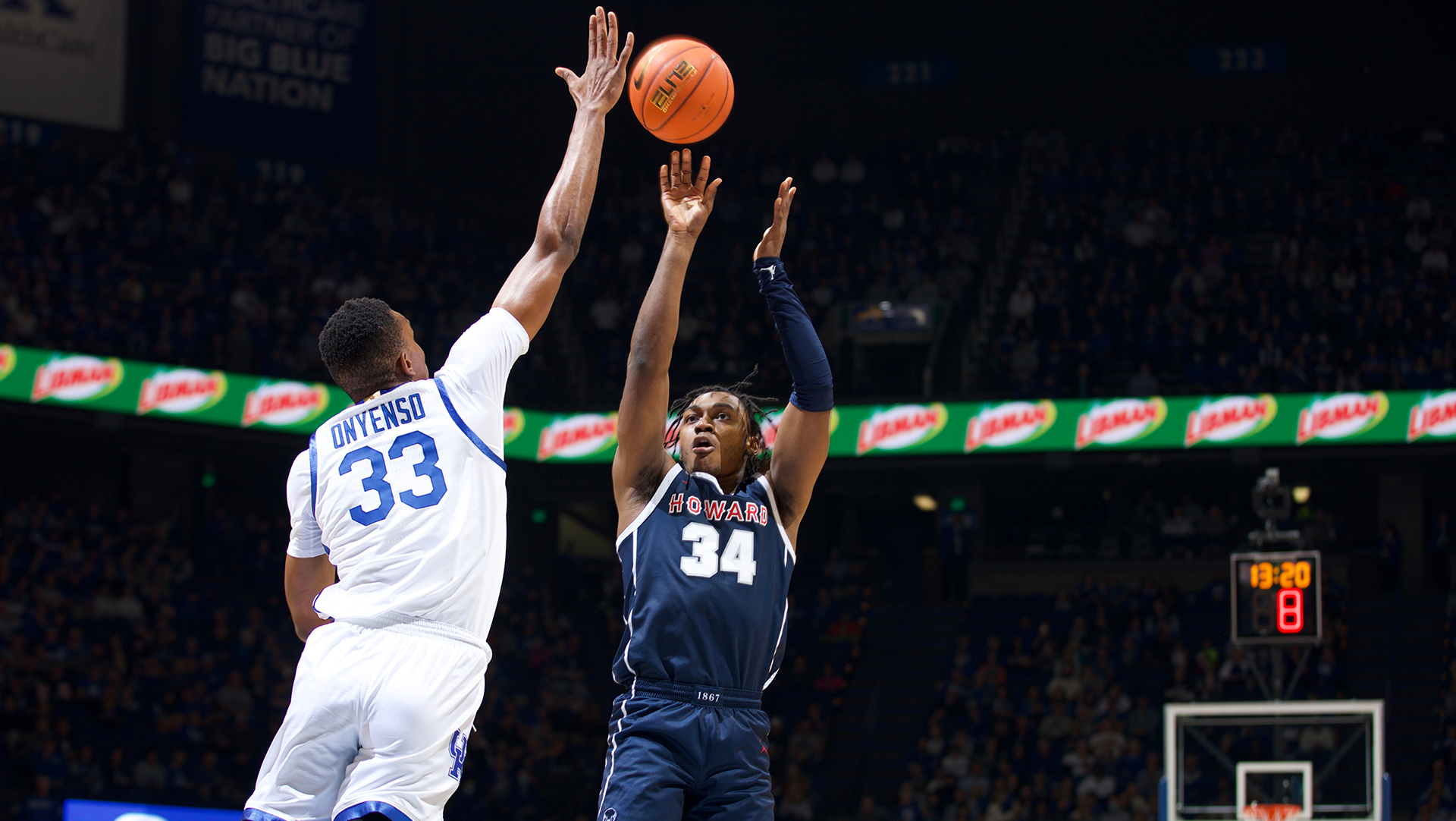 November 7, 2022 - 09:56 PM
Kentucky-Howard Postgame Notes
KENTUCKY MEN'S BASKETBALL POSTGAME NOTES
RUPP ARENA AT CENTRAL BANK CENTER | LEXINGTON, KY.
NOV. 7, 2022
ATTENDANCE: 18,750
Final Score: No. 4/4 Kentucky 95, Howard 63
Team Records and Series Notes
This was the first time that Kentucky and Howard have played on the hardwood and UK is now 7-0 against teams comprising the Mid-Eastern Athletic Conference.
The Wildcats return to action Friday, Nov. 11, at home against Duquesne. Game time is 7 p.m. and it will be televised on the SEC Network.
Season Openers
Beginning its 121st season of men's basketball, UK now has a 99-21 record in season lidlifters (no official games played in the 1952-53 season).
Kentucky is 11-3 in season openers under Coach John Calipari.
Kentucky is 14-0 in home openers with Coach Calipari.
Kentucky scored its most points and had the largest margin of victory (32 points) in a season opener since a 108-58 win over Marist on Nov. 11, 2011.
Team Notes
Kentucky limited Howard to 63 points. UK is 203-9 (95.8%) under Calipari when keeping the opponent to 63 points or less.
Howard shot 34.3% from the field. UK is 223-24 (90.3%) under Calipari when keeping the opponent to 40% or less.
On the offensive end, UK opened the campaign by making 54.8% from the field, including 45.8% from long range.
Kentucky led by as many as 38 points. The Wildcats are 311-13 (96.0%) in the Calipari era when leading by as many as 10 points at any time during the contest.
UK had a pair of 20-point scorers, first time for that since Kellan Grady (25) and Oscar Tshiebwe (21) did so in a win vs. Alabama on Feb. 19.

Reeves and Fredrick are the third pair of teammates to debut with at least 20 points, joining Reid Travis and Keldon Johnson (11/6/2018) and Doron Lamb and Terrence Jones (11/12/2010) as the others to do so.
Rupp Arena
UK extended its home win streak to 20 games, dating back to the 2020-21 season, and that is the longest current home win streak in the Southeastern Conference.
Kentucky is 14-0 in home openers with Coach Calipari.
Kentucky is 634-77 (89.2%) in the 47-year history of Rupp Arena.
Kentucky is 207-17 (92.4%) in Rupp Arena under Calipari.
A pair of entertainment luminaries visited the arena tonight.

Golden Globe Award-winning actor Ving Rhames is the father of Bison player Freedom Rhames, who scored five points in four minutes of action.
Terry Lewis, 2022 inductee into the Rock and Roll Hall of Fame, is the father of Talin Lewis, who logged four minutes tonight and had one rebound.
Player Notes
Antonio Reeves led the scoring with 22 points, including a UK-debut record six 3-pointers.

Previous debut record was three 3s by Patrick Sparks, Doron Lamb, Tyrese Maxey and Kellan Grady.
It is the 22nd 20-point game of Reeves' career.

Marking his first official game in 595 days, CJ Fredrick showed no rust with 20 points, the sixth 20-point game of his career.
Jacob Toppin notched his first career double-double with 15 points and a career-high 11 rebounds.
Freshman Cason Wallace almost had a triple-double in his first official collegiate game, totaling 15 points, eight rebounds and a game-high nine assists.

The nine assists were the second-most in a UK debut in program history. Only De'Aaron Fox's 12 against Stephen F. Austin on Nov. 12, 2016 are more.

Freshman Chris Livingston started his first official collegiate game and had nine points and four rebounds.
Lance Ware had four points and a career-high four steals.
Freshmen Ugonna Onyenso (six points, four rebounds, four blocked shots) and Adou Thiero (four points, five rebounds) played in their first official collegiate game.
Coach John Calipari
Calipari is 2-0 vs. Howard, with a win while coach at Memphis, 112-42, on Jan. 3, 2001.
Calipari has an 811-241 all-time regular-season record and a 366-101 mark at Kentucky.
See additional Calipari notes above under Season Openers and Rupp Arena.
In the First Half
Kentucky started Cason Wallace, CJ Fredrick, Chris Livingston, Jacob Toppin and Lance Ware.
Antonio Reeves was UK's first substitution at the 15:59 mark.
Toppin got the first points of the season with 2 of 3 foul shots with 19:18 on the clock.
Howard led 4-3 when a Wallace jumper put the Wildcats ahead for good.
UK gradually pulled ahead, scoring the last five points of the half to lead 49-26 at intermission.

49 points in the first half is the most for UK in a season opener since tallying 49 vs. Maryland on Nov. 9, 2012.

Reeves led the first-half scoring with 13 points, Fredrick tossed in 11 and Toppin neared a double-double with nine points and eight rebounds.
In the Second Half
Kentucky began the second half with the starting lineup.
Kentucky had a 12-0 run, its largest spurt of the game, to make the score 63-30.
Kentucky extended the lead to as many as 38 points.