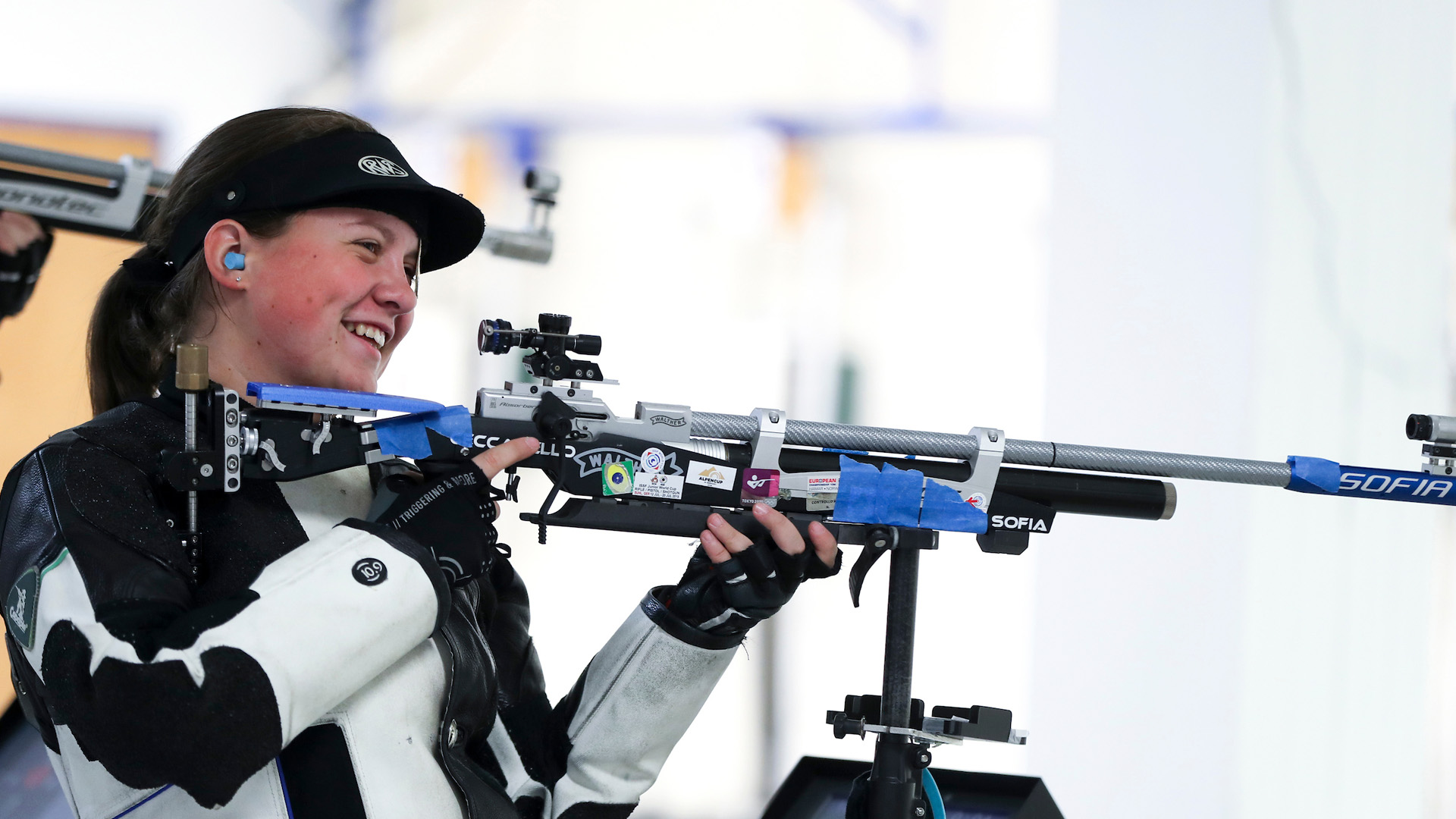 LEXINGTON, Ky. – University of Kentucky freshman Sofia Ceccarello finished third overall in the individual air rifle final as the Wildcats posted a 4705 team score to conclude competition at the inaugural WVU Fall Classic in Morgantown, West Virginia.
The two-day event was held at the Bill McKenzie Rifle Range inside the WVU Shell Building, hosted by WVU. TCU, Alaska-Fairbanks and Kentucky joined the Mountaineers for the weekend. Saturday saw the four teams compete in smallbore, while Sunday was air rifle action.
TCU won the event with a 4737 team score, scoring a 2357 in smallbore and 2380 in air rifle. WVU finished second with a 4733, earning 2351 in smallbore and 2382 in air rifle. Alaska-Fairbanks finished third with a 2351 in smallbore and 2374 in air rifle. UK was fourth with a 2333 in smallbore and 2371 in air rifle for a 4705 overall.
"We are obviously disappointed in the score result, but I think we learned a lot to move forward with this weekend," UK head coach Harry Mullins said. "It was a great match and the atmosphere was awesome. I am very proud of the team and the effort that they gave this weekend. I think we were able to get some great takeaways to move into the next part of our season."
Ceccarello paced the Wildcats in air rifle Sunday with a 595, which was good enough to earn her a spot into the air rifle individual final. In the final, she placed third overall, scoring a 260.9. The third-place finish continues a strong start to her collegiate career, leading UK in several matches so far. For the weekend, she scored a 1182 overall with a 587 in smallbore. The aggregate total was good enough for eighth overall at the event.
UK used the air rifle countable lineup Sunday of Ceccarello, super seniors Richard Clark and Mitchell Nelson, sophomore Allison Buesseler and freshman Martin Voss. Clark and Buesseler each scored 593 in the discipline, while Nelson scored 591 and Voss a 589. Also competing for UK on Sunday was Mason Hamilton with a 583, AJ Hotko with a 581, Kayla Kalenza with a 593, Tori Kopelen with a 588 and Jaden Thompson with a 578.
For more information on the Kentucky rifle team, visit UKathletics.com or follow UKRifle on Twitter, Instagram and Facebook.