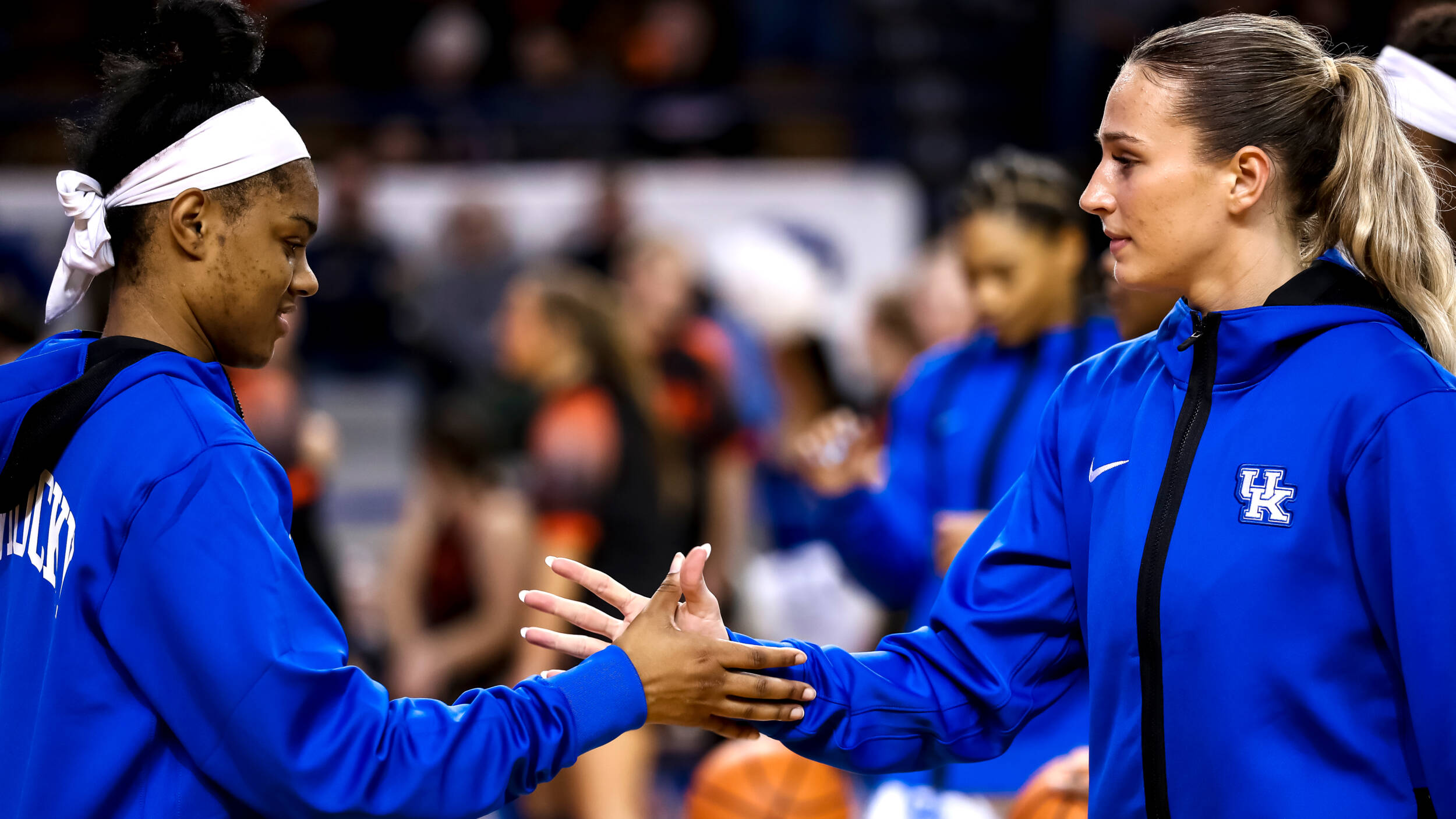 November 6, 2022 - 11:00 PM
Season Opener: Kentucky Hosts Radford Monday at 7 p.m. ET
LEXINGTON, Ky. – The University of Kentucky women's basketball program will begin its 49th season this week, when it plays host to Radford on Monday, Nov. 7 at 7 p.m. ET inside Memorial Coliseum. The season opener will be broadcast on SEC Network+, with Jeff Piecoro and Christi Thomas on the call.
The first 1,000 fans will receive a free clear tote, while free posters will be available at the entrances of the venue all season long.
Doors to Memorial Coliseum will open one hour prior to the tip time. Bags must adhere to the UK Athletics Clear Bag policy, and bags and items will be searched. To avoid additional touch points, fans are strongly encouraged to not bring unnecessary bags to Memorial Coliseum. More on UK Athletics' Clear Bag policy can be found online here.
Parking for games is available starting three hours prior to tipoff in a majority of surface lots surrounding Memorial Coliseum, including the High Street Lot, East Maxwell Lot, Joe Craft Center Lot, College View Lot, Alumni Center Lot and Career Center Lot. The Cornerstone Garage and Parking Structure No. 2 will open two hours prior to tip. The Gatton Student Center Lot is pay-to-park while all other parking options are free. The JCC Lot is primarily used for limited mobility/handicap parking. No shuttles are being offered at this point in the season.
Darren Headrick will have the call on the UK Sports Network on 630AM WLAP in Lexington. Free live audio will be available online at UKathletics.com and live stats will be available online at KentuckyStats.com.
Kentucky is coming off its lone exhibition game of the season to Pikeville last Wednesday, as the Wildcats rolled past the Bears, 93-45, in front of nearly 1,000 fans at Memorial Coliseum. Four Cats scored in double figures, including two newcomers – Ajae Petty (15), Maddie Scherr (13) – and two returners – Robyn Benton (14), Jada Walker (14).
Adebola Adeyeye had a game-high 15 rebounds, while Eniya Russell impressed with nine points, eight rebounds and three assists.
Kentucky, who shot 48.3 percent from the field on 43-of-89 shooting, made 79 of its points in the paint. They forced the Bears to commit 25 turnovers, while the Cats scored 32 points off those miscues. Kentucky also outrebounded Pikeville, 59-37, as UK rallied 26 second-chance points.
Blair Green, a graduate student from Harlan County, Kentucky, will make her official return to the court after missing the entire season in 2021-22, after suffering a ruptured Achilles in the preseason scrimmage more than a year ago. She had eight points and seven rebounds in 20 minutes of action against Pikeville.
In all, the Kentucky roster features 15 players, including five returners, four transfers and six freshmen. Tionna Herron, a freshman from DeSoto, Texas, is UK's lone inactive player, after the center had successful open-heart surgery on Aug. 24. She has returned to campus and is taking part in all team activities this season, while her participation is limited during her rehabilitation process. There is no timetable for her return to game action.
Monday's matchup will mark the season opener for Radford, too, while it defeated Roanoke College, 100-51, in an exhibition game last Wednesday. The Highlanders have nine newcomers and two new assistant coaches in Amber Easter and  Alex Tomlinson its program.
Rachel LaLonde and Jackie Christ both return to make up the senior leadership of the squad. LaLonde started in 25 games last season, scoring 7.4 points per game and recording 7.0 rebounds per game. Meanwhile, Christ, who started 24 games in 2021-22, had 3.8 points per game and 2.9 rebounds per game a season ago.
For more information on the Kentucky women's basketball team, visit UKathletics.com or follow @KentuckyWBB on Twitter, Instagram and Facebook.