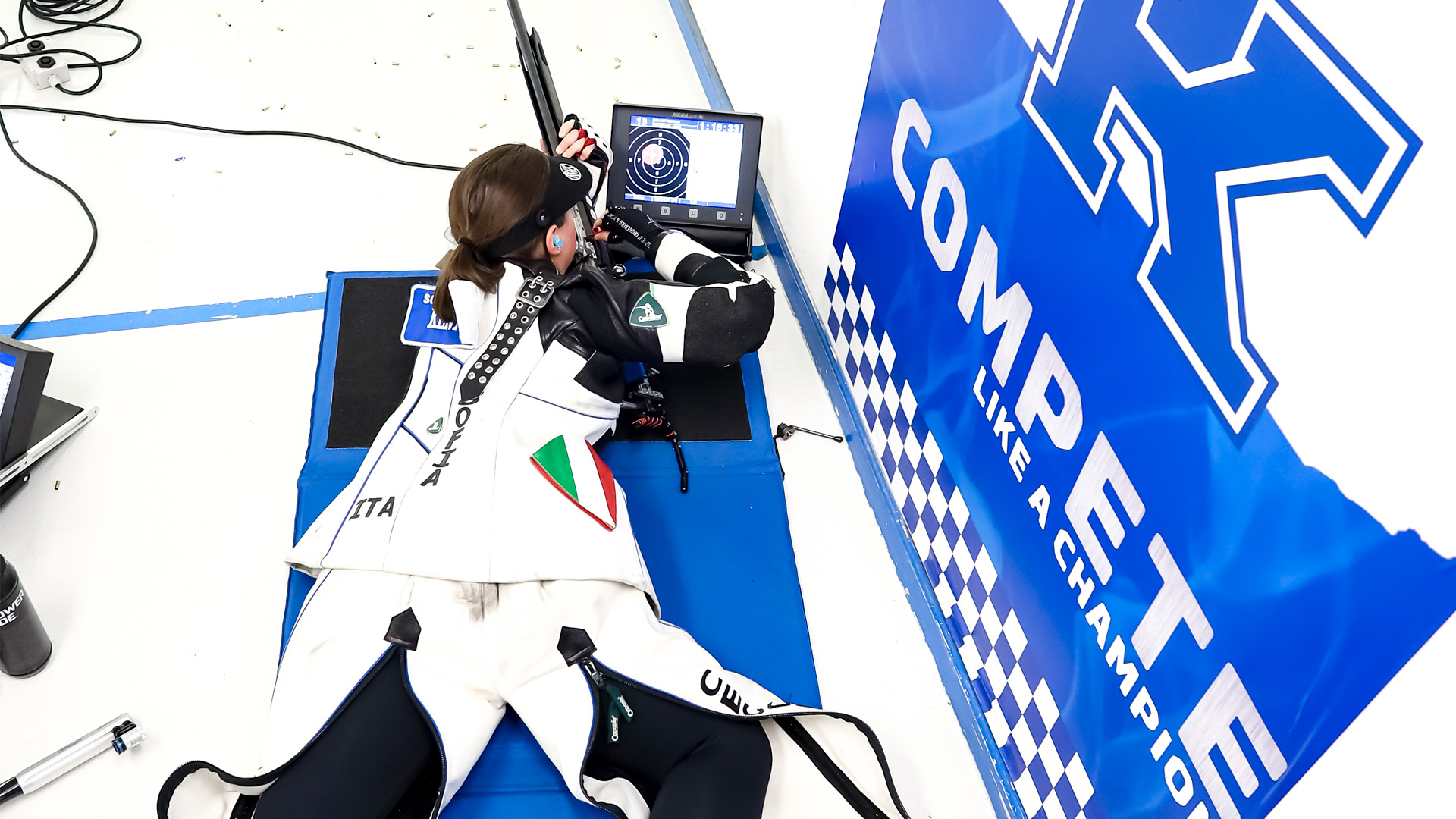 LEXINGTON, Ky. – The University of Kentucky rifle team scored a smallbore team score of 2333 Saturday at the first day of the WVU Fall Classic at the Bill McKenzie Rifle Range inside the WVU Shell Building in Morgantown, West Virginia. The Wildcats are competing in the event with host West Virginia, TCU and Alaska-Fairbanks.
Saturday featured smallbore action spread across two relays and concluding with a final. Sunday will be air rifle competition with the first relay scheduled to begin at 9 a.m., with sighters and prep time set for 8:45 a.m. The second relay will take place at 11 a.m., following a 15-minute sighting period. Sunday's air rifle final will conclude action from the WVU Fall Classic. The two-day competition will mirror a NCAA Championship format.
Live targets from Sunday will be available online at results.megaline.no, while a NCAA scorecard from the entire event will be available at NCAArifle.org.
"Not the scores we were looking for today. We didn't compete and fight through some adversity the way I wanted to see us do," UK head coach Harry Mullins said. "We will regroup tonight and come back out ready to go tomorrow in air rifle."
Kentucky's smallbore score of 2333 puts the Wildcats fourth out of four teams at the event. TCU leads the competition with a 2357, while Alaska-Fairbanks and WVU tied at 2351. No Wildcats made the individual smallbore final.
Kentucky used a countable lineup Saturday of super seniors Richard Clark and Mitchell Nelson, sophomore Allison Buesseler and freshmen Martin Voss and Sofia Ceccarello. It was Ceccarello again who led Kentucky with a 587 in smallbore, while Clark posted a 585 and Buesseler a 583. Nelson was the final countable score for UK with a 578, while Voss scored a 575.
Several Wildcats scored well as non-countables, including senior Jaden Thompson earning a 582 and sophomore Kayla Kalenza a 581. Sophomore Tori Kopelen scored a 578, while senior Mason Hamilton and freshman AJ Hotko wrapped up the performance with 567s. Super senior Will Shaner did not compete Saturday as he is traveling internationally to compete in a ISSF Championship.
For more information on the Kentucky rifle team, visit UKathletics.com or follow UKRifle on Twitter, Instagram and Facebook.