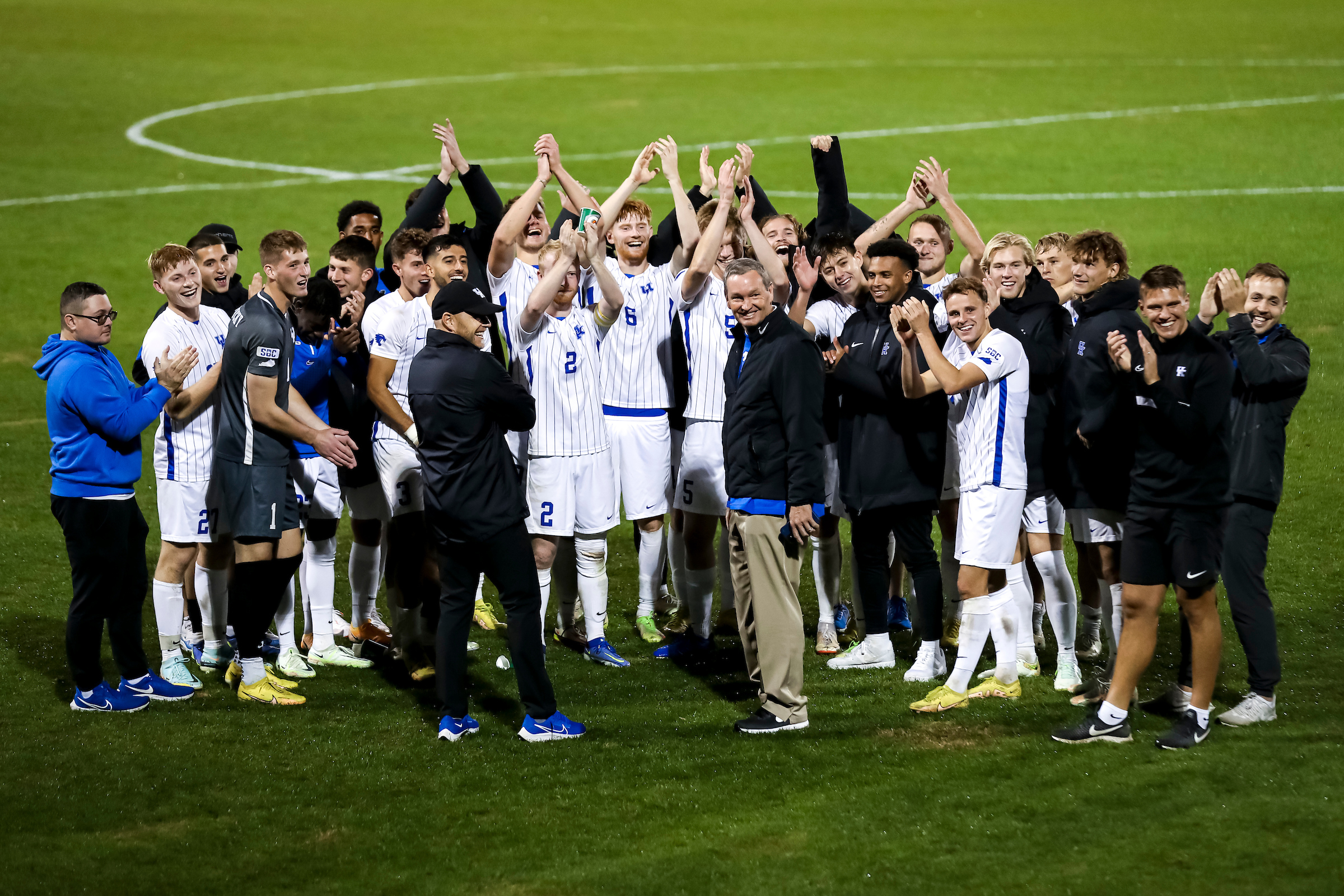 November 4, 2022 - 04:00 PM
Sun Belt Conference Announces 2022 Postseason Awards
LEXINGTON, Ky. – The Sun Belt Conference announced its 2022 postseason men's soccer awards Friday afternoon ahead of the first round of the conference tournament beginning on Sunday.
Kentucky head coach Johan Cedergren was named Coach of the Year following the program, and his, first undefeated regular season. The Wildcats remain unbeaten with a record of 11-0-5 (5-0-3 Sun Belt) at the conclusion of the regular season. The Wildcats were named Sun Belt Conference Regular Season Champions.
Cedergren has tallied 134 victories in his 11 years at the helm of Kentucky men's soccer. The Wildcats have reached the NCAA Tournament in eight of the Sölvesborg, Sweden native's first 10 seasons leading the Wildcats. He was named the C-USA Coach of the Year in 2014, 2015, and 2018 and became the fastest head coach in program history to win 100 career matches at UK on April 10, 2021.
Senior Luis Grassow was named Sun Belt Conference Defensive Player of the Year. The Munich, Germany native has been key on defense for UK this season. Leading the team as a co-captain with Robert Screen, Grassow has been a large part of the program on and off the field. Previously announced as Sun Belt Conference Preseason Defensive Player of the Year and MAC Hermann Trophy Watchlist listee, Grassow has proved himself contributing to all 16 matches this season, eight shutouts, and two goals including one shot.
True freshman Casper Mols has been named Sun Belt Conference Goalkeeper of the Year following an impressive freshman season in the net. Earning a starting position at an early point in his collegiate career, the Aabernaa, Denmark native has recorded 17 saves in 11 matches with eight clean sheets earned for the Cats. Mols has put up strong statistics throughout his freshman regular season with a 7-0-4 record in the goal with only nine goals against. His highest number of saves tallied four in the draws against Marshall earlier in the season.
In addition to the three individual award winners, Kentucky was also well represented on both the Sun Belt Conference First and Second Teams. First-team winners included Sun Belt Conference Preseason Offensive Player of the Year Eythor Bjorgolfsson along with Enzo Mauriz, Grassow, Screen and Mols. The second-team honrees included Casper Grening, Nick Gutmann, Clay Holstad, Andrew Erickson, and Lucca Rodrigues.
For the full list of Sun Belt preseason awards, see below.
2022 Sun Belt Men's Soccer Awards
Player of the Year: Milo Yosef, F, Marshall
Offensive Player of the Year: Milo Yosef, F, Marshall
Defensive Player of the Year: Luis Grassow, D, Kentucky
Goalkeeper of the Year: Casper Mols, GK, Kentucky
Freshman of the Year: Matthew Bell, F, Marshall
Newcomer of the Year: Adam Aoumaich, F, Marshall
Coach of the Year: Johan Cedergren, Kentucky
First Team All-Conference
F – Milo Yosef, Marshall
F – Eythor Bjorgolfsson, Kentucky
F – Alvaro Garcia-Pascual, Coastal Carolina
F – Matthew Bell, Marshall
MF – Vinicius Fernandes, Marshall
MF – Enzo Mauriz, Kentucky
MF – Simon Carlson, Georgia State
D – Luis Grassow, Kentucky
D – Gabriel Alves, Marshall
D – Robert Screen, Kentucky
GK – Casper Mols, Kentucky
Second Team All-Conference
F – Casper Grening, Kentucky
F – Nick Gutmann, Kentucky
F – Adam Aoumaich, Marshall
MF – Clay Holstad, Kentucky
MF – Alex Krakowiak, James Madison
MF – Luke McCormick, West Virginia
MF – Andrew Erickson, Kentucky
D – Lucca Rodrigues, Kentucky
D – Bjarne Thiesen, West Virginia
D – Peter Dearle, Coastal Carolina
GK – Oliver Semmle, Marshall
2022 Sun Belt Men's Soccer Conference Tournament Standings
Kentucky
Marshall
Georgia State
West Virginia
Coastal Carolina
Old Dominion
James Madison
South Carolina
Georgia Southern
Kentucky will host the first round of the conference tournament on Sunday. Tickets are $10 for adults, $5 for youth (non-student ages 3-18) and $5 for senior citizens (65+). Children 2 and under will be admitted free of charge as will all Sun Belt Conference students who show a valid university issued ID. All tickets will be mobile. Tickets can be purchased online.
2022 Sun Belt Conference Men's Soccer Tournament
Wendell & Vickie Bell Soccer Complex – Lexington, Ky.
Sunday, Nov. 6
Match 1: (4) West Virginia vs. (5) Coastal Carolina – 3 p.m. ET – ESPN+
Match 2: (1) Kentucky vs. (8) South Carolina – 7 p.m. ET – ESPN+
Wednesday, Nov. 9
Winner Match 1 vs. Winner Match 2 – 7 p.m. ET – ESPN+
For the latest on Kentucky Men's Soccer, follow @UKMensSoccer on Twitter, Facebook and Instagram, as well as on the web at UKAthletics.com.