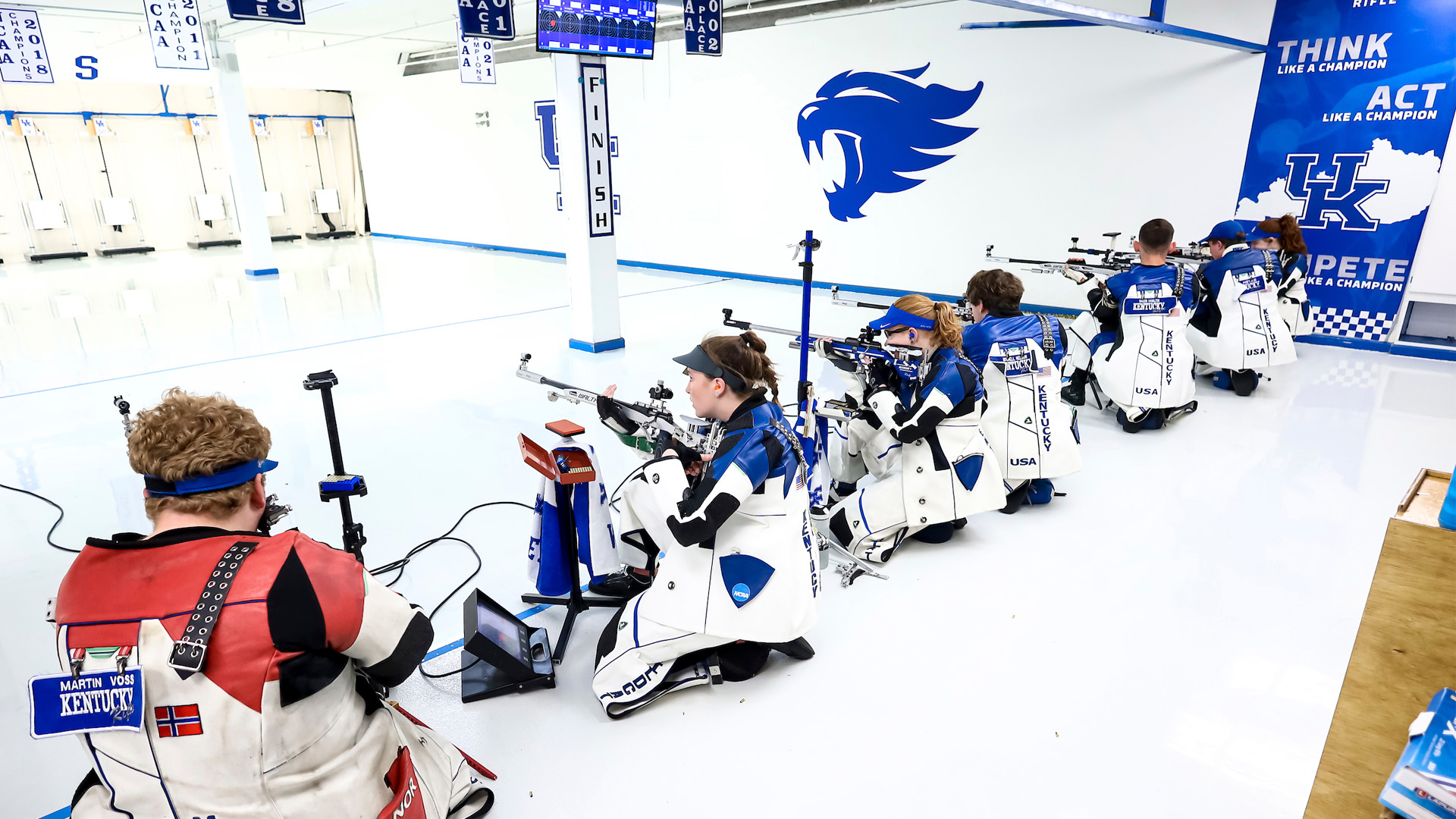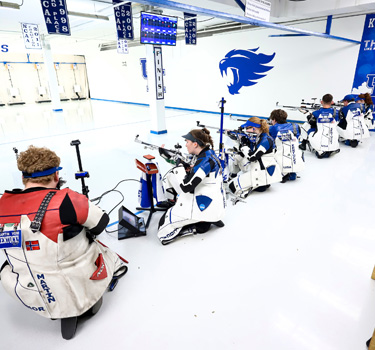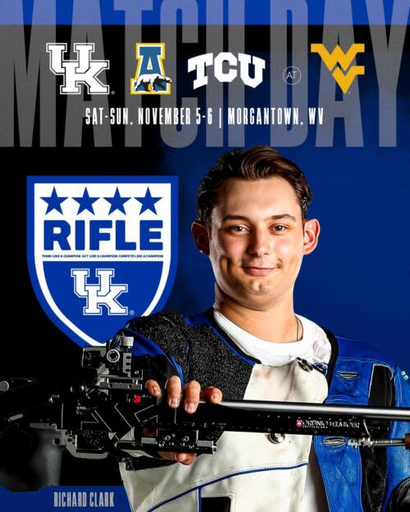 LEXINGTON, Ky. – After securing the second-highest team score in program history last weekend in its win over Navy and North Georgia, the University of Kentucky rifle team will compete in the inaugural WVU Fall Classic on Saturday and Sunday in a challenging format and lineup at the Bill McKenzie Rifle Range inside the WVU Shell Building in Morgantown, West Virginia.
Saturday will feature smallbore action with the first relay scheduled to begin at 9 a.m., with sighters and prep set for 8:45 a.m. The second relay will begin at approx. 11:30 a.m., following another 15-minute sighting period. Saturday's action will conclude with a final, featuring the top shooters from the first day.
Sunday will be air rifle competition with the first relay scheduled to begin at 9 a.m., with sighters and prep time set for 8:45 a.m. The second relay will take place at 11 a.m., following a 15-minute sighting period. Sunday's air rifle final will conclude action from the WVU Fall Classic. The two-day competition will mirror a NCAA Championship format.
Live targets from both days will be available online at results.megaline.no, while a NCAA scorecard from the entire event will be available at NCAArifle.org.
"We are looking forward to heading to Morgantown and competing against some of the best teams in the country," UK head coach Harry Mullins said. "Like I said last weekend, we were happy to see some better numbers top to bottom as a result of our training. Having these four quality programs together in the range in November is going to be great experience for our team. Overall, we want them to compete and learn this weekend and have some fun."
Last weekend, Kentucky put together its best performance on the young season, defeating Navy and North Georgia inside the Barker Hall Rifle Range. The result came behind a school-record tying team score in smallbore, which led to the second-highest team aggregate score in program history of 4742. UK posted a 2360 in smallbore and 2382 in air rifle.
It was super senior Will Shaner and freshman Sofia Ceccarello that paced the team. Shaner led all performers with a 1191, earning a 594 in smallbore and 597 in air rifle. Ceccarello shined again in her second collegiate match with a 1190 overall, including a 592 in smallbore and match-leading 598 in air rifle. Super senior Mitchell Nelson scored career-highs in both disciplines, while fellow super senior Richard Clark earned a 591 in smallbore and 595 in air rifle.
Overall this season, UK is averaging a 2335 in smallbore and 2378.33 in air rifle for a 4713.33 team aggregate average. Ceccarello leads Kentucky with a 1186 aggregate average, including a 587.5 in smallbore and 598.5 in air rifle. Shaner is averaging 589 in smallbore, 595.5 in air rifle and a 1184.5 aggregate average, while Clark is right behind him with a 1179 overall, including a 584.667 in smallbore and 594.333 in air rifle.
Sophomore Allison Buesseler is averaging 583.667 in smallbore and 592.667 in air rifle, while Nelson is earning a 581 in smallbore and 592 in air rifle. Senior Jaden Thompson and freshman Martin Voss are each averaging a 579.333 in smallbore, while Thompson is earning a 590.333 in air rifle and Voss a 590. Senior Emmie Sellers is earning a 577 in smallbore and 583 in air rifle. Sophomore Kayla Kalenza and Tori Kopelen are averaging an aggregate of 1163 and 1154.833, respectively. Senior Mason Hamilton is earning a 1148.333 aggregate while freshman AJ Hotko is earning an aggregate average of 1146.
West Virginia is hosting the event and is having a good season. WVU is averaging a 2335.75 in smallbore and a 2380.25 in air rifle for a 4716 aggregate average. Mary Tucker leads the team with a 1188.5 aggregate average, while Molly McGhin is earning a 1176.75.
Alaska-Fairbanks is averaging a 2367 in smallbore and 2380.5 in air rifle for a 4747.50 aggregate average. Peter Fiori is averaging a 1188.5 average this season, while Rylan Kissell is earning a 1187.667.
TCU is earning a 2355.5 in smallbore and 2387 in air rifle for a 4742 aggregate average. Julie Johannessen is earning a 1191 aggregate average while Stephanie Grundsoe is earning a 1190.5.
For more information on the Kentucky rifle team, visit UKathletics.com or follow UKRifle on Twitter, Instagram and Facebook.