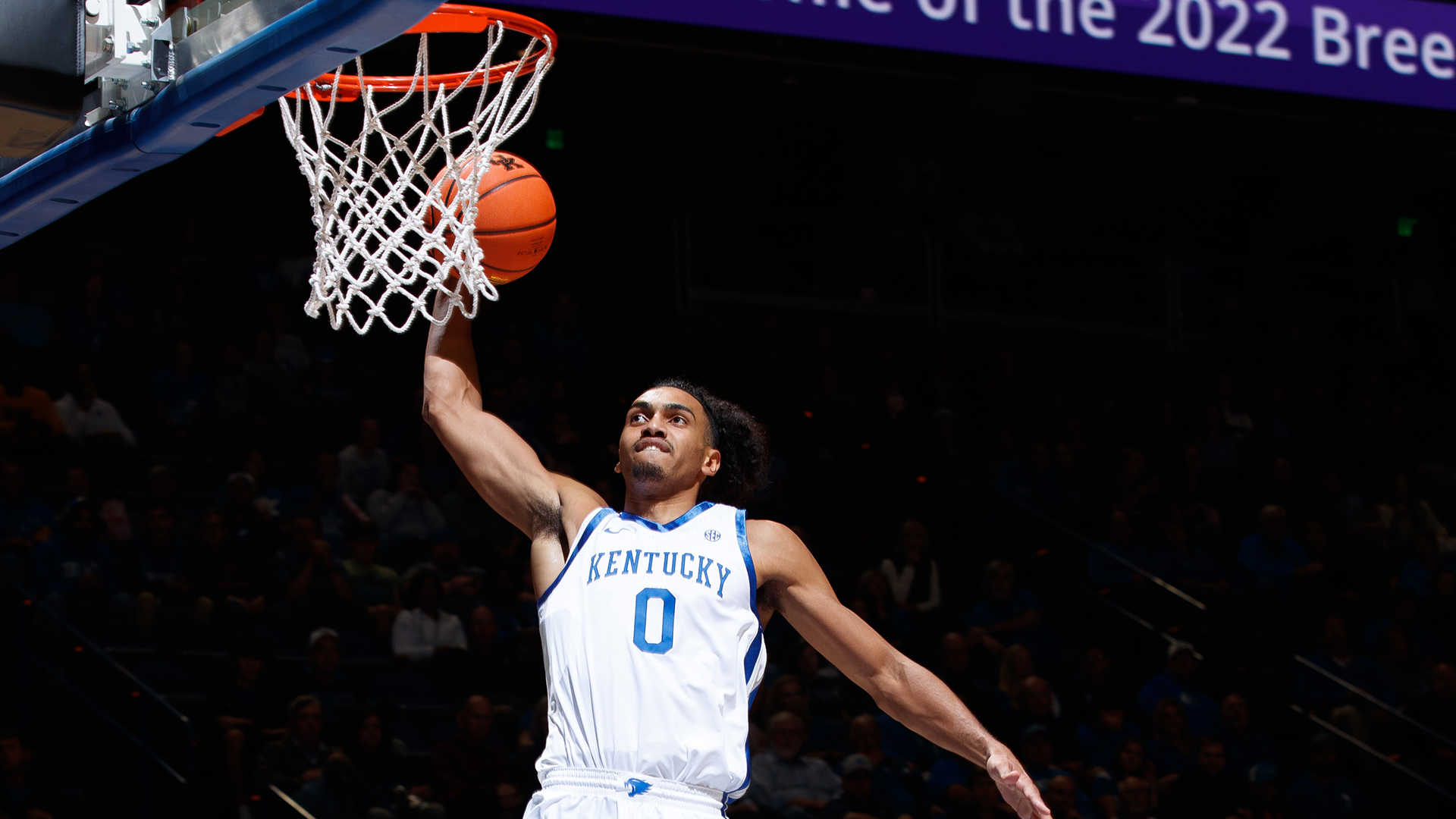 November 3, 2022 - 10:23 PM
Kentucky-Kentucky State Postgame Notes
KENTUCKY MEN'S BASKETBALL POSTGAME NOTES
RUPP ARENA AT CENTRAL BANK CENTER | LEXINGTON, KY.
NOV. 3, 2022
ATTENDANCE: 18,413
Final Score: No. 4/4 Kentucky 111, Kentucky State 53
Team Records and Series Notes
UK improved to 146-12 all-time in exhibition games, including 3-0 vs. Kentucky State.
Kentucky has won its last 25 exhibition games dating back to Nov. 2, 2014, vs. Pikeville.

The last loss was Aug. 17, 2014, vs. the Dominican Republic in the final game of the 2014 Big Blue Bahamas exhibition tour.

The Wildcats begin the 2022-23 regular season on Monday, at home against Howard. Game time is 6:30 p.m. and it will be televised on the SEC Network.
Team Notes
Kentucky limited KSU to 53 points as the Thorobreds shot 28.2% from the field (20 of 71).
After losing the battle of the boards in the first exhibition against Missouri Western, the Wildcats (literally) rebounded with a 57-38 margin on the glass tonight.

The rebounding advantage led to a 22-3 differential in second-chance points.

UK's 20-10 advantage in turnovers led to a 26-2 advantage in points off turnovers.
Had this been a regular-season game, UK's 111 points were the most since a 115-69 win over Arizona State on Nov. 28, 2016.
UK made half of its shots tonight, 38 of 76, and the Wildcats were 46.2 percent from long range (12 of 26).
Six Wildcats scored in double figures.
Player Notes
Antonio Reeves led the way with 23 points, including 5 of 10 from long range.
Jacob Toppin tallied 21 points, including 7 of 7 at the charity stripe, and had six rebounds.
Freshman Chris Livingston contributed 14 points, making 6 of 7 from the field.
CJ Fredrick had 14 points and a game-high six assists.
Freshman Cason Wallace had 12 points, five rebounds, five assists and three steals.
Lance Ware nearly had a double-double with 10 points and nine rebounds, adding three steals and three blocked shots.
Freshman Ugonna Onyenso led all rebounders with 11 boards while blocking four shots and scoring four points.
Coach John Calipari
UK is 43-1 in exhibition play under John Calipari.
Calipari will enter the season with an 810-241 all-time regular-season record and a 365-101 mark at Kentucky.
In the First Half
Kentucky started Cason Wallace, CJ Fredrick, Chris Livingston, Jacob Toppin and Lance Ware.  
Ugonna Onyenso and Antonio Reeves were UK's first substitutions at 13:35.
Tied at five, UK took control with a 14-0 run, and after a KSU basket, an 11-0 spurt for a 30-7 lead.
The largest run of the game, a 17-point outburst, extended the advantage to 49-14.
Kentucky went to halftime with a 61-25 lead. Had this been a countable game, it would have been the most points for the Wildcats in a first half since opening with 63 at Vanderbilt on Feb. 7, 1996.
In the Second Half
Kentucky began the second half with Wallace, Fredrick, Livingston, Toppin and Ware.
A 9-0 start made the count 70-25.
Kentucky hit the century mark on a Toppin free throw with 3:11 left.
Kentucky marked its largest lead at 58 points at 110-52 and the final score of 111-53.